A Modular Closet Renovation in the Upper East Side
How a modular closet renovation by Sweeten brought this Upper East Side couple organizational harmony
When software developer Jacob first purchased his one-bedroom co-op apartment, located on Manhattan's Upper East Side, in 2017, there were two small closets that he knew could be combined to create a larger, more functional modular closet for himself and his girlfriend, Morgane. As part of an overall refresh of the home, he walks us through the process of how he tackled this aspect of the project.
(Above) Jacob's bedroom closet that combines hanging space with shelves and shoe storage
Sweeten: How did you decide on the Container Store's Elfa System? 
Jacob: I looked at some of the other options out there but based on my budget and the size of the space, Elfa clearly made the most sense. Also, we had reached a point where the renovation was done, and within two weeks, Morgane and I would be sharing the space almost every weekend, so getting a functioning closet in quickly was a high priority.
Sweeten: Did you design the closet yourself using the online tool or did a representative help you in the store?
Jacob: A rep helped in the store, and everyone there was super helpful. Make sure to do a good job of measuring the space ahead of time! Once they know the dimensions, they will ask you several questions about your usage plans for the closet, your wardrobe, etc. After 20 minutes, they have a prototype to make adjustments to, although the initial blueprint was very close to the final design.
(Above) Jacob's closet blueprints
Sweeten: How did you decide what mix of elements to include (hanging space, open shelving, drawers, etc.)?
Renovate to live, Sweeten to thrive!
Sweeten brings homeowners an exceptional renovation experience by personally matching trusted general contractors to your project, while offering expert guidance and support—at no cost to you.

Start your renovation
Jacob: The plan was to create a split usage space for me and Morgane. We would each get two hanging sections and two sets of shelves, and we would share a large section for shoes. One of Morgane's hanging sections is double-height for hanging longer items. We have an enormous dresser in the bedroom, so we were able to consider the closet as a space almost exclusively for hanging and shelving.
Sweeten: What did your contractor do to prepare the space for the installation?
Jacob: Our Sweeten contractor demo'ed and combined the existing closets. He also refinished the floors and walls of the combined space. He left the space open without doors. We used the installer provided by the Container Store's delivery contractor. It took just a few hours.
Sweeten: Why did you decide to leave the doors off?
Jacob: Before, the closet existed as two extremely small separate closets. When combined, the opening was a non-standard width for pretty much every manufacturer we looked at. There is not enough space to the side for a sliding barn door or a pocket door, and Morgane and I both find French doors or folding doors annoying to deal with. Leaving the doors off of the closet actually gave us a lot more flexibility in gaining maximum closet space.
Thank you, Jacob, for sharing your closet renovation with us.
You can see Jacob's project profile here, and if you're considering a fully customized built-in closet, take a look at this cost guide.
As he pointed out, there are many modular closet options out there in addition to Elfa. California Closets is a popular one at a slightly higher price point than Elfa, while Home Depot,Lowe's, and IKEA all have modular closet kits that you can customize to your liking. They are all priced per piece, so you'll have to buy each shelf, bracket, and track separately. Each of these retailers also offers ready-made sets, however, which can give you a sense of the price range for various setups of different sizes and combinations. In-store representatives can help you tweak your design. Check out what other Sweeten homeowners have done below.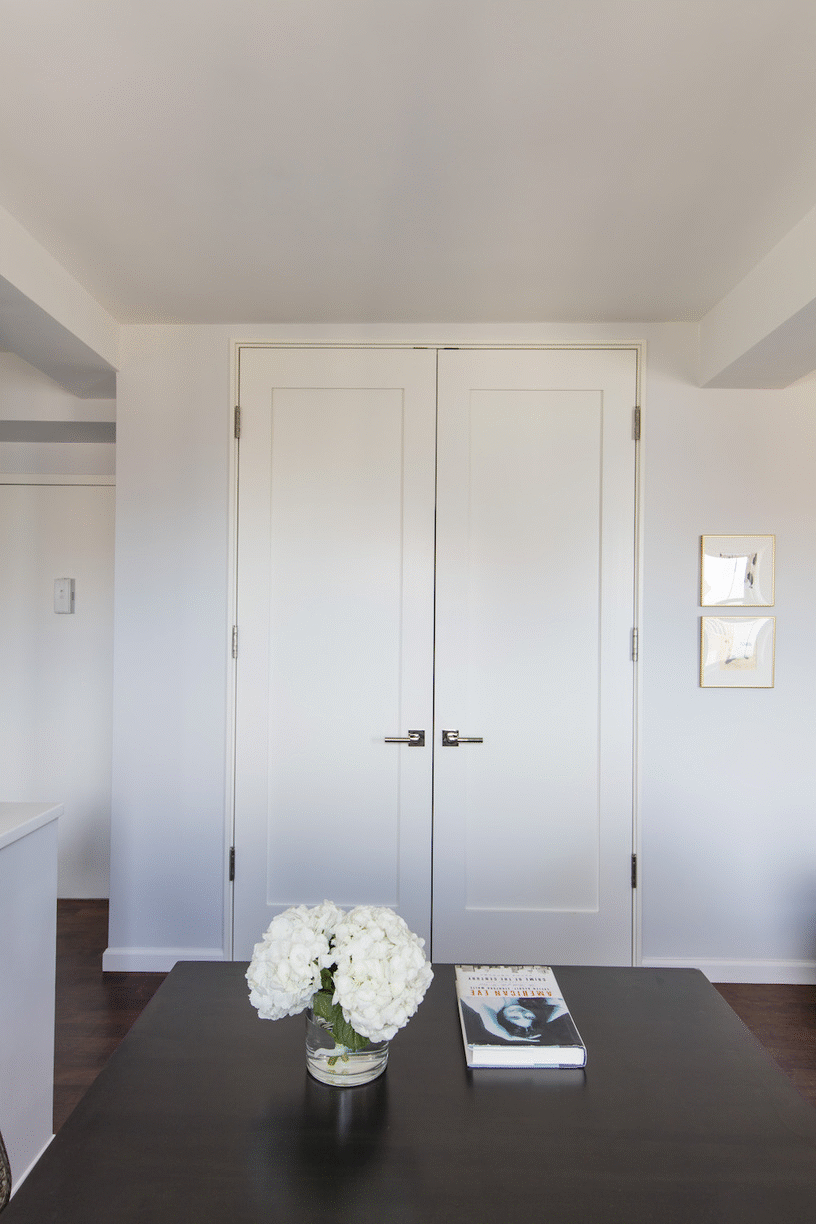 (Above) Lauren's closet incorporates drawers as well as hanging space, eliminating the need for a dresser (California Closets)

(Above) A sliding door takes up minimal space in Melissa's studio closet (California Closets)

(Above) Melissa and Blake's closet has four sections with hanging rods and pull-out drawers (IKEA)
(Above) Shelves, drawers, a hamper slot, and sections with hanging rods make a custom closet for Nikkia and Daniel (IKEA)
—
Got more style than space? Explore our favorite closet renovations.
Refer your renovating friends to Sweeten and you'll both receive a $250 Visa gift card when they sign a contract with a Sweeten general contractor. 
Sweeten handpicks the best general contractors to match each project's location, budget, and scope, helping until project completion. Follow the blog for renovation ideas and inspiration and when you're ready to renovate, start your renovation on Sweeten.