Video: 3 Home Remodeling Tips for a 2-Bedroom Apartment
A designer transforms the 1,050-square-foot home she shares with her partner
Click here
to WATCH VIDEO
When Mitzie and Jenifer bought their two-bedroom apartment in DUMBO, they knew that a full home renovation was needed before moving in. A designer, Mitzie immediately started sketching out design plans and reached out to Sweeten to find a general contractor who could bring those plans to life. In the home renovation tips below, Mitzie shares the couples' bedroom and kitchen renovation inspiration, and their experience working with their Sweeten general contractor to improve the lighting in their new apartment. 
Mitzie: (00:05)
Welcome to our home. My name is Mitzie Wong. I live here with my partner Jenifer Harmon, who is a media executive. I'm a painter, designer, and co-founder of Roar + Rabbit.
Mitzie: (00:35)
We wanted to make the apartment feel very casual, yet luxurious. We had a budget in mind, so we were really careful about choosing the materials. We wanted it to feel very inviting and relaxing.
Home Renovation Tip 1: A waterfall island brings living spaces together
Mitzie: (00:53)
Renovate to live, Sweeten to thrive!
Sweeten brings homeowners an exceptional renovation experience by personally matching trusted general contractors to your project, while offering expert guidance and support—at no cost to you.

Start your renovation
When we saw the kitchen initially, it was very boxy. There were lots of angles, the cabinets were jutting out, the counters were short and narrow, so we wanted to make the place a lot more cohesive. We went for a bigger island, deeper with the cascading waterfall marble sides, so it would be a feature because it's an open plan to the living room. And we unified everything by color. Being an open plan, it had to be a feature. We hid the freezer and the fridge behind the same colors as the cabinet to make it more unified.
We used the same hardware on the drawers and the doors to make it more cohesive, to give it a lighter and brighter space, and we obviously brought the counter forward to give it more a generous sense of space. Because everything was so new looking, I wanted to put in a handmade tile to just soften it up, to give it some texture and some depth.
Home Renovation Tip 2: Turn a plain wall into a colorful headboard
Mitzie: (01:58)
This is a fairly new building, it's only 12 years old, so we wanted to give the apartment some character. As you'll see, there's a lot of build-outs and recesses and weird angles in each corner. I wanted to take the focal point away and make a feature wall. I used two-and-a-half-inch plywood beams and painted it to make an accent wall to give it layered depth. If you look slightly to the right, you'll see the Manhattan bridge, and it's a gray-blue, so that was part of the inspiration for the color. It's a slightly off-color of the Manhattan bridge.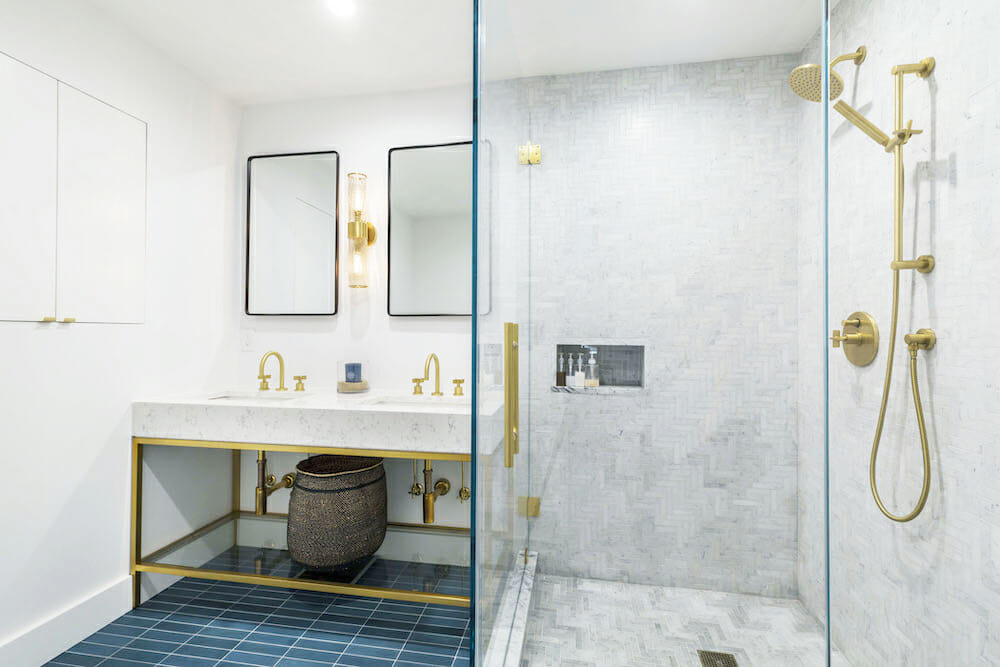 Home Renovation Tip 3: Streamline storage and lighting
Mitzie: (02:40)
We relied on our Sweeten contractor heavily on their expertise for lighting. They dropped the ceilings only two or three inches, and we were able to put in the recessed lighting in both the living room and the office, so we could maintain consistent lighting throughout the day and evening. When we were doing the initial renovation during the gutting stage, there was an additional six inches in the wall [of the master bathroom] that was revealed, so we were able to design together and build a bespoke cabinet.
—
Sweeten founder and CEO weighs in on what to know before renovating a brownstone.
Sweeten handpicks the best general contractors to match each project's location, budget, scope, and style. Follow the blog, Sweeten Stories, for renovation ideas and inspiration and when you're ready to renovate, start your renovation on Sweeten.