Common Renovation Delays & How to Prepare for Them
Here are the most common renovation delays along with veteran advice on surviving them. Smart prep and realistic expectations can make all the difference!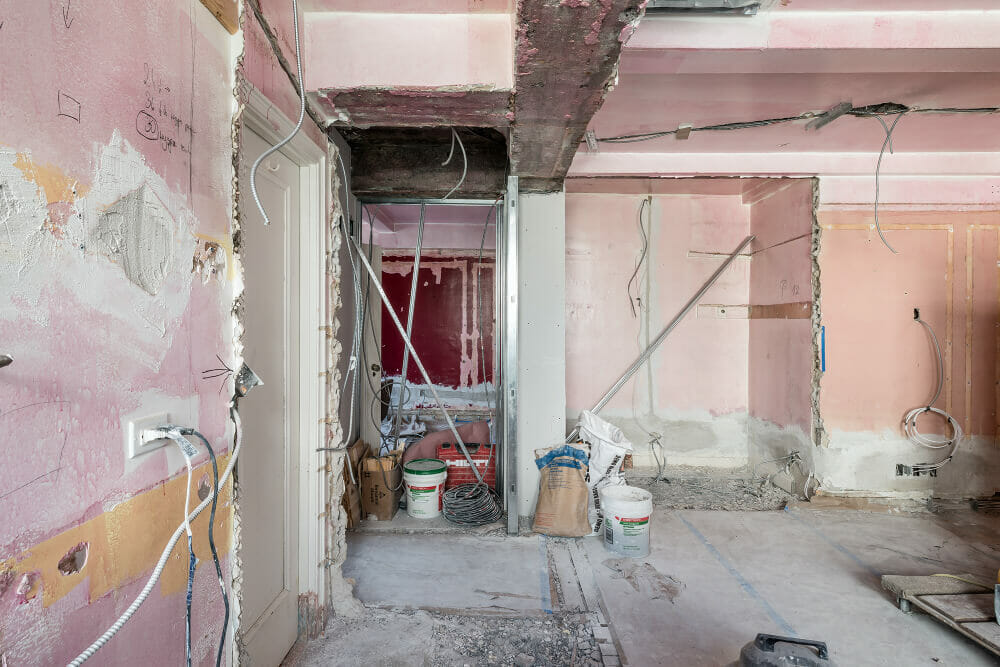 At Sweeten, we focus on teaching homeowners about the many moving pieces that go into renovating. Here, we're sharing common renovation delays that can impact project timelines.
Sweeten matches home renovation projects with vetted general contractors, offering advice, support, and up to $50,000 in renovation financial protection— for free.
Renovation Delays 1: Building approval and requirements
Apartment owners generally need approval from the building before starting a remodel. This can mean that elements of the timeline (especially the start date) are out of your hands for weeks, or even months.
Your building will probably require that you assemble a package of materials to define project scope and the qualifications of the team you're bringing on to complete it. This takes some time and organization to pull together. Depending on your building, the approval turnaround time may last a few days or could be tied to a monthly meeting review cycle. (This can be especially challenging when a building board skips or postpones regular meetings around holidays or over the summer).
Your building may also have rules that your crew must comply with throughout the renovation. A document called the "alteration agreement" typically outlines the rules, and it can dramatically affect the construction schedule. For example, your building may limit daily work hours, halt work on holidays, cap total duration of construction, set boundaries on scope of work, detail lead or asbestos requirements that exceed local regulations, and more. You might also have hallway protection steps that your team must observe, which can add to daily set-up and breakdown needs.
Alteration Requirement tips
We often hear that a building is really strict. The reality is that buildings have wide leeway to run their operations as they see fit, but they must apply rules equally to all residents. If an alteration requirement is included in your building's written agreement, that typically indicates that it has gone through the management structure and is applied uniformly. However, if you are told to follow a rule that is not in the alteration agreement and this is the first you're hearing about it, you may be able to make the case that the requirement isn't being uniformly applied and is therefore unfair. People occasionally try to get the building management to reconsider, but most of the time, the building's requirements are just accepted as part of the cost of doing business.
Renovation Delays 2: Lead times and dependencies
Picking materials is an exciting part of any reno project—especially if you're using unique or unusual materials. However, fabrication and shipping can have extensive lead times. It's not at all unusual to find 12 to 15 week lead times on handmade products, and international suppliers have to contend with unpredictable border crossing.
Even with the best planning, certain renovation steps require that material is installed before finalizing any related elements. Take kitchen countertops, for example. The countertop comes with high stakes — it's a giant, heavy piece prepped offsite with no room for error. Generally, you can't measure countertops (known as "templating") until you've installed cabinet bases. Your project might be off to the races and then it will appear to grind to a halt as you wait for the countertop supplier to measure onsite before prepping and delivering your slab. The wait is worth it, but it can be maddening to feel close to the finish line with nothing happening in between these steps.
Material Tracking Tip
As you pick materials, track product lead times and be prepared to find a back-up if something is not in stock or is months away. Alert your contractor early on if you're using materials shipping from outside the United States. Starting a project before every single item is delivered is a gamble that everyone takes, but tracking lead times will help you stay realistic about dependencies.
Renovation Delays 3: Discoveries during construction 
Unless your contractor does a probe, they can't know exactly what is behind walls and under floors. A pre-renovation probe sounds great in theory, but the reality is that most people skip it because it can mean having holes in your home before you've even decided who to hire. A contractor might be willing to open up a wall for you before you've signed a contract, but they will not patch it back up for free, so you have to be willing to accept that your team may make discoveries that affect the timeline once work gets underway.
Site surprise tip
Ask your contractor about worst-case scenarios given the building's age and history. Is it possible you'll uncover major plumbing or electrical needs? What about sub-floor issues or structural problems? If so, what effects could those have on your budget and timeline? Consider the budget contingency you may need to have peace of mind when your project kicks off. Your contractor can't price out every possible surprise, but you should feel confident that you have a partner who will help you problem-solve when challenges come up.
Renovation Delays 4: Permits + Inspections
It should be no surprise to hear that permits affect a project schedule. But one aspect of inspection logistics can be perplexing.
Overall, it's important to know that your local municipality controls permits and inspection approvals. What might be new for a first-time renovator is that there can be multiple inspections needed for a single aspect of a project. Frequently, these inspections are scheduled right as key work is happening. Progress often looks unpredictable or disorganized because work can't move forward in a linear way. For example, a bathroom remodel that moves plumbing lines has to wait for an inspection before closing up the walls. Also, it might even pause again for a final inspection to close out the permit. Because of this, there can be gaps where a crew can't continue work and isn't onsite while the City schedules and conducts its visits.
Permit & Inspections Tip
Talk to your contractor about permit and inspection steps to get a feel for the variables. What may feel like a surprise delay could be a planned process step that is just out of your hands.
Renovation Delays 5: Site downtime
Downtime on the construction site may not actually be a sign of a delay! However, when you're living without a functional kitchen or bathroom, days without work happening can feel like torture!
The reality is that project progress doesn't operate from 9am to 5pm, five days a week. Your contractor should generally schedule the crew to maximize progress, but may also have to balance the availability of materials, building rules, logical work sequencing, natural pauses while materials cure or set, individual crew member health and family issues, and commitments on other projects. These are all moving pieces.
Also, as a job progresses, the required skill level increases. The worker who completes demolition may not have the specialized skills of the person installing your glass mosaic tile. Specialized trades are in higher demand, so when more highly skilled subs are needed, it can result in schedule gaps.
Coverage tip
Larger, more established teams may manage coverage more seamlessly, while smaller teams may have to get creative to run their businesses. As a result, you may see associated costs or savings with these different levels of service. If you feel frustrated about the schedule, tune into specifics. Are there unexplained gaps in work? Are you uncertain about the overall timeline or a move-in date that might require alternate planning? Communicate with your team about specific areas where crew availability or progress is a concern for you.
Ready to kickstart your renovation? Post your project to get your Sweeten contractor matches today.
—
Want to save money (and your sanity) while renovating? Read Sweeten's guide to Order & Delivery Hiccups.
Starting a reno but unsure of which professionals you'll need? Follow Sweeten's guide, Who to Hire for Your First Renovation!