6 Kitchen Layout Ideas, Fit for Homes of Any Size
From L-shaped or galley to an island kitchen, use these ideas to choose which kitchen layout is best for your home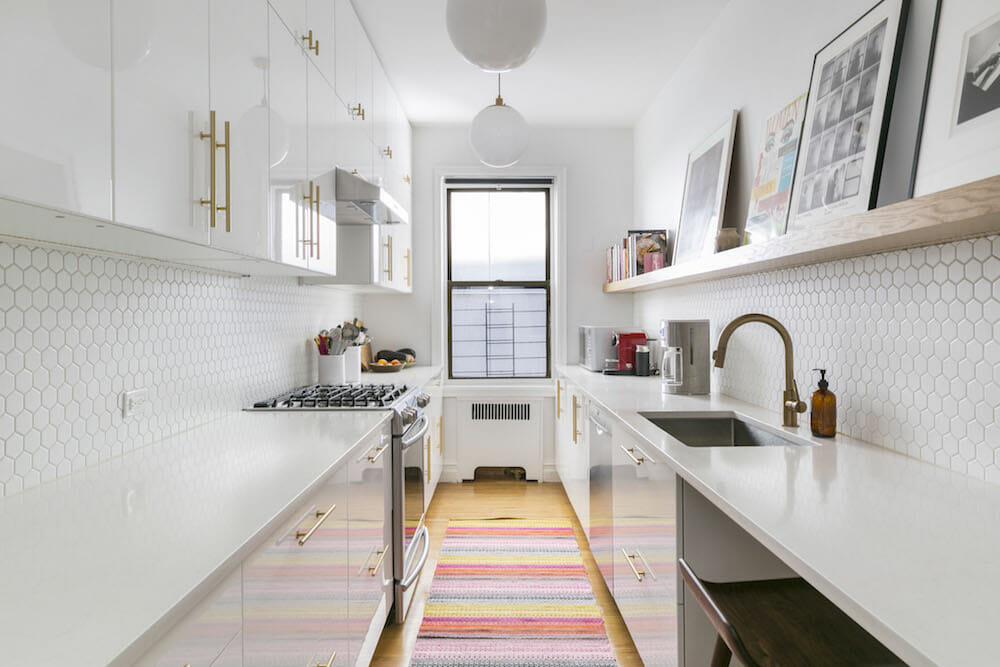 Kitchens are tight spaces, so, it helps to thoroughly plan every square foot before starting a remodel. Kitchens also are complex spaces where many elements must meet code. Supply and drain pipes compete with wires, ducts, and cabinets. The kitchen is not the place for last-minute, informal planning. Where should you start when considering different kitchen layout ideas? 
Simply: homeowners should consider using the most common layouts found in kitchens. There are many benefits of starting with a tried-and-true layout in your kitchen: smooth traffic flow, and less wasted space. Additionally, kitchen functionalities—sink, stove, fridge, and dishwasher—will end up in sensible places. Ultimately, this saves money for routing plumbing and electrical work. Below you'll find renovations by Sweeten homeowners with kitchen layout inspiration.
Sweeten matches home renovation projects with vetted general contractors, offering advice, support, and secure payments—for free.
Island kitchen layout
(Above) Sweeten homeowners Anthony and Jeremiah's kitchen island renovation
An island kitchen layout combines a kitchen island with other layouts. These may be an L-shaped, U-shaped, or one-wall kitchen layout. The kitchen island is separate from the main counter area.
Many kitchen islands are counters only, with no water or cooking action. If a service is added to the island, it's usually a cooktop. Large island kitchens may have a cooktop and a second sink for prep work.
Kitchen islands may be used less frequently than the owner had originally imagined. So, it helps to add one of those services as a magnet. Or, some homeowners extend one end of the island for use as an eating bar.
PROS
Additional counter space

Less expensive (you can even use a mobile island)

CONS
Difficult to bring water supply and drainage to an island


Takes up a lot of space, so a large kitchen is required
U-shaped kitchen layout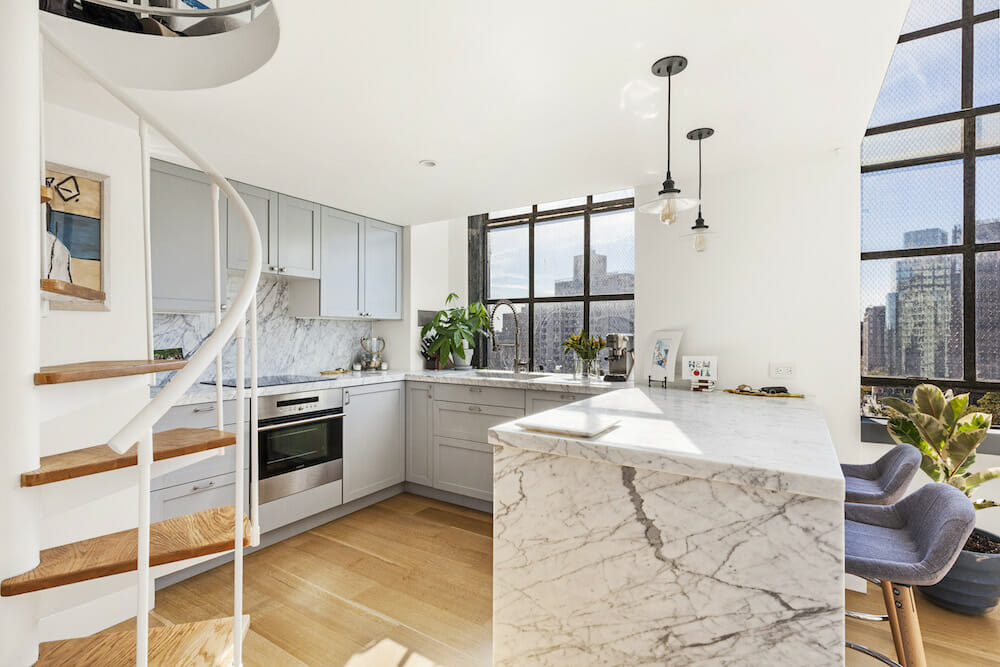 (Above) Sweeten homeowner's U-shaped kitchen remodel
A U-shaped kitchen layout expands the L-shaped layout by adding an extra wing. Instead of two counters, the U-shaped kitchen has three counters arranged like a U.
With the U-shaped kitchen, various functions can be better spaced out than with the L-shaped layout. So, the leg of the L-shape that has the fridge, sink, and dishwasher can be broken up. The U-shaped kitchen's third leg might contain the fridge.
For a U-shaped kitchen, you'll need to have enough floor space available, but not too much. If the space is too small, the kitchen is cramped. If it's too large, it takes longer to walk from one area to another. The National Kitchen + Bath Association recommends that no leg of the work triangle be less than 4 feet or more than 9 feet.
PROS
Utilizes the third wall

Spreads out kitchen services

CONS
Difficulty correctly sizing the kitchen

Center must be kept free of obstacles

One-wall kitchen layout
(Above) Sweeten homeowners Tiffany and Chad's single-wall kitchen
With the one-wall kitchen layout, all of the kitchen tasks are combined on a single counter against one wall.
Since they are all in a line, design is mainly a matter of deciding the order of the functionalities. Usually, the sink and dishwasher are next to each other to share the water supply and drain lines.
Of the 6 kitchen layout ideas, the U-shape works perfectly for smaller homes such as condos or apartments. However, you'll want to keep the layout fairly short. This avoids too much movement from one end to the other end.
Renovate to live, Sweeten to thrive!
Sweeten brings homeowners an exceptional renovation experience by personally matching trusted general contractors to your project, while offering expert guidance and support—at no cost to you.

Start your renovation
PROS
Squeezes kitchen into tiny space

Keeps plumbing and electrical in one area

CONS
Too much walking if the layout is long

Little counter space

Galley kitchen layout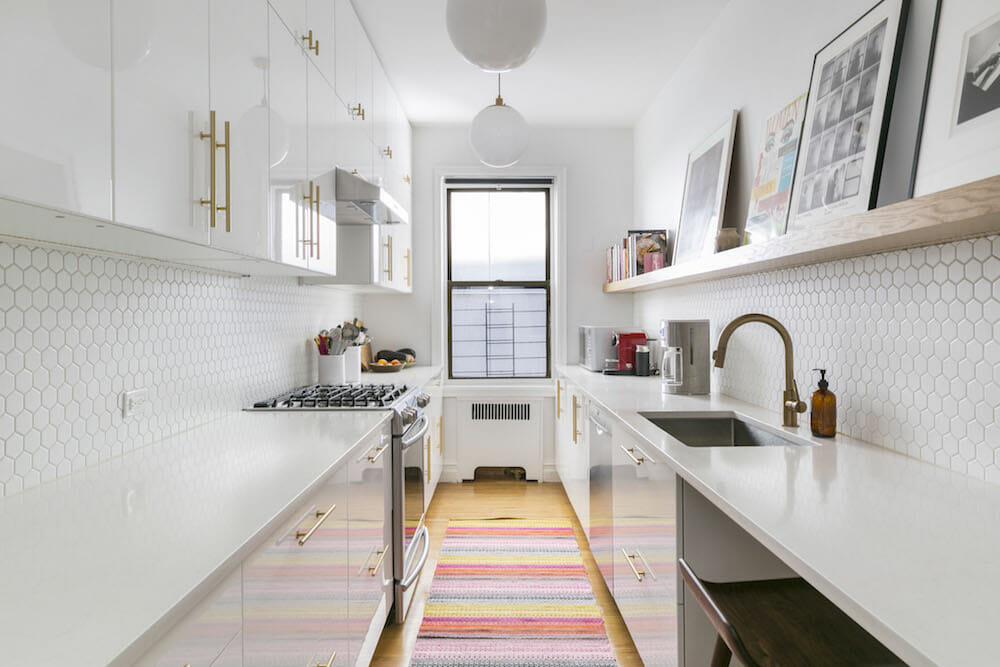 (Above) Sweeten homeowners Sheilaja + Sergio's renovation
Galley kitchens have two counters that run parallel to each other. The counters are divided by a single aisle. Galley kitchens' namesake is the kitchen found on boats. True to the inspiration, the aisle is usually narrow.
With galley kitchens, often one leg is devoted to the stove or cooktop and counter space. The other leg is usually the home's exterior wall and has the sink, dishwasher, and refrigerator.
Galley kitchens do a great job of confining the workflow to a tight space. Just make sure that the cabinet, fridge, dishwasher, and oven doors don't conflict with each other.
PROS
Tucks kitchen away, off to the side

Short traffic pattern

CONS
Poor layout for multiple people in the kitchen

Doors may conflict or open into each other

Peninsula kitchen layout
(Above) Sweeten homeowners Dalal + Frans' renovation
A peninsula kitchen layout is a U-shaped layout that has a counter extension. Located at either end of the U shape, the extension partially juts into the kitchen. The result is generally a G-shape.
This kitchen usually retains its activities in its U-shaped section. The extension then becomes a breakfast bar or eating counter. 
The outer part of the extension can take two or three chairs for eating. The inner (kitchen side) is less functional. Most of it becomes a blind-corner cabinet that's difficult for storing items. One solution is to install a lazy-susan, swing-out, or pull-out in that corner.
PROS
Utilizes the end of a run of cabinets

Room for eating saves on the need for chairs and table

CONS
Creates another blind-corner cabinet

Short counter

No matter the size of your home, there's a kitchen layout that'll fit the space. Keep in mind the kitchen activities that are important to your lifestyle, plot the best layout and flow, and get ready for your dream cook space.
L-shaped kitchen layout
(Above) Sweeten homeowner Amanda's renovation
An L-shaped kitchen layout has two counters laid at a 90-degree angle to each other. Often, one counter is longer than the other counter.
The L-shaped kitchen layout usually divides the kitchen activities across the two legs of the L-shape. One leg may have the refrigerator, sink, and dishwasher. The other leg may have the stove or cooktop, plus a majority of the counter space for prep work.
There are many reasons that an L-shaped kitchen layout is a good idea for your home. For one, L-shaped kitchens are flexible enough to fit in kitchens of different sizes. For another, this layout lends itself perfectly to the concept of the kitchen triangle. With this, the sink, stove, and fridge are arranged in a triangle for better workflow.
PROS
Flexible, works for many kitchens

Good use of the kitchen triangle

CONS
Large kitchens can get too spread out


Difficult to find space for counter eating
Start with the right kitchen layout ideas
Cooking in a space with the right floorplan can prove to be the result of a well-planned kitchen remodel. With workflows in mind, everything from preparing ingredients to cleaning up can be done in a more streamlined fashion. The "work triangle" reduces the number of steps needed to move between the appliances. By having the right design, you are on your way to an enjoyable cooking experience.
When you're ready to get started on your kitchen or home remodel, work with Sweeten to renovate with the best contractors.
—
Sweeten handpicks the best general contractors to match each project's location, budget, scope, and style. Follow the blog, Sweeten Stories, for renovation ideas and inspiration and when you're ready to renovate, start your renovation with Sweeten.
Frequently asked questions about kitchen layouts
How to design a kitchen layout?
Designing the right kitchen layout is dependent upon the homeowner and the home. When choosing a kitchen layout, the homeowner first has to recognize what space they are working with. They should also think about what they need in their kitchen, and what will be the most useful to them. Would it be best for the kitchen to have an open layout? Or, should it include an island or peninsula? The homeowner has to think of the pros and cons, but also what is actually possible. A small galley kitchen is not going to fit a big island, while a big L-shaped kitchen might look empty without one.
What is the best layout for a small kitchen?
A galley layout, one-wall layout, or peninsula layout work all well for small kitchens. A galley kitchen can be tucked away in tight spaces, and there is a short traffic pattern. Including a peninsula in the kitchen means that there does not have to be room for a table and chairs. Stools can be added to the peninsula in order to make a tabletop. A one-wall kitchen layout makes it so everything in the kitchen can be compact on one side, and may open up into a living area.