9 Polished Peninsula Kitchens
Ah, the peninsula kitchen: an indispensable and stylish kitchen surface
For small kitchens, an island can take up a lot of square footage. Peninsula kitchens, on the other hand, shift to one end attaching to a wall or cabinets. Even narrow ones can fit as few as two barstools. Some are used just as surfaces, while others hold storage or appliances, such as a cooktop or wine cooler.
The peninsula kitchen is more space-efficient than an island. Therefore, it's an optimal solution for a small or medium size kitchen. There should be 42 inches between the edge of the peninsula to the next countertop or wall. In contrast, an island will need adequate free space on either end to move around. Post your project to Sweeten and see how a peninsula can make your kitchen work better for you. Here are some ideas for your own renovation. 
Sweeten matches home renovation projects with vetted general contractors, offering advice, support, and up to $50,000 in renovation financial protection—for free.
Peninsula kitchen at its simplest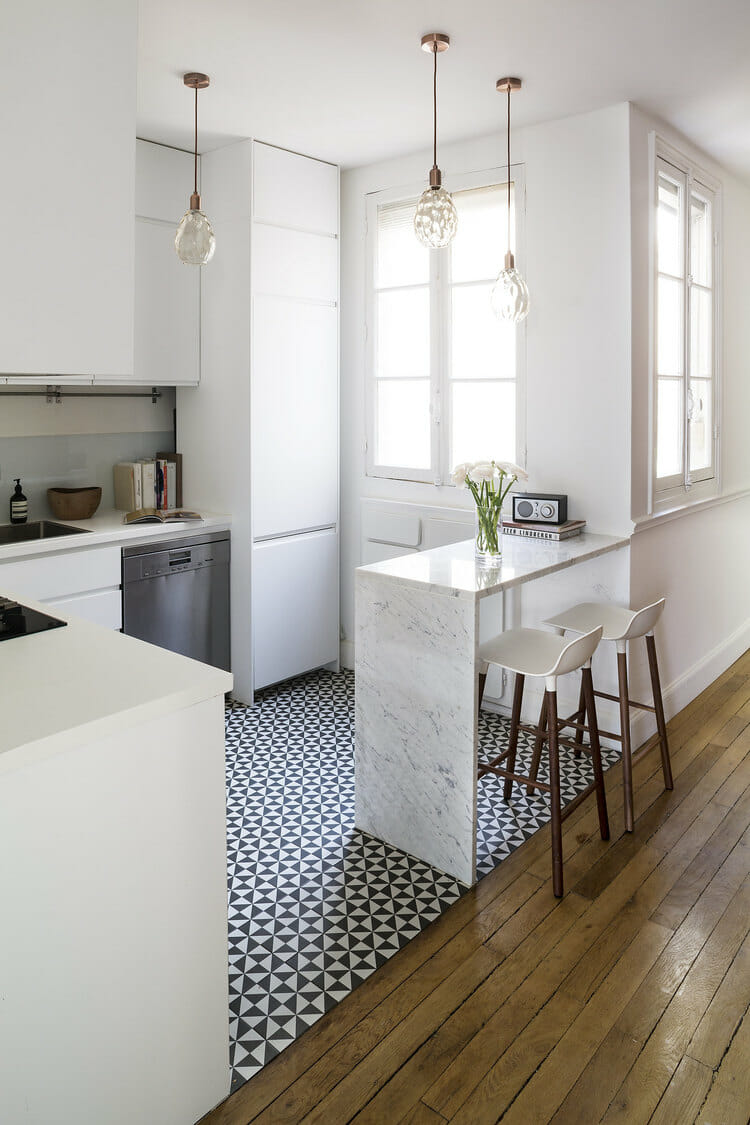 (Image Credit: Ebom)
Multiple countertop materials
(Image Credit: Kavitharia)
Loads of working countertop space
(Image Credit: Sunset)
A slender profile for a functional kitchen
(Image Credit: Kouch)
A peninsula throws a curve
(Image Credit: Mel)
A peninsula kitchen with group seating
(Image Credit: Domino)
Multi-tier peninsula bar
(Image Credit: Kitchen Tune-up)
Perfect spot for a cooktop
In a kitchen, the two most common actions are seeking counter space to lay something down or to work on. The other is to perch whether it's to talk to the home cook or to find a quick seat for morning coffee. The kitchen peninsula fits the bill.
A note on appliance deliveries: If you're on a tight timeline, Appliances Connection has over 10,000 items in stock and ready to ship. In-stock items can be delivered to NY/NJ within 2 days.
A peninsula is an immovable floorstanding cabinet structure with one end attached to a wall or to existing countertops and cabinets. Adding one usually turns a kitchen into a U-shaped space. It adds more work surface and storage as well as a place to install a second sink, an undercounter appliance, cooktop, or microwave.
A peninsula is more efficient with square footage which works well in small and medium-sized kitchens. A peninsula typically attaches to the main countertop and lower cabinet for a continuous worktop center. This creates a 90-degree cabinet angle often referred to as a blind cabinet which can be difficult to access. Some countertops feature an overhang, which provides bar-like seating.
In a kitchen, it's recommended to have 42 inches of space between the edge of a peninsula and any other counters, work centers, or walls. Walkways, like passthroughs, (not work aisles) should be no less than 36 inches wide.
—
Sweeten handpicks the best general contractors to match each project's location, budget, scope, and style. Follow the blog, Sweeten Stories, for renovation ideas and inspiration and when you're ready to renovate, start your renovation with Sweeten.