Why a Galley Kitchen Rules in Small Spaces
A galley kitchen delivers a lot of functionality despite its small square footage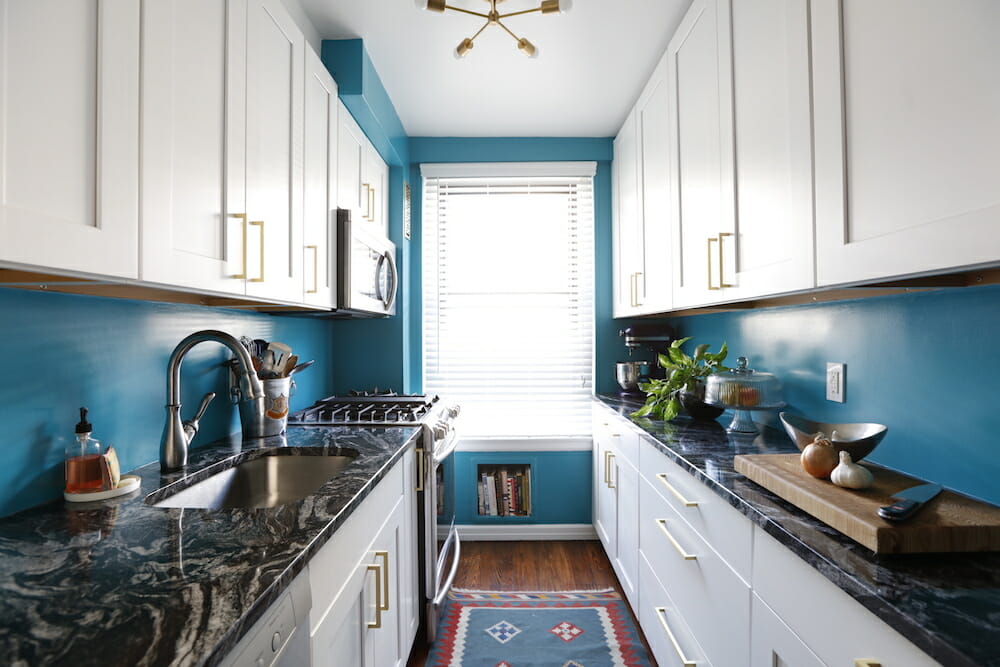 Just because a kitchen is short on square footage, it doesn't mean it has to lack in function, organization, or style. The key to owning and making the most of the space is a layout that maximizes efficiency, like a galley. By definition, a galley kitchen consists of two parallel sides with a narrow passage in between. A galley kitchen layout works best for small kitchens—less than 90 square feet. Four to 6 feet between parallel sides maximize efficiency and workflow. 
Check out these Sweeten kitchens to see how this type of small-space layout can work for you.
A breakthrough for a galley kitchen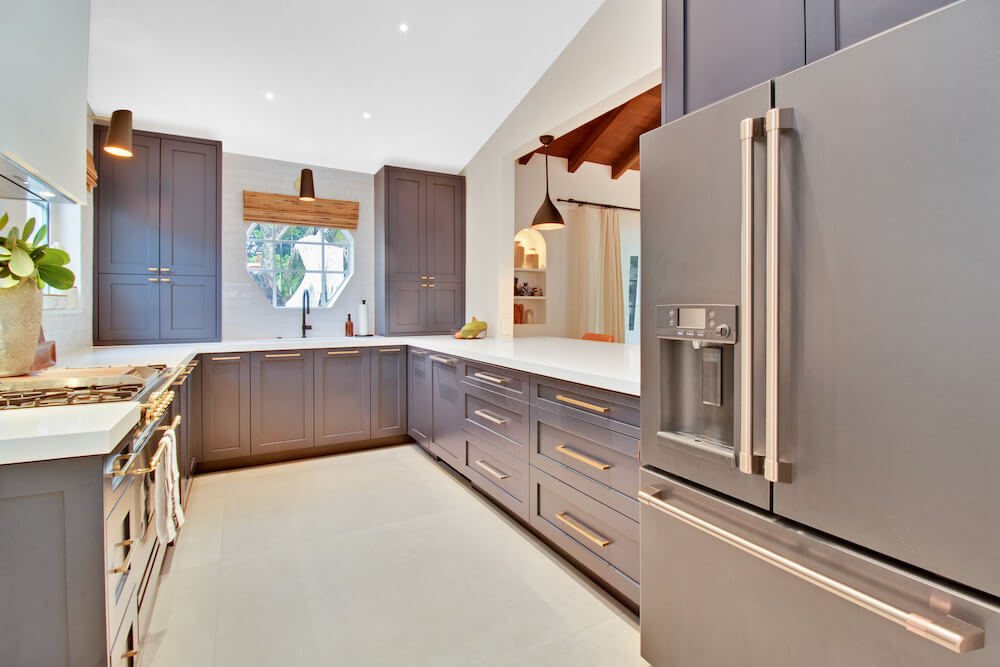 Andrew and Germàn modernized their galley kitchen in their 1936 Med-Deco home. The room was closed off to the rest of the living spaces. The renovation plan was to keep the square footage the same so as to not disturb any architectural details with expansion. However, breaking through the wall for a pass-through breakfast bar was the solution to open the space up to the living room. It was the right decision: it ended up becoming an eight-foot centerpiece in the home. 
Smart design expands this tiny galley kitchen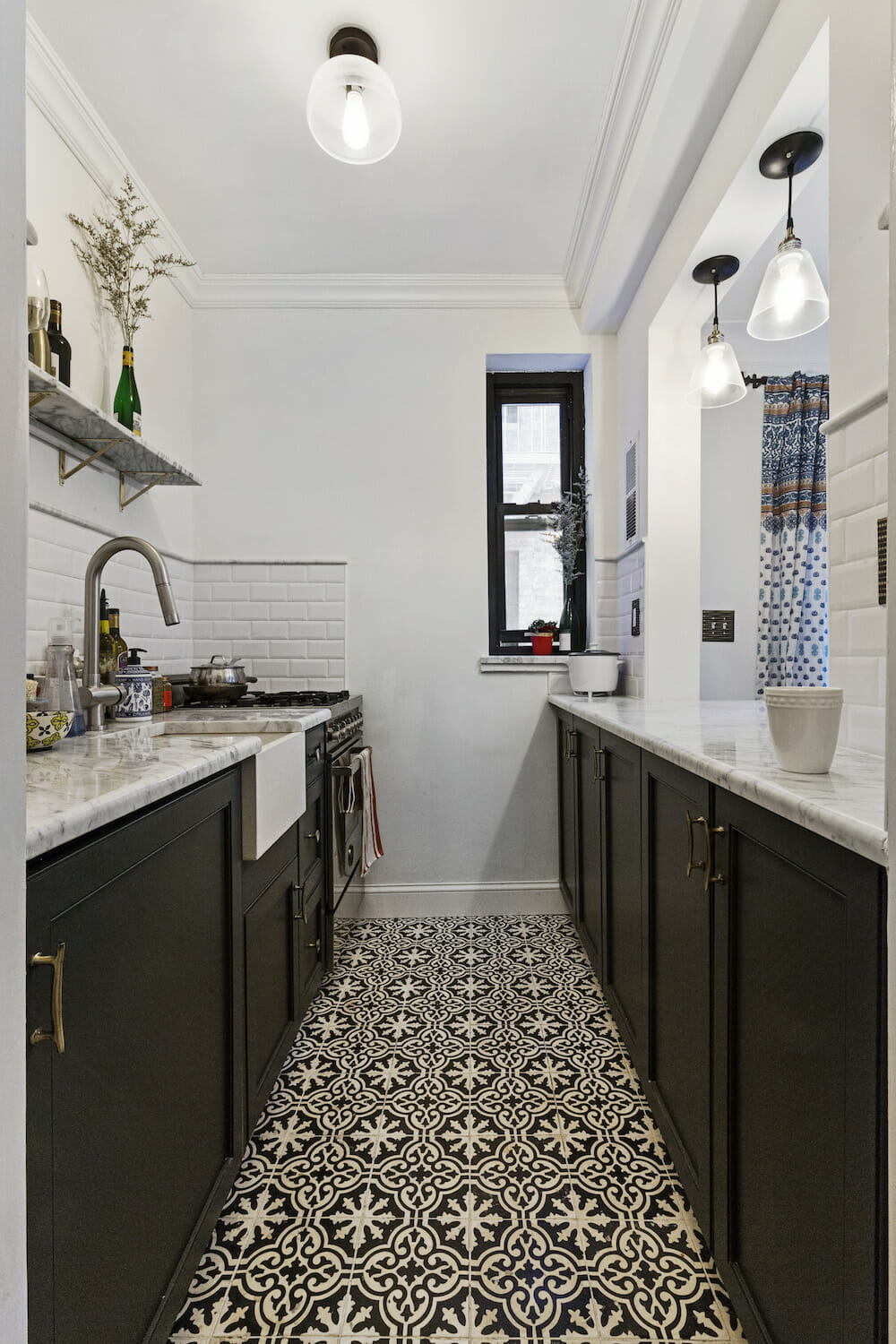 The six-foot-wide galley kitchen in Emily's prewar apartment was originally an enclosed space. Several ideas helped it feel open and less closed in. In place of upper cabinets, open shelving in marble and brass offered the airiness the small kitchen needed. An undercounter refrigerator took up less space and was less visually intrusive.
To make the layout more ideal for entertaining, her Sweeten contractor created a pass-through window with an extended counter and two stools on the non-kitchen side. Post your project on Sweeten. Discuss with your contractor if a pass-through window is possible in your kitchen.
A pass-through window brightens up a dark kitchen
Megan didn't want to change her galley kitchen floor plan or footprint. She just wanted to give the dark kitchen space a facelift. All new fixtures contributed to the lighter look, as did the extension of a pass-through window into the main living space. Her contractor knocked down the bar to countertop height and enlarged the opening. Now, all the light from the neighboring room streams in.
A smart layout is key in a 

galley kitchen
Storage and a smart layout made all the difference for Monica's kitchen remodel. For more convenient kitchen storage, a broom closet was transformed into a pull-out food pantry. The refrigerator sat outside of the row of board-and-batten-style cabinets keeping its height and size out of sight. Adding to the galley kitchen's character was a cozy eat-in dining niche.
A single wall of cabinets suits a narrow galley kitchen
To maximize Jenna's narrow galley kitchen, a run of upper and base cabinets sit along one wall, and face a flush refrigerator and uncluttered wall. Although she admits, "I'm in the process of creating a "bucket list" installation for the remaining wall, though I'm enjoying the space the empty wall creates." With only the width of a range to work in, this layout presents an efficient way to navigate this space.
Renovate to live, Sweeten to thrive!
Sweeten brings homeowners an exceptional renovation experience by personally matching trusted general contractors to your project, while offering expert guidance and support—at no cost to you.

Start your renovation
Open shelves in a galley kitchen look stylishly neat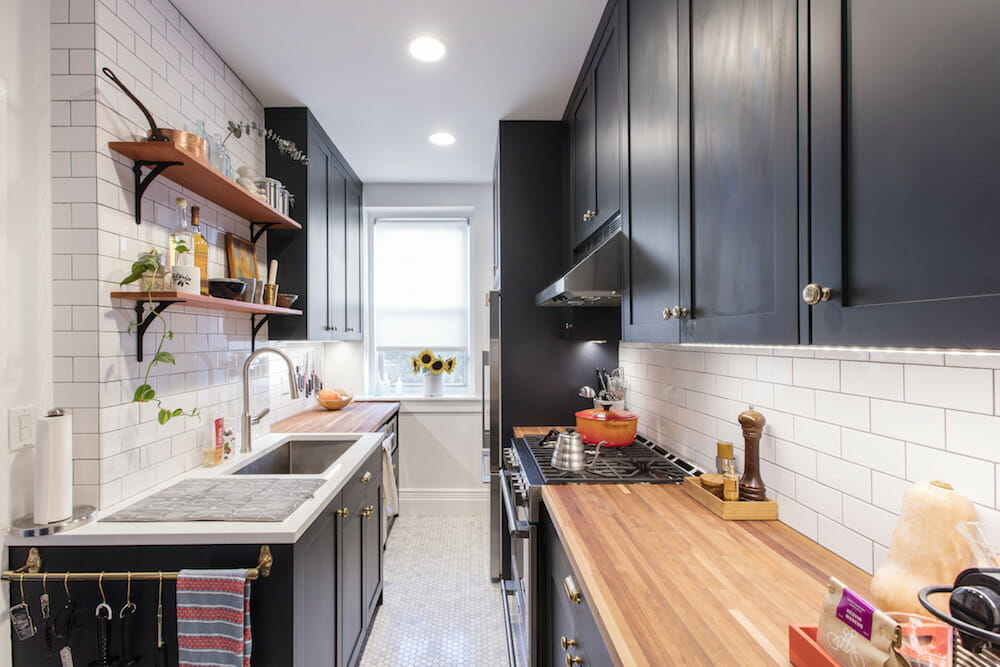 Daniel, a food writer and former chef, installed open shelving instead of upper cabinets along half of the wall in the kitchen. This eliminated the feeling of claustrophobia that plagued the old kitchen.
His Sweeten contractor moved the fridge away from the entryway, where it had made entering the kitchen difficult. It was relocated to the opposite end creating symmetry and making it easier to move through the space. See how Sweeten vets general contractors so homeowners don't have to.
Rearranging the dining area allows for added storage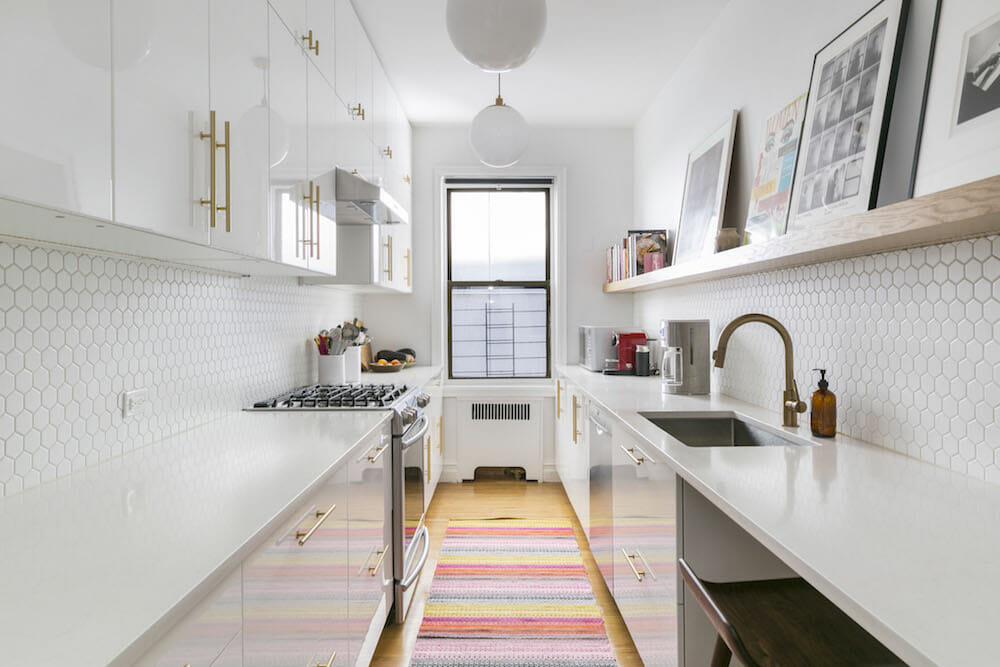 Sheilaja and Sergio's long galley kitchen had a dining space at the end that they no longer needed (thanks to moving it in the living and entryway area). They instead used that extra space to take advantage of the room's length and install lower cabinets all the way to the window wall. To make it feel even bigger, they opted for one long wood shelf opposite the wall of upper cabinets.
Clever idea: shallow cabinets save space
Sandra and Michael overhauled their existing galley kitchen layout to add more cabinet and counter space. They chose narrow base cabinets (basically wall cabinets) to save the square footage without making it feel more cramped.
Relocating a bulky fridge frees up valuable space
In Hari and Kaity's galley kitchen the refrigerator placement minimized counter space and the surrounding walls made the whole space tight. They relocated it to a spot a few feet outside of the kitchen walls. A cutout in the wall at the entrance also helped free up space. Pro tip: if you're unsure about taking down walls, moving your refrigerator can be an alternative to free up space while preserving the existing layout.
A galley kitchen puts dead space to use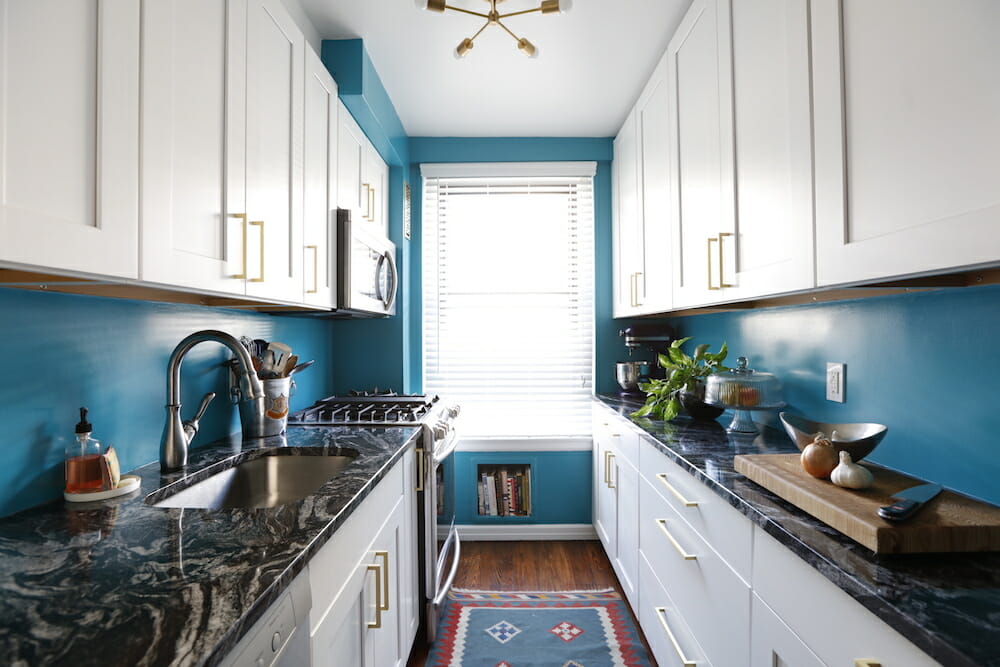 Sweeten homeowner Rashmi had no interest in an open kitchen when it was time to renovate. She lived with the galley kitchen for four years to understand what she needed from the room. To save space, shallower 18" kitchen cabinets were installed on one side. Closer to the entry, a narrow eat-in bar that was an extension from the countertop in the kitchen fit two stools. Opposite the bar, Rashmi installed built-in cabinets for storage and a washer and dryer. It had once been dead space.
When you're ready to get started on your kitchen or home remodel, work with Sweeten to renovate with the best contractors.

A note on fixture and appliance deliveries: If you're on a tight timeline, Appliances Connection has over 50,000 items in stock and ready to ship nationally. If you're in the NY/NJ metro area, in-stock items typically deliver within 2-3 days.
—
Sweeten handpicks the best general contractors to match each project's location, budget, and scope, helping until project completion. Follow the blog, Sweeten Stories, for renovation ideas and inspiration and when you're ready to renovate, start your renovation on Sweeten.