6 Butcher Block Kitchens That Go With the Grain
Butcher block brings warmth and workability—at a good value
Kitchen countertop material has a big impact on your space's style and functionality. Not to mention, your budget. Luckily, butcher block delivers on all three. It has a natural look many homeowners love, along with durability and affordability. (Per square foot, wood starts at about $35, compared to $60 for granite and $100+ for marble.) Part of its appeal is the development of patina over time, though butcher block does require sanding and oiling to keep it in shape. See how these Sweeten homeowners incorporated wood countertops in their kitchens.
1. Butcher Block Countertops
Even with the tight layout of their galley kitchen, Kate and Daniel wanted a chef-worthy space. That's why they chose butcher block countertops. Aside from the white quartz around the sink area (to prevent water stains on the wood), they made every surface prep-ready with cherry butcher block. The wood provides a nice contrast between the black cabinets and white subway tiled walls. Helping the couple strike the right balance of warm and cool tones.
Renovate to live, Sweeten to thrive!
Sweeten brings homeowners an exceptional renovation experience by personally matching trusted general contractors to your project, while offering expert guidance and support—at no cost to you.

Start your renovation
2. Built-In Prep Station
A big focus of Janet and Jerry's home renovation? The kitchen. They designed the space to be the most efficient space possible for cooking. First, they maximized storage with IKEA cabinetry and open shelves. Then, they went with two different countertop options: a mixed-material, sleek white surface and butcher block. The wood surface serves as the perfect chopping and prep station.
3. Butcher Block Bar
Since the kitchen in Kelly's studio apartment would always be a focal point, she "needed it to rock." Along with her Sweeten designer Courtney, they transformed the space. They extended the cabinetry, replaced appliances, and updated finishes. Plus, a butcher block countertop adorned the new bar. This update met Kelly's price point and brought in a natural element to her otherwise cool-toned kitchen.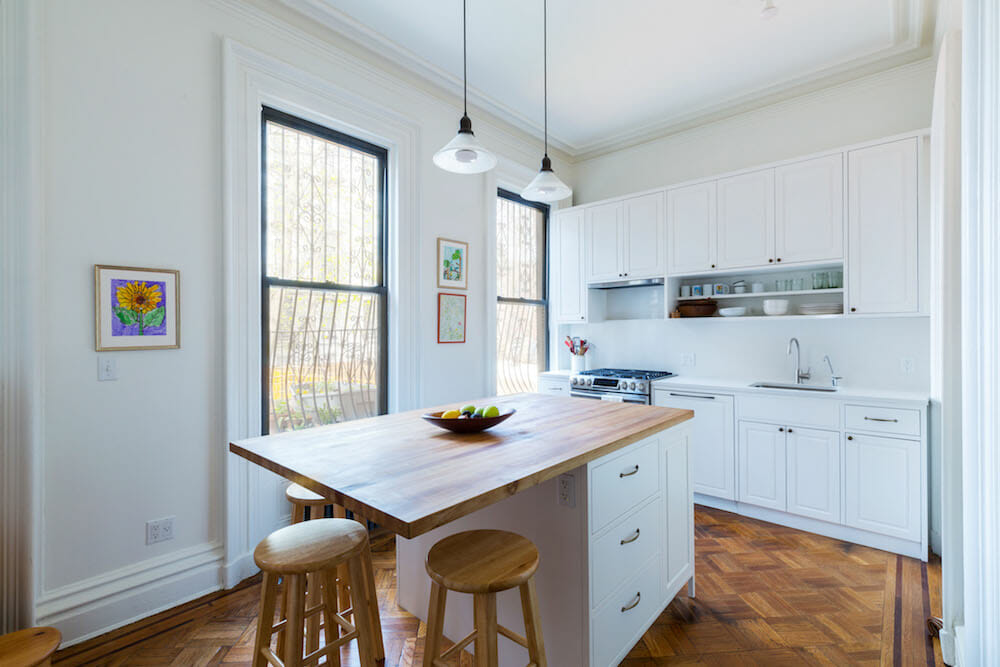 4. Wooden Central Island
Kate and Graham decided on a mostly white kitchen with hidden appliances. They wanted to make the kitchen feel integrated with the rest of their prewar home. Envisioning a room for family gathering, they added a central island—a perfect place for doing homework and preparing meals. More importantly, the island's butcher block countertops tie-in nicely with the original (but newly sanded and stained) parquet floors.
5. Warm, Neutral Accents
When Amanda and her husband purchased their two-bedroom apartment, they knew the dark and closed-off kitchen would need an update. She envisioned a clean, bright space that didn't feel too modern or sterile. The result: a harmonious mix of color and texture. Achieved thanks to butcher block counters, patterned tile floor, and white cabinets.


6. Natural Wood
Sam and Sean's kitchen went from closed-off to open and sophisticated. The couple knocked-down walls and added refreshing design details. Specifically, the new island which connects their kitchen and living room. The island's wooden countertops complement the other natural wood textures throughout the space.
—
Love to entertain? See how other renovators overhauled their kitchens to be the ultimate space for hosting friends and family.
Sweeten handpicks the best general contractors to match each project's location, budget, and scope. Additionally, our contractors help you until project completion. Follow the blog for renovation ideas and inspiration and when you're ready to renovate, start your renovation on Sweeten.