6 Home Bar Ideas That Deserve a Toast
From open shelves to a liquor cabinet with a garage-style door, these storage ideas can transform your kitchen (or closet!) into a fabulous home bar
When friends come over, the first thing you do is offer them a glass of wine. That means locating the bottle of wine before heading to where the glasses are usually stored. Finally, you root through the silverware and odds-and-ends drawers until you triumphantly unearth the corkscrew. Sound familiar? Rather than storing bar essentials around the kitchen, these Sweeten homeowners opted for home bar solutions to store everything from glasses to bottles of wine, liquor, cocktail shakers, and more. Plus, homeowners Yi Tyng and Maxime even transformed a closet located directly across from their kitchen into a wine bar (and it was featured in The New York Times). We'll drink to that!
Got an empty shelf niche? Add home bar hardware to keep stemware closeby

Holly and Christian's kitchen in Greenwich Village, Manhattan.
This clever use of niche shelf space is an excellent way to store wine, cocktail, and champagne glasses so that they can dry quickly and always be within reach for a celebratory toast.
Renovate to live, Sweeten to thrive!
Sweeten brings homeowners an exceptional renovation experience by personally matching trusted general contractors to your project, while offering expert guidance and support—at no cost to you.

Start your renovation
Floating shelves showcase stemware and spirits

Dan and Mike's kitchen in Hell's Kitchen, Manhattan.
Balancing a run of lower cabinets, a few open shelves act as a home bar dedicated to glassware and bar favorites make it easy to whip up drinks for company. And why not make it a home for cookbooks and cocktail recipes, too?
Using slivers of cabinet space for bottle storage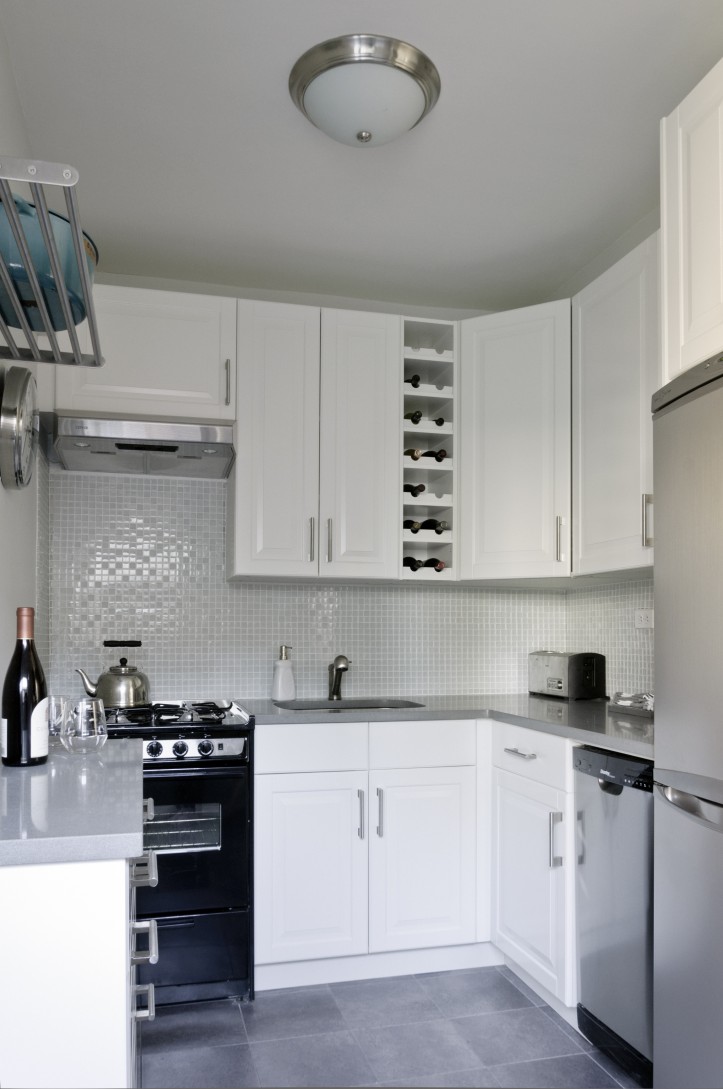 Lisa's kitchen in Brooklyn Heights, Brooklyn.
If you have wine, one popular way to store the bottles is on their side so that the corks don't dry out and let air in. A custom nook with grooved edges is the perfect solution.
Stacking shelves above a wine fridge creates a home bar nook

Frans and Dalal's studio kitchen in Gramercy Park, Manhattan.
Every inch in a studio apartment should be utilized to its full potential. By using the placement of the wine fridge as the base for a custom bar, these homeowners were able to add a countertop and shelving to store their home bar essentials and glassware in one easy-to-locate spot.
A cupboard under the stairs becomes space for spirits

Yi Tyng and Maxime's wine bar closet on the Upper West Side, Manhattan.
This closet, located under the stairs and directly across from the homeowners' galley kitchen, was transformed into a wine (and espresso) bar complete with open shelving, a wine fridge, and a counter with bar stools. The space also doubles as a breakfast nook.
A garage-style door cleverly conceals cocktail-making gear


Katie and Elliot's kitchen 
in Williamsburg, Brooklyn.
If you have a larger collection, a custom bar cabinet with shelving for glassware and bottles can keep everything neatly organized. This one also boasts a sliding garage-style door so you can choose whether or not to display the goods based on your mood.
—
If you're looking for a bigger storage solution, perhaps a complete home bar or wine cabinet, check out our budget basics guide on custom built-ins to get started on planning.
Sweeten handpicks the best general contractors to match each project's location, budget, scope, and style. Follow the blog for renovation ideas and inspiration and when you're ready to renovate, start your renovation on Sweeten.