6 Bedroom Ideas to Wake up Your Space
Nobody wants a bedroom design that's a snooze
Is your bedroom a peaceful retreat, or does the vibe remind you of a college dorm room—or worse? Whether you're dealing with lack of storage, an unsightly radiator, or discolored and uneven walls, don't stress! From clever disguises (what radiator?) to secret storage, these remodeling tips from Sweeten homeowners help you get closer to the bedroom of your dreams.
Custom radiator cover

Terri and Brett's master bedroom in their Prospect Heights home
If you have a radiator in your space, your design goal will be to disguise the unit and let it fade into the background. Homeowners (and architects) Terri and Brett did just that, designing a custom radiator cover that would blend in with their minimalist decor. Their millworker brought their plans to life and installed clips along the slatted fronts, making them removable for easy access.
Built-in shelving

The guest bedroom in AJ and Ray's Sunset Park brownstone
When a bed takes up most of the floor space, it might be hard to find room for additional furniture like a dresser or bookcase. AJ and Ray found a way to add storage to their guest bedroom in the form of built-in shelving, taking advantage of a nook between the closet and entrance that was too narrow for anything else.
Window seat with storage
Renovate to live, Sweeten to thrive!
Sweeten brings homeowners an exceptional renovation experience by personally matching trusted general contractors to your project, while offering expert guidance and support—at no cost to you.

Start your renovation

Matthew's bedroom in his Hell's Kitchen apartment
Another option for dealing with a lack of dresser space in the bedroom: install a built-in cabinet that's raised a couple inches off the ground. Carving out a window seat allowed Matthew to extend the height of his bedroom storage above the sill without blocking any sunlight.
Skim coating

The master bedroom in Marsha and Adam's Bed-Stuy brownstone
While fresh paint is capable of reviving just about any space, it won't do much in the way of hiding scratches and dents. Enter skim coating, a process that smooths and fills in imperfections before painting. The clean, skim-coated backdrop in Marsha and Adam's bedroom allows their mid-century modern furnishings to shine.
Color blocking

One of Marsha and Adam's daughter's bedrooms in their Brooklyn home
If you do decide to paint, consider bringing in some personality with color blocking. In the bedroom above, a burst of pink warms up the nearly all-white space while adding a fun twist.
Custom headboard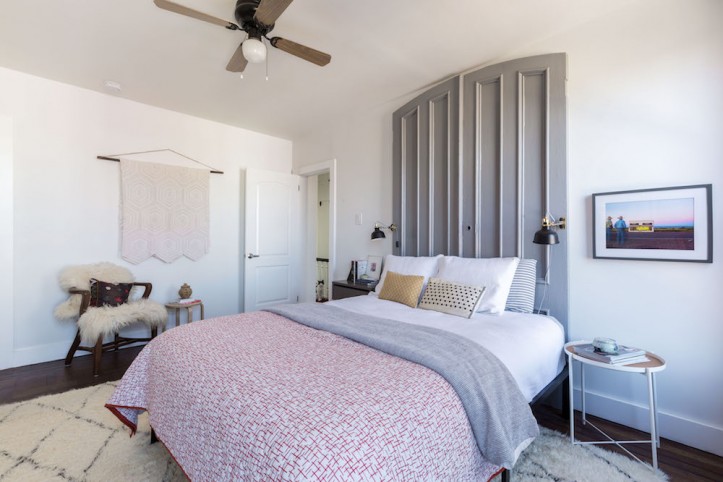 Bellamy and Zak's guest bedroom in their Bed-Stuy brownstone
The original set of doors in the foyer of Bellamy and Zak's home had lots of character but blocked the flow of light through the first floor. They decided to remove the doors, but instead of getting rid of them, Bellamy repurposed them to create a striking headboard in the guest bedroom.
—
Banish the clutter monster from under (and around) your bed. Read Bedrooms With Style and Storage to Spare.
Refer your renovating friends to Sweeten and you'll both receive a $250 Visa gift card when they sign a contract with a Sweeten general contractor.
Sweeten handpicks the best general contractors to match each project's location, budget, and scope, helping until project completion. Follow the blog for renovation ideas and inspiration and when you're ready to renovate, start your renovation on Sweeten.