What's Better: Kitchen Peninsulas or Kitchen Islands?
The kitchen peninsula and kitchen island: benefits, costs, and space requirements for the home cook's best helper
Sidle up and take a seat
Considered the most popular cabinets, kitchen islands and kitchen peninsulas are a beacon for every working cook space. Jockeying for square footage, countertops usually lose space to the sink, appliances, and small appliances. However, kitchen peninsulas and islands will do more than create an additional work surface and storage. They are an immediate focal point and you'd be hard-pressed not to immediately perch for coffee or for a chat. They also house amenities such as second sinks, cooktops, dishwashers, or wine coolers.
Sweeten matches home renovation projects with vetted general contractors, offering advice, support, and secure payments—for free. Here's our summary of the benefits, costs, and logistics involved in choosing these popular features.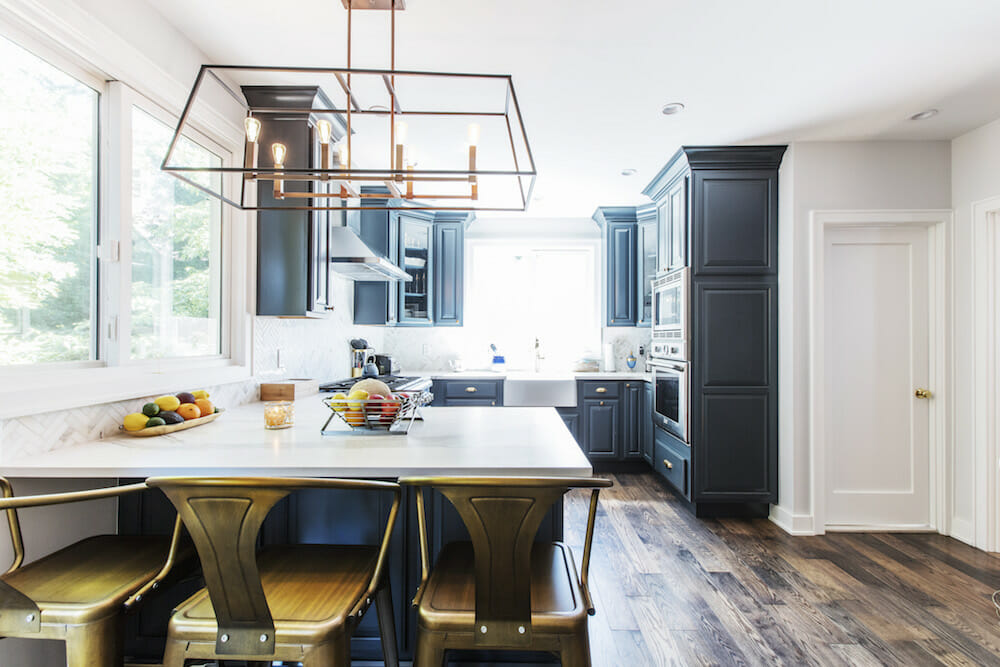 (Top photo) A black walnut-topped island seats three. (Above) Nydia's peninsula in her 250-square-foot renovated Sweeten kitchen
Basics of the kitchen island and kitchen peninsula
Kitchen islands are detached from the main section of counters and cabinets. Homeowners sometimes supplement this main section with mobile kitchen islands or carts. But true, cook-ready kitchen islands are permanently secured to the floor. Here, the kitchen island becomes a part of the kitchen itself

—

an enhancement that helps the

home's resale value. 




Kitchen peninsulas offer storage and countertop room roughly similar in size to kitchen islands. They are secured to the floor for functionality and safety. One end is attached either to the wall or to existing counters and cabinets. 

In most cases, the peninsula stylistically matches the main counters/cabinets. One popular layout is to attach the cabinet to the end of an L-shaped kitchen countertop. It becomes a U-shaped layout. 

Benefits of the kitchen island designs
Flexible spacing: This type of cabinet should remain within basic spacing parameters. But within those parameters is a degree of flexibility that allows you to nudge the island to the spot that works best for you.

Instant social space: If you host parties or dinners, or if you just want to draw family members closer, a kitchen island is a people magnet.

Easy to mix styles: All cabinetry and counters typically match. But if you choose to incorporate a slightly different style, this is possible. The physical separation from the main area means that dissimilar cabinets and counters are less noticeable.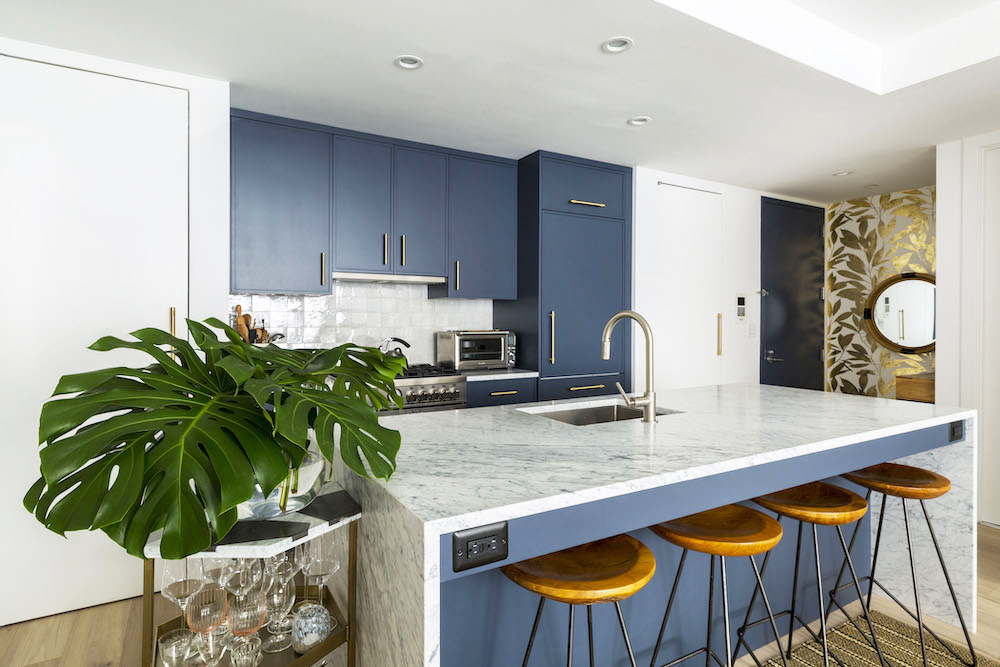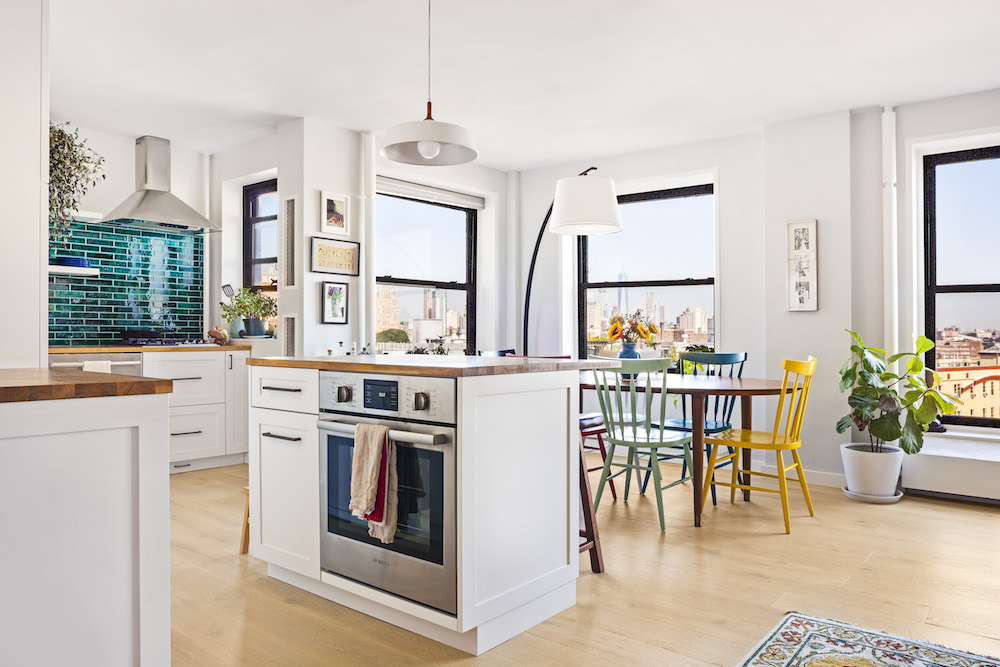 (From top to bottom) Mitzie and Jenifer's waterfall island. Even two-seat kitchen island designs can hold a full-size oven. A marble overhang seats three in Sara and Mike's '30s Tudor home.
Benefits of the kitchen peninsula
Continuous countertops: This type of cabinet typically connects with the main countertop. Quartz and solid surface countertop technicians employ seaming methods that erase the line between the two, effectively transforming them into a single surface.

Better workflow: Continuous counters and cabinets tend to get more use than separate work centers.

Easier to place utilities: Natural gas, electricity, water supply, and drainage lines are easier to connect, since one end abuts a wall or existing cabinets.

Which style works for your space?
Is increasing kitchen storage an overriding concern? If so, a kitchen island may be your best choice. A peninsula has a 90-degree cabinet angle creating a type of dead zone called a blind cabinet. While this space can be used, it is difficult to access. 
By contrast, kitchen island designs provide an unimpeded storage area under the countertops. If you think that you will want to eventually change or expand your kitchen, consider a kitchen island. It is easier to remove without affecting the main counter/cabinet section.
If you have a small kitchen or a medium-sized space, choose a peninsula that is more efficient with space. Also, if you think that the kitchen island's detachment from the main area may deter use, then you should consider installing a kitchen peninsula.
(From top to bottom) Three kitchen peninsulas from Sweeten homeowners: Jessica and Jessie's open concept; Kayla + Jesse's small kitchen; Dawn and David's multifunctional surface; and Melissa's three-seater
Renovate to live, Sweeten to thrive!
Sweeten brings homeowners an exceptional renovation experience by personally matching trusted general contractors to your project, while offering expert guidance and support—at no cost to you.

Start your renovation
Space requirements
The choice of a kitchen peninsula or kitchen island depends on the size and layout of the room. Adequate space between work centers must be maintained both for workflow and for safety. You must be able to open cabinet doors and dishwashers. You must also be able to freely access sinks and cooktops.
The industry group National Kitchen and Bath Association (NKBA) recommends that you keep 42 inches of space between the edge of an island or peninsula and any other counters, work centers, appliances, or walls. Increase that width to 48 inches if you expect to have more than one cook regularly working in the kitchen.
Walkways that are not work aisles (pass-throughs behind an island, for instance) should be no less than 36 inches wide.
Whether for an island or a peninsula, think in terms of an imaginary "kitchen triangle" created by three points: sink, refrigerator, and stove or cooktop. The three legs of the triangle should total no more than 26 feet, with no leg measuring less than 4 feet or more than 9 feet.
Standard countertops rise 36 inches above floor level. If either the peninsula or island is intended to be a breakfast bar, that height may be raised to 42 inches (though it would then be used exclusively for eating, not for food preparation).
Electrical receptacles servicing all counter areas should be GFCI-protected (ground fault circuit interrupter).
(Above) Alex and Jennifer's beach house kitchen island features a cooktop, wine fridge, and seating
Cost considerations
The cost of adding either cabinet type is highly variable. Since countertop materials tend to be expensive, Sweeten general contractor Claud said that homeowners need to think about whether they want either style to have enough countertop overhang to serve as an eating area.
Concerning costs, Claud says that where you live is as important as what you're building. "A detached single-family home will be different from a condo or townhouse, where costs can skyrocket." He noted that HOAs often require that remodel plans be drawn up by an architect, even in the case of adding either of these features.
Claud estimated that a 5-foot long, 36-inch high peninsula or island using semi-custom cabinets and quartz or solid surface countertops and with no amenities will cost $2,500 to $3,000. Amenities such as a sink or dishwasher add significantly. 
Which is more expensive: a kitchen island or kitchen peninsula?
They're close, he said, with islands usually costing slightly less. Peninsulas often demand more patching and wall work than islands.
Design professionals rarely consider either an island or a peninsula to be inherently better than the other. Instead, it is a matter of your home, the available space within the kitchen, and your taste and desires. Either way, you'll be gaining the kitchen's most efficient workhorse in workspace and storage.
When you're ready to get started on your kitchen or home remodel, discuss with your Sweeten general contractor which cabinetry works best in your space. 
A note on fixture and appliance deliveries: If you're on a tight timeline, Appliances Connection has over 50,000 items in stock and ready to ship nationally. If you're in the NY/NJ metro area, in-stock items typically deliver within 2-3 days.
—
Sweeten handpicks the best general contractors to match each project's location, budget, scope, and style. Follow the blog, Sweeten Stories, for renovation ideas and inspiration and when you're ready to renovate, start your renovation on Sweeten.
Popular questions asked
What is a kitchen peninsula?
A kitchen peninsula is an extended countertop area that offers valuable seating and storage space in the kitchen. They are secured to the floor for functionality and safety, with one end attached either to the wall or to existing counters and cabinets. Because kitchen peninsulas protrude from cabinets, they provide space to tuck chairs or stools. In most cases, these cabinets stylistically match the main counters/cabinets to which they are attached.
What is a kitchen island?
A kitchen island is a standalone structure made of cabinets and a countertop, detached from the main section of counters and cabinets in the kitchen. Sometimes, homeowners use mobile kitchen islands or carts, while more avid at-home chefs opt for kitchen islands that are permanently secured to the floor. Kitchen islands provide a social gathering space, offer flexible styling, and have slightly more spacing options than peninsulas.