Should I Stay or Go During a Renovation? The Pros and Cons
Should you stay at home or leave during a renovation? Surviving a renovation means knowing the pros and cons of living through it, vs. moving out.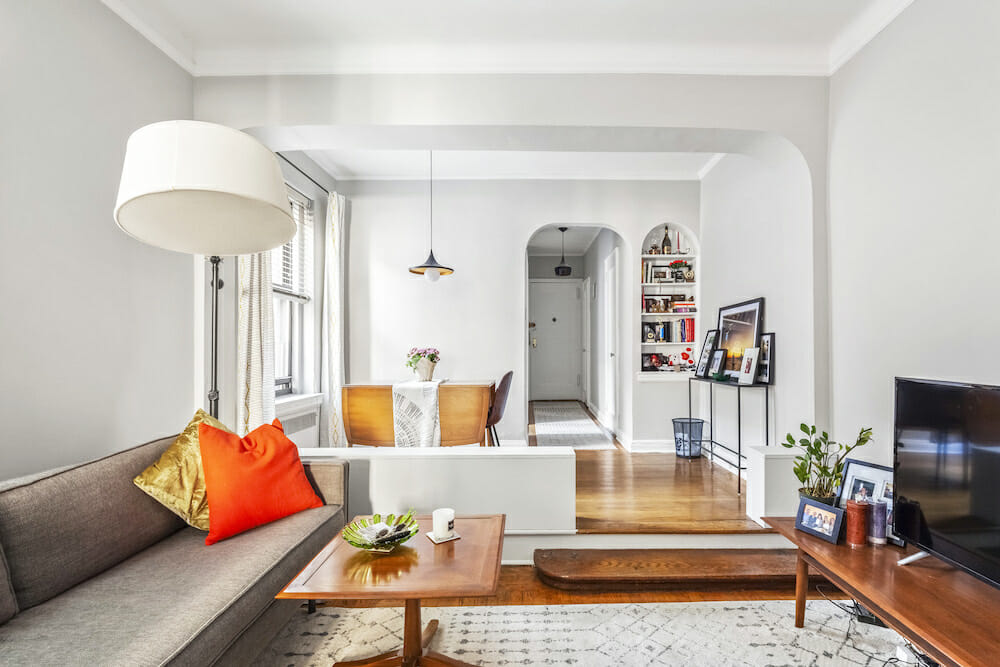 (Above) Sweeten homeowner Paul moved out on demolition day
It's unlikely The Clash were singing about a home renovation when they asked: "Should I stay or should I go?" Still, it's an important question to answer when a crew is coming to work on your living space.
It's no secret that construction work is messy and disruptive in any home. It can stir up old toxins, bring new ones in, generate dust, and render key parts of your home unusable for days or weeks. The impact spreads in both directions: renovations may interrupt your day-to-day life, and homeowners may also get in the way of the progress, too. The best possible option to minimize inconveniences and speed up work is to move out during the renovation, but, of course, moving out can add significantly to the budget and complexity of renovating. It isn't necessary for every project and there are a variety of ways to make it through the transition time. Do you want to survive your renovation in one piece? Ask yourself these questions before making your decision:
What are you renovating?
Is your project a gut renovation? Are you renovating a room that you can't live without for more than a few days? Have a clear-eyed look at your household's daily needs and talk about the work schedule with your contractor to understand where you'll have access and where use (and peace!) may be compromised.
Not surprisingly, with a gut renovation that takes over the home for weeks or months, moving out is generally the best option. This allows work to move forward holistically throughout the space and keeps you away from toxins. Some renovators opt to extend an existing lease while a new space is renovated, others stay with family or friends, and many turn to StreetEasy — the most comprehensive marketplace to find a long-term or short-term lease or broker.
If you are renovating a critical space like a kitchen or bathroom, Sweeten contractor Ronald encourages clients to move out during the dusty demolition phase, at a minimum. After demolition, your use of the kitchen or bathroom could be compromised or off-limits entirely for days or weeks.
If you're renovating a kitchen and plan on staying, be prepared to order a lot of takeout (and add that expense to your budget). Or organize a makeshift kitchen with an electric hot plate and microwave with water from the bathroom sink. A bathroom renovation can be more tricky if you only have one — it is essential to talk with your contractor about whether your toilet or shower will be off-line and for how long.
(Above) Sweeten homeowners Allison and Jovito say stay: "Living in the house during construction wasn't fun…On the plus side, it was exciting for us to see the team's daily progress and some of the relics they unearthed during demolition."
Can you stretch your budget?
The best time to have your answer on staying or going is as soon as possible. That way, you can include the additional expense for a hotel or a short-term apartment rental in your initial budget. It can be attractive to plan a vacation some part of the renovation, but most projects benefit from regular site visits and communications with your contractor, so leaving town altogether requires especially good communications and planning.
Construction can affect children and can be an issue for adults with health issues. If your home was built before 1978, the walls may have been coated in a lead-based paint (1978 is the year lead-based paint was banned) that can release toxins when the paint is sanded or removed.That's why general contractors are required to test for lead-based paint in older homes. It's also why the decision to stay or go during a renovation carries extra weight when children are involved, as they are more likely to touch or ingest harmful materials.
Toxins can have varying effects on adults. Although human bodies can filter out some toxins, adults who are "immunocompromised" can be more sensitive, according to Robert. People with a lesser ability to repel toxins include those fighting cancer or are organ transplant patients. Asthma sufferers can also have a harder time. "Adults filter particles through their nose hairs, but someone who is sensitive, that would certainly be a big "no" to being anywhere near that work environment," said Robert. Adults in this situation should also consider avoiding any construction site visits.
(Above) Sweeten homeowners Chris and Lisa did both: "I took the kid and dog to my sister's house upstate. Chris had to live in the space during construction due to work. Thankfully the building has a basement bathroom that he had access to, and friends were nice enough to let him use their showers."
What is the layout of your home?
Along with the scope of your project, the layout of your home could affect your decision. It's possible to separate a renovation occupying one level of a multistory home from the remaining living space, Ronald said. If it's an apartment with only one point of entry, this becomes more difficult. "If the general contractor team doesn't have another way to get into the work area, of course, they are going to bring in dust on their clothing, in their hair," said Robert Weitz, from RTK Environmental Group, which tests homes for toxins. Renovations can create dust so fine a human eye can't see it. That dust can also pass through a typical vacuum cleaner filter, Robert said.
Contractors can take certain steps to reduce the spread of dust and toxins to other parts of the home. Likely, the renovation is sectioned off with tape and thick plastic, according to Ronald, who is certified by the Environmental Protection Agency (EPA). Negative air pressure also stops contaminated air from leaving the renovation zone whenever a worker exits or enters. Ronald also uses a water mister in the renovation area; damp air limits the dust from traveling around the home.
Deciding where to stay during a home renovation (whether you decide to stay or leave) is an important decision. Read the stories of Sweeten homeowners who made the decision of moving out or sticking it out during their renovation.
—
After you renovate, here are tips on cleaning up so you can settle into your new home.
Sweeten handpicks the best general contractors to match each project's location, budget, and scope, helping until project completion. Follow the blog for renovation ideas and inspiration and when you're ready to renovate, start your renovation on Sweeten.
Where to stay during a home renovation? 
If you're doing a lengthy renovation of a vital room (a kitchen or only bathroom) you may need to stay elsewhere. Some homeowners opt to stay with friends or family until the space is reusable, others find short-term rentals to live in for the duration of the renovation. 
How to live through a home renovation
Clearly understand your household's daily needs and discuss the work schedule with your contractor. This will help you understand where you'll have access and where usage (and peace!) may be compromised. Are you doing a gut renovation? Are you renovating a room that you can't live without for more than a few days? Knowing the answers to these will help you determine whether you can (or should) stay in the home, or live offsite during the renovation.