A Galley Kitchen and Patio Remodel Are Renewed as One
A family reenergizes the back of their home—and adds an extension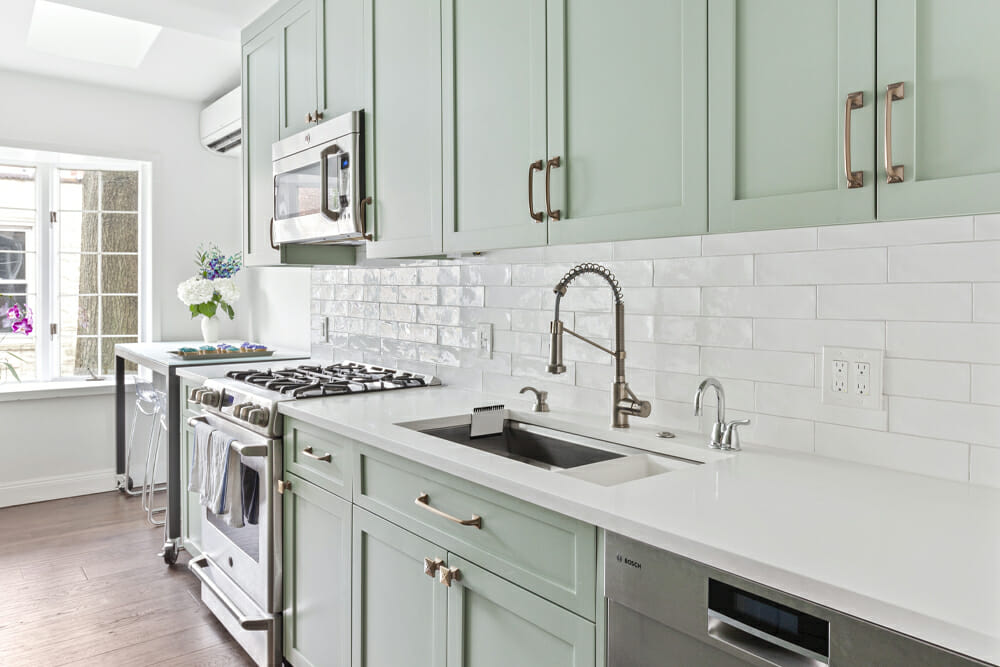 Homeowners: Nearly a couple of decades after they bought their home, Laura and Tim posted their galley kitchen remodel on Sweeten 
Where:

Rego Park, Queens

, New York
Primary renovation: Adding square footage to the back of a townhome

and updating an ill-organized kitchen

Our role: Sweeten matches home renovation projects with vetted general contractors, offering guidance, tools, and support—for free.
"After" photos by Pixy Interiors for Sweeten
Time for a change
In 2001, Laura and Tim bought and moved into their first home—a 1929 brick townhouse in Queens. The single-family home measures 1,360 square feet on two floors, plus a finished basement. Having raised their family there, the pair were finally ready to tackle some of the issues that had plagued their charming, but problematic, house. 
The galley-style kitchen was falling apart and had also suffered water damage from a leaking shower upstairs. A remodel with new cabinets, flooring, and wall treatments had been the initial plan. They had recently purchased new appliances but the rest of the space had gotten "old and grungy," according to Laura.
Renovate to live, Sweeten to thrive!
Sweeten brings homeowners an exceptional renovation experience by personally matching trusted general contractors to your project, while offering expert guidance and support—at no cost to you.
split-image-before-remodel
split-image-before-remodel
A full-extension project
They wanted to create a "comfy, modern kitchen that still matched the period feel in the rest of the house while providing more storage and better flow." The kitchen also had a drafty door to the patio, which they never used because of its impractical location. An interior designer friend, Suzy Leon of Suzy Leon Design, Ltd., made suggestions, and one thing led to another—taking the homeowners from a kitchen remodel to a full-blown extension project. Laura and Tim posted their project to Sweeten to be connected with vetted remodeling firms who worked in her Queens neighborhood. They then chose their Sweeten contractor to perform the work.

Reorganizing the space
The old patio became part of the kitchen and dining space, and skylights were added to the new ceiling to bring in more light. The kitchen is now a beautifully organized and cheerful space for the family. Since it remained a galley layout, the homeowners chose simple textures and light colors to contrast a wide-plank dark wood floor with some grain and character. 
A bright and modern feel
The cabinets have Shaker-style fronts in a minty green, which "matches the feel of the old house but is also clean and modern at the same time." A tall pantry cabinet opens to reveal a column of drawers for optimal food storage. The white quartz countertop lightens up the space, and an enormous sink means there'll be enough room for even the largest pots. The oversized undercounter sink has an instant hot faucet, disposal, and stainless steel finish to match the appliances. At one end, a wine fridge provides extra space for beverages next to the refrigerator. 

"The kitchen came out beautifully! We love the new flow, the light, and the extra space." Laura reports that the extension is a lovely addition to the house where guests naturally gravitate, and the skylights add light and fresh air. Moving the doorway between the dining room and kitchen improved the flow to the basement.

Getting things to code
Due to the domino effect often seen in renovations, the basement also had to be brought up to code—with updates to the bathroom and boiler. They also took the renovation as an opportunity to install mini-split systems in the whole house so that they would no longer have to deal with inefficient window units. The homeowners love their new space, and are satisfied with having addressed their long list of broken or less-than-perfect things in the house. 
Thank you, Laura and Tim, for sharing your home!
—
When you're ready to get started on your kitchen or home remodel, work with Sweeten to be connected with the best contractors.
Sweeten handpicks the best general contractors to match each project's location, budget, scope, and style. Follow the blog, Sweeten Stories, for renovation ideas and inspiration and when you're ready to renovate, start your renovation on Sweeten.
WATCH VIDEO:

Renovation Materials
Design consultant: Suzy Leon Design

Kitchen cabinets: custom.

Cabinet paint in #466 Garden Path; interior paint in Chantilly Lace: Benjamin Moore
Schaub and Company Northport hardware in brushed bronze: Build.com
Flooring in Deerfield Beach: PID Floors
Kohler Prolific 33" sink: Kohler 
White quartz slab countertops: Marble Systems 
Sliding patio door: Andersen
Solar-powered "Fresh Air" skylights: Velux
Park Harbor Summerlake ceiling light fixture in antique brass: Build.com
Acrylic Tiffany counter stools, Parsons table (custom height): Room & Board