A Studio Loft and Balcony Check All the Boxes
A renovation gives a design-obsessed owner the ultimate pad
For a lot of singles in New York City, a 500-square-foot Greenwich Village studio with both a lofted bedroom and an outdoor balcony would sound like a pie-in-the-sky find. But new homeowner Carly Schulte had a higher vision for this downtown co-op—she knew when she saw it that she could improve on it. She snapped up the apartment and posted her project with Sweeten, a free service that matches renovators with vetted general contractors. Here's how Carly literally raised the lofty studio's roof, with a Sweeten general contractor, making it a party-friendly place that feels larger than it really is.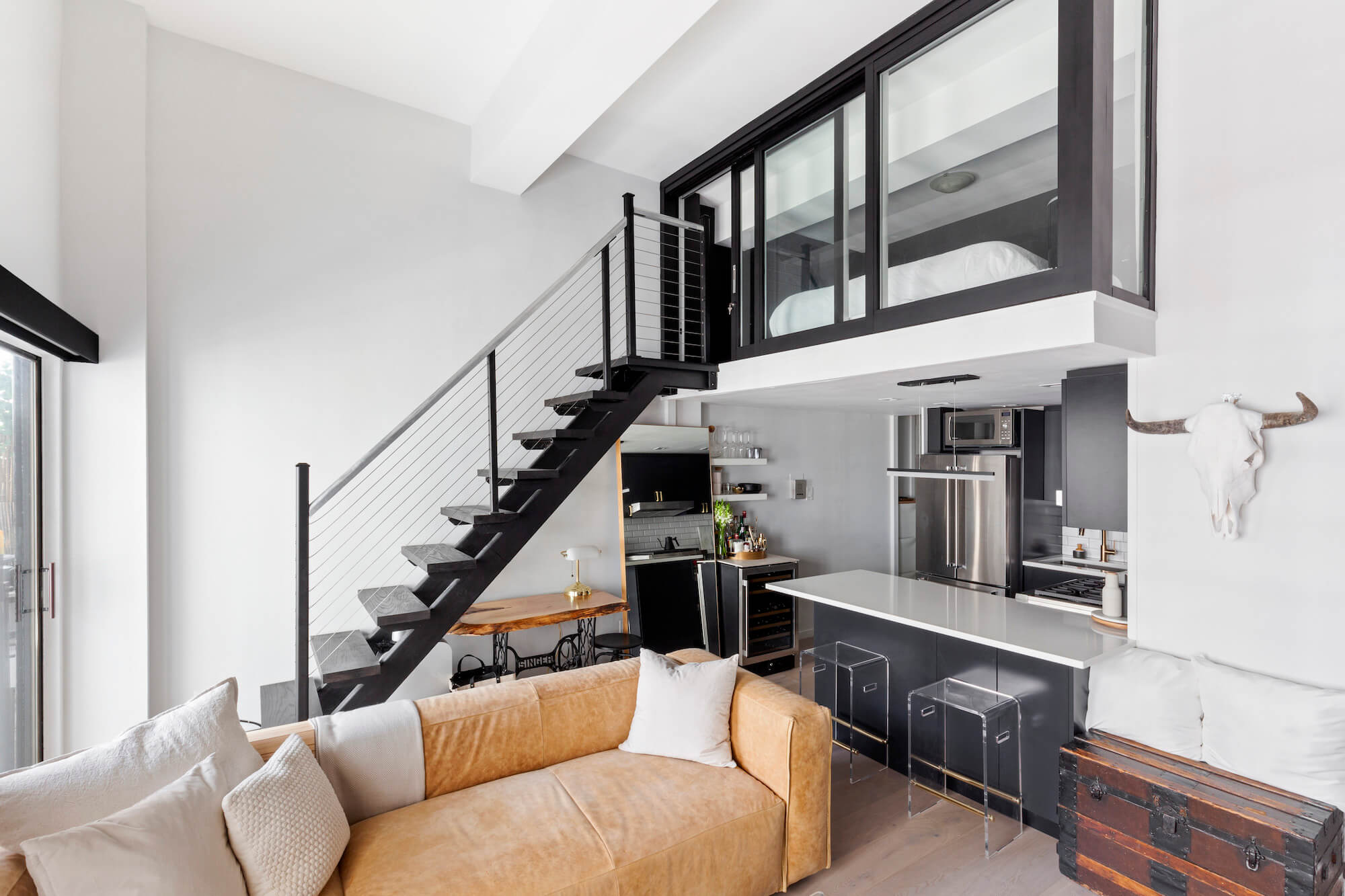 "After" photos by Pixy Interiors for Sweeten
Guest blog post by Sweeten homeowner Carly
I was lucky in the apartment hunt. I'd only been to a handful of showings, but when I saw this place, I knew I wanted to make an offer. I have a soft spot for lofts, and the balcony made it a must-have. I'd been planning—and saving—to buy an apartment for years, and it was a good thing I waited. The sellers were motivated. I put in a bid and pulled off the purchase.
I'd envisioned an overhaul that included renovating the kitchen and bathroom, modernizing the loft and stairs, and adding a giant wall-to-wall built-in of shelves and closets in the living room, but it was once I was there that I clarified my goals. I realized I wanted to expand the kitchen, since I love to cook; I needed a larger kitchen peninsula that would serve as both a work and eating surface. 
Although I left things like cabinet dimensions and stair specs to the professionals, I selected all the flooring, cabinets, [and other finishes].
It dawned on me, too, that I wanted to raise the ceiling. One of the apartment's previous owners had actually dropped it by at least five feet, wasting space and blocking light. In my mind, high ceilings are pretty much universally beloved and will definitely add value when I ultimately go to sell the apartment. I saw that by reclaiming the height, I could enclose the sleeping loft, allowing it to feel private but still be bright. I designed the windowed loft wall by looking through Instagram and showing the drawings to my Sweeten contractor. He found a way to make the enclosure with sliding glass panels that transmit both air and light.
I knew when I hired my contractor that I wanted to work this way, doing my own design work, and I was happy to find a contractor who would work with me. To say I was hands-on would be an understatement. Although I left cabinet and stair specs to the professionals, I handled most of the materials including the cabinets, tile, and appliances, as well as the layouts for each room (which was surprisingly time-consuming).
Renovate to live, Sweeten to thrive!
Sweeten brings homeowners an exceptional renovation experience by personally matching trusted general contractors to your project, while offering expert guidance and support—at no cost to you.

Start your renovation
Carly-living-room-4
Carly-Living-Room-Before-2
Carly-loft-stairs-5
Carly-kitchen-12
Carly-Living-Room-During-1
Carly-kitchen-13
Carly-living-room-8
Carly-bedroom-7
Carly-balcony-6
Carly-bathroom-9
When it came to aesthetics, I stayed neutral, particularly in more permanent elements like flooring and cabinetry. But I have a huge interest in texture, and I was excited about mixing flat, modern, cool elements, such as the steel staircase and black cabinetry [a great way to create depth], with warmer ones, like the wood-grain floors and golden-brown leather and upholstery. 
To achieve the look I wanted, we had to do the work. It was a challenge, with bumps. The worst came early, when we demolished the kitchen and found asbestos. Remediation cost about $6,000 and added three months to the timeline. I would strongly recommend asbestos testing during the diligence phase to any potential buyer. Had I tested up-front and knocked some of the abatement costs off of the purchase price, I would have saved money.
From start to finish, excluding the asbestos work, my renovation spanned five months. I moved out for several weeks when the contractor knocked down walls and raised the ceiling. For much of it, though, I was there. I had no kitchen for six months and lived out of suitcases and boxes. Luckily, my bedroom remained mostly untouched, so once the enclosure was finished, I spent my home time up there. I don't regret slumming it. The money I saved on short-term housing enabled me to buy the gas stove of my dreams!
Carly-bathroom-before-6
Carly-bathroom-10
I heavily underestimated how long the approval process would take. The time it took just to obtain the co-op board's approval for my plan was nearly six months. Staying in my rental apartment in hopes of a fast renovation was a big mistake. If I had it to do again, I would move in right after closing, live in my new space, and use that rent money for something meaningful. Hindsight is 20/20!
People have asked how I lived through the project. I think I blocked some of it out, but I do remember leaning on the Sweeten team after a few long construction delays made me feel frustrated and uncertain. They offered me a sounding board and helped me adjust my expectations, and as a first-time renovator struggling to parse out the delays, their guidance was immensely helpful. When needed, Sweeten contacted my contractor and helped to keep things moving smoothly.
Despite the difficulties, I love the way the place turned out. The raised ceiling, now about 16 feet high, changed the entire feel of the place. The library ladder, a functional addition facilitating access to the high cupboards, added a fun touch, and the loft enclosure made the bedroom feel cozy and intimate. My new kitchen has made cooking every meal a pleasure, and even the bathroom is beautiful, which is rare to say about a bathroom. There was stress and sweat, sure. But designing the space was one of the most rewarding things I've ever worked on.
Thank you, Carly, for sharing your home with us!
LIVING SPACE RESOURCES: Paint in Pure White (walls) and Decorators White (baseboards): Benjamin Moore. European oak wood flooring: Sourced through contractor. Holmes plug-in wall sconce: Schoolhouse. Carbon steel hook ladder and rail: Specialty Doors Inc. Cabinet built-ins: Custom by contractor. Built-ins painted in Black Iron: Benjamin Moore. Custom staircase: Paragon Stairs.
KITCHEN RESOURCES: Kitchen cabinets: Custom by contractor. Cabinets painted in Black Iron: Benjamin Moore.  Edgecliff natural brass cabinet hardware: Schoolhouse. 24" handmade stainless-steel sink: Kraus. Trinsic single-handle pulldown faucet in champagne bronze: Delta. 18" 800 Series dishwasher in stainless steel: Bosch. French door refrigerator in stainless steel (Model #KRFF300ESS): KitchenAid. 36" gas range (Model # GR366): Wolf. Sonneman 24" Linear Pendant Light: houzz.com.
BATHROOM RESOURCES: Paint in Pure White: Benjamin Moore. Shower fixtures: Delta. Godmorgon vanity; Odensvik sink: IKEA. AQUADOM Royale 48" mirror/medicine cabinet: houzz.com. Toilet: Existing.
BEDROOM RESOURCES: Paint in Black Beauty: Benjamin Moore. Menlo Glass Globe wall sconces: Target.
—
Here's a guideline on how long a one-bedroom apartment renovation takes. Set your calendar!
Sweeten handpicks the best general contractors to match each project's location, budget, scope, and style. Follow the blog, Sweeten Stories, for renovation ideas and inspiration and when you're ready to renovate, start your renovation on Sweeten.