A Storage Swap Makes All the Difference
Closet and platform bed storage highlight an alcove studio
When we published Lauren's studio renovation in October of 2016, we found ourselves obsessed with everything in it, from the thoughtful design to the clever storage sprinkled throughout. And we weren't the only ones. The New York Times covered Lauren's home shortly after, (see below) featuring her space in Getting Organized in a Tiny Apartment, an article focused on living small—yet smart—in the big city. Since many of you have set the goal of getting organized once and for all, we thought it was time for another look at this inspiring home.
With a year left on her lease, timing was not an issue when Lauren closed on her new studio co-op in impossibly charming Brooklyn Heights. But with a desk where a master closet could be and a teeny closet where a chic workspace could be, Lauren needed some help to renovate before settling in. Read on for this first-time homeowner's take on kitchen, bathroom, closet, and flooring updates throughout her lovely home.
Guest post by Lauren, Brooklyn Heights homeowner
When I started looking for an apartment last fall, I had no idea what to expect. I had narrowed my ideal location to Brooklyn Heights for its proximity to Manhattan and quaint feel. Once I saw the listing for this co-op apartment online, I knew it ticked all of my boxes and was ecstatic when my offer was accepted. I had time on my side as I still had about a year left on my current lease (did not think the buying process would happen as quickly as it did) and I decided the apartment could use some updates to fit my style and taste a bit more.
The space gets a lot of light and has a great view of the East River. I wanted to update the bathroom, darken the floors, and optimize storage space in the apartment. The way the previous owner had utilized storage space did not make sense to me; there was a large home office in a closet in the main living space and a small closet in the bed loft area. The bed loft also had a trap door for storage that was only accessible under the bed. I had no idea where to start looking for a contractor, but I remembered reading about an apartment renovation with Sweeten on Apartment Therapy. On a whim, I posted my project, and I waited to see what sort of responses I would get.
I wanted the apartment to have a clean, fresh, modern, and calm feel with optimized storage to reduce clutter. I had most of my finishes and materials selected before starting the renovation, which made everything that much easier. I got two matches initially and then worked with Sweeten to line up more so I had more bids to compare. I met with four contractors and after much deliberation, I decided to go with this Sweeten general contractor.
The one I chose completely understood my vision and desired style for the apartment. I asked him at one of our first meetings if there was anything that I hadn't included in the scope of the renovation that I should have, and he immediately mentioned skim coating the walls and ceilings. The thought had never crossed my mind, but he pointed out the bowed beams on the ceiling and uneven surface on the walls. He educated me on why it was the best route to make this impactful update.
From the start, I knew that it would be difficult to darken the maple floors. Maple is a notoriously difficult wood to introduce stain, and I could tell from a preliminary search on Google just how hard it would be to accomplish. My contractor and his team did not back down from this challenge. They tried to go the normal route of staining first, and after the first round of testing and samples, we knew this would not give the desired result. They investigated different dyes and proper techniques for mixing the dyes and application. After some trial and error (and lots of labor), the floors turned out great!
To match my floors, my contractor re-built the bed loft platform out of the same maple flooring (as it was previously just plywood). He integrated a better storage solution under the bed loft, creating three bays to store off-season clothes and a folding table and chairs for extra guests. He also installed shoe molding and base molding throughout. In the bed loft area, after removing an existing closet, he created a built-in desk nook.
Renovate to live, Sweeten to thrive!
Sweeten brings homeowners an exceptional renovation experience by personally matching trusted general contractors to your project, while offering expert guidance and support—at no cost to you.

Start your renovation
In the kitchen, the existing stove was quite small at 24" and I really like to cook and wanted a standard size range. Replacing the range proved difficult as the existing cabinetry configuration did not allow for a range with 30" of width. With some creativity, my contractor came up with the solution by notching out the cabinets by a half inch on either side, shifting one cabinet down, and making it into a cookbook shelf at my request. This allowed me to get a full-size Samsung 30" gas range.
Replacing the range also meant replacing the countertops. I knew I wanted to change the existing dark marble countertops for a light-colored quartz option. I discovered that Pental Quartz Thassos was the brightest white quartz to complement the white gloss Ikea cabinets that I was leaving in place. The same material was used to make new windowsills as well.
The kitchen was also updated with a new sink, faucet, dishwasher, refrigerator, marble backsplash, and new under-cabinet lighting. My contractor came up with another great idea to add a soffit on top of the kitchen cabinets to finish off the look. The kitchen lighting was replaced, swapping out three pendants for one large lantern pendant.
In the bathroom, the fact that the bathtub was too short for its location really bugged me. There also was a very odd triangular corner which I thought was a terrible waste of space. Working with my contractor, I am so pleased with how the bathroom turned out. It feels like a mini spa. He squared off the triangular corner and broke through the wall to the exterior hallway, making the triangular corner into a linen closet that's accessible right outside the bathroom. I added a drop-in tub that fits the space better and opened it up by replacing the shower curtain with a glass shower panel. The tinted shower tile gives the otherwise all-white bathroom a refreshing pop of color. New shower lighting highlights the unique color of the tile. The fixtures are from Kohler, as is the vanity.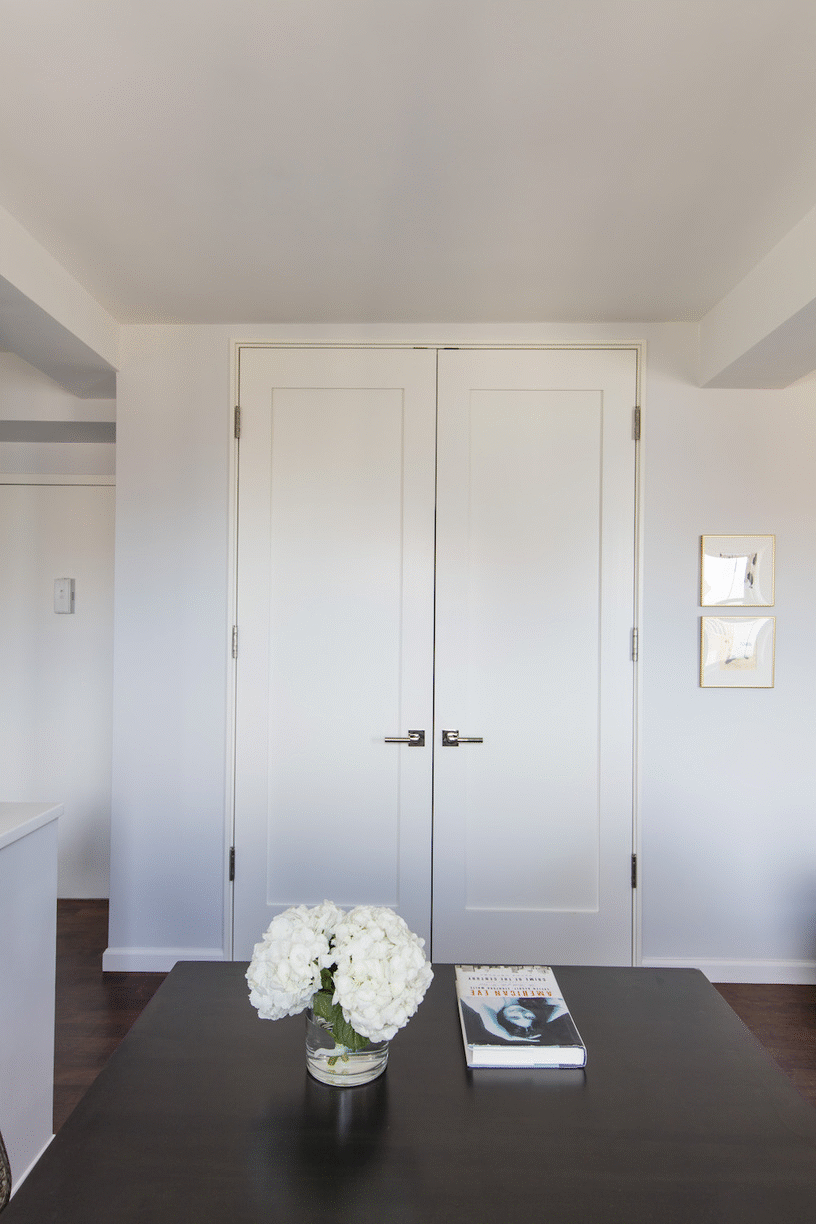 My contractor came up with a great idea for closets and went with larger 8-foot closet doors to make the space feel more expansive and draw your eye up to the beams. We replaced all the doors with single panel doors and simple chrome hardware. Two closets were customized by California Closets while the contractor and his team built shelving in the other two closets.
They also built a cover for the AC/heat unit in the living room, with the front panel mimicking the same style as the bathroom sink vanity. And he even took the time to come back to the apartment to mount the TV properly when a handyman I'd hired had an issue mounting it into a steel stud.
For a first-time renovator, Sweeten made the process pretty painless. My contractor takes great pride in his work, and as a client, I could not be happier with my experience working with him. Yes, there were delays (as there always are), but he was incredibly communicative and was able to handle my nerves and constant questions. He and his team are perfectionists and true craftsmen, and I could not be more pleased with their work. Everyone who comes to see the apartment sees the quality of how the tile is laid in the bathroom to how the floors are re-done, and I owe it all to my Sweeten contractor.
KITCHEN AND LIVING AREA RESOURCES: Pental Quartz countertops, #BQ1003: Thassos. Purist sink fixtures: Kohler. Oven range: Samsung. Refrigerator: Blomberg. Dishwasher: Bosch. Lighting: Ballard Designs. Closet: California Closets.
BATHROOM RESOURCES: Vermeere ceramic wall tile in Light Ocean Breeze, #199-C1-312-701: Complete Tile. Purist shower and sink fixtures: Kohler. Mirror: Restoration Hardware. Wall sconces: Circa Lighting. Bath baskets and door hardware: Klaffs.
This post has been revised and updated from its original publication on October 6, 2016.
—
Got more style than space? Check out our favorite closet renovations and close the door on clutter.
Refer your renovating friends to Sweeten and you'll both receive a $250 Visa gift card when they sign a contract with a Sweeten general contractor.
Sweeten handpicks the best general contractors to match each project's location, budget, and scope, helping until project completion. Follow the blog for renovation ideas and inspiration and when you're ready to renovate, start your renovation on Sweeten.