A Home Remodel in Bay Ridge Keeps Its Pre-War Appeal
The transformation cost $60,000—and resulted in an eclectic and much-loved home
Homeowners: Karli and Matthew, after purchasing their two-bedroom apartment measuring 900 square feet, posted their project on Sweeten
Where: Bay Ridge neighborhood in New York City
Primary renovation: A kitchen and bath remodel with new cabinets and surfaces, plus a walls-and-floors refresh throughout
Homeowner's quote: "I could not imagine doing any of the aspects of this job without our contractor. We met with several contractors, and the one we hired was the only one who talked us out of additional scope. The other guys just said yes and gave us a price." 
Written in partnership with homeowners Karli and Matthew. "After" photos by Kate Glicksberg.
Saving until the price was right
The biggest challenges of our whole-home renovation came from the fact that our co-op apartment is a fourth-floor walk up. And there is no elevator. Getting the materials and large pieces of furniture upstairs was no easy feat—not to mention it was the dead of summer. Our apartment, in a well-maintained pre-war co-op building in Bay Ridge, Brooklyn, is a two-bedroom, about 900 square feet.
We're Karli and Matthew and we live with a very sweet and spoiled coon-hound lab mix, Lucy. Karli is a dancer and an NYC nanny. Matthew is a Contracts Manager. We lived with family while saving for the apartment, then jumped when we were able to snag it at a reasonable price. The apartment was in rough shape and we renovated before moving in. Construction took about three months.
Finding contractors in Brooklyn
We found our contractor through Sweeten, but also looked at options recommended by friends and family. What made us choose the Sweeten contractor was his friendly demeanor and flexibility. He answered Karli's many questions, too.
Our main goal was to update reasonably, which meant a couple of things: to keep as much pre-war charm as we could and to stay within our budget. The apartment has imperfections, but the floors were beautiful and the molding was intact. We tried to work in a slightly modern style while preserving homey details, for a stylish yet comfortable result.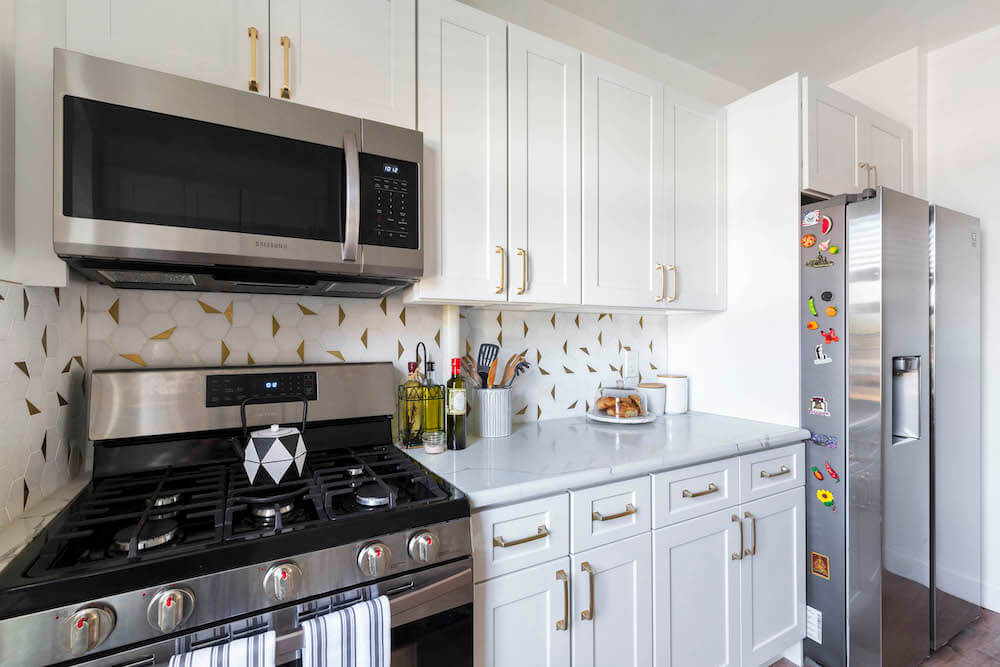 For many of our materials, we worked collaboratively with our contractor, asking him what brands and finishes he recommended. Our strategy was to go with "Toyota" brands—known to be dependable, durable and affordable, but also stylish. It's a good idea to take supplier tips from your contractor; they have people they've worked with and trust. The very few instances we did not take our contractor's recommendations came back to haunt us; we thought we got a good price, but the headaches and time lost were not worth it.
Tips on choosing kitchen and bathroom materials
We were most excited about the kitchen. Karli loves to cook and bake, so a functional kitchen with plenty of counter space was essential. We kind of gambled on our geometric backsplash. We felt drawn to the tile in the store—it was the perfect amount of glam without being overpowering, but after we made the decision, we had some doubts. When we saw it on the wall, however, we just swooned. Our tip based on this experience would be to go with a statement piece or color that grabs you, and then build from there. 
Renovate to live, Sweeten to thrive!
Sweeten brings homeowners an exceptional renovation experience by personally matching trusted general contractors to your project, while offering expert guidance and support—at no cost to you.

Start your renovation
We did this with the bathroom, too. We loved the idea of a blue vanity, so we picked one and built everything else around it. To save time and cut costs, we had decided not to change infrastructure or move hookups, so the tub and toilet stayed, but with fresh tile and the vanity, it felt new. It all turned out beautifully.
Our Sweeten contractor delivered
I could not imagine doing any of the aspects of this job in Brooklyn without our general contractor. We met with several contractors, and the one we hired was the only one who talked us out of additional scope. The other guys just said yes and gave us a price. 
He engaged with us, asked questions, and gave us recommendations on how to do things better or for less money; that proved extremely valuable over the course of the renovation. He communicated clearly and honestly, gave us accurate timelines, and was just a pleasant guy to work with. His crew were excellent craftsmen (cleanest tile job ever!) and showed up every day.
Navigating our renovation issues
Our renovation went smoothly, but it seemed wise to expect road bumps. Things that appear straightforward may not be—once you start breaking walls and removing things, especially in old buildings, you may run into remodeling issues that no one sees coming. On that note, just the increase in noise from construction is reason to let your neighbors know you have them in mind; give them a little gift or write a nice note before your job begins. Getting that countertop up the stairs was quite the job. You never know when you'll need patient, kind neighbors.
Funny story about that blue bathroom vanity: it was delivered one day—to our building's lobby. The box looked a little beat up, so I opened it and peeked at a corner, which looked fine. One of my friends helped me move the large, heavy box up the stairs. When we got to the fourth floor, moved the vanity inside, and unboxed it, it was smashed beyond repair. We had to move the thing back downstairs and return it to the store ourselves. 
Delivery, as a side note, is important to iron out with any vendor before purchasing materials. Most places will only deliver up two floors—we did a good deal of bribing and moving things ourselves to get them to the fourth floor.
The best thing about our renovation was when it was done. We can't sugarcoat it: It was a stressful few months. But from our redos of the kitchen and bathroom to the floors and walls we simply refinished, the results were worth it. Our living space was important to us. We wanted it to be inviting and cozy, and reflect us as a couple: cohesive and eclectic. We love entertaining, so ample, comfortable seating was a must. We incorporated wall art we loved, but made it interchangeable. We kept our bedroom zen with neutral tones and cool colors. Of course, we have lots of plants.
A week after moving our things up those stairs to the fourth floor, on a rainy Friday, we ordered dinner in, snuggled up with Lucy, and watched a movie. All that stress and work was behind us. Having spent $45,000 for labor and $15,000 on materials and appliances, we were over the planned budget, and that would be a challenge. But our space makes us feel inspired and relaxed. We are truly at home.
Thank you, Karli and Matthew, for sharing your home with us!
—
Sweeten handpicks the best general contractors to match each project's location, budget, scope, and style. Follow the blog, Sweeten Stories, for renovation ideas and inspiration and when you're ready to renovate, start your renovation with Sweeten.
KITCHEN RESOURCES:
BATHROOM RESOURCES:
DINING ROOM RESOURCES:
BEDROOM RESOURCES: