A 1930s Westchester Tudor Remodel For Modern Living
After years of watching HGTV, Sara + Mike renovate their classic old home
Homeowners: Sara and Mike posted their almost 100-year-old home remodel on Sweeten


Where:

 

Bronxville, New York




Primary renovation:

 

Adjusting the layout and updating the kitchen and bathrooms
Homeowner's quote: We provided feedback on what were normal problems everyone encounters during renovations, and what should be of concern. As Sara added, "Sweeten helped us understand those differences and put our minds at ease."
Fixing up a new family home
When Sara and Mike first came across the English Tudor, they knew it had the potential to become the perfect Westchester family home for them, their son Hudson, and their cat, Domino. Located in the Gifford Park section of Bronxville, it was an amenity-filled town with good schools. It was a great investment and had a most coveted feature—a big, flat, private yard. Although it had been well-maintained by the previous owners, it had a choppy main floor, awkward layouts, and a kitchen and baths that had outlived their usefulness. They needed help executing their vision for the space. At the suggestion of Sara's co-worker, they found Sweeten to hire a general contractor.
old-kitchen-cabinets-before-renovation
black-kitchen-appliances-before-renovation
bathroom-with-full-wall-tiles
landing-area-with-storage-closets
-black-bathtub-before-renovation
bathroom-before-renovation
empty-home-before-renovation
SWEETEN SaraAxelbaum-Home-Floorplan-Main
floor-plan-design-before-after-renovation
Plans for the renovation
The scope of work included creating an open layout on the first floor by eliminating the wall between the dining room and kitchen. This changed the path to the only bathroom on that level (you had to go through a bedroom to access it). There were also plans for a baking pantry (Sara's passionate about baking), a mudroom, and a new powder room in place of the old full bath. Upstairs, Sara and Mike intended to update two full bathrooms and turn two small hallway closets into a laundry room.
Sara explains, "We purchased the house with the intention to immediately renovate as much as possible before we moved in. We found out we were expecting again the week before we closed!" The Sweeten design-build team they chose demolished several walls on the first floor to open up the space. The 2,500-square-foot, single-family home had felt smaller because of the layout. The couple's vision? "We wanted to keep the feel of the classic Tudor but hide the modernization away."
Opening up the kitchen
The new open-concept kitchen included a large center island for entertaining. It provided an anchor between the dining space and the cooking area. The counters extend fully over the stools so that "you don't need to strain over the chairs to get to the island," explained Sara. Storage features inside the cabinets included dish drawers with peg separators, swiveling corner shelves, and drawers in every cabinet.
"By having a contractor and designer in one place (and married!), we were able to coordinate a lot of decisions immediately."
Other touches added to the cooking experience: a touch faucet, pot filler, and an appliance cabinet with pull-outs and outlets. They chose a utilitarian quartz marble-look countertop to contrast with the custom wood island stained to match the molding throughout the house. The Dutch back door, off on one side of the kitchen, facilitates indoor-outdoor living for the warm-weather months.
A custom mudroom
The mudroom, a narrow space adjacent to the kitchen, was also tailored to the needs of the growing family. Crafted in custom millwork, a low bench and four storage cubbies beneath the bench provides storage for each member of the family. A closet hides messy bags, various gear, and coats, while the built-in desk offers a place underneath for pet bowls.
Turning the full bathroom into a powder room
Another major change on this floor was the conversion of the full bath to a powder room. By reconfiguring the layout, the powder room was now located conveniently off the mudroom and the back door entrance. The couple chose to clad the lower walls in beadboard, with a bird-themed wallpaper above. Not only did the couple have an affinity for birds but Sara has had a love for birds since childhood from her father and grandfather. The Great Blue Heron had become a good luck charm for the couple during the time of their second pregnancy.
Extra cabinetry
On the wish list for Sara and Mike was a butler's pantry set up as a baking station. They installed lower-than-typical counters made of butcher block for an optimal height on which to do baking prep. A cabinet with a pop-up interior shelf raises a mixer to counter height when needed. And a bonus for the kids: a designated lower cabinet with pull-out shelves to help themselves to snacks. Sara's mantra for the renovation: "A place for everything and everything in its place. I wanted to be able to 'hide' all the mess when company came over, but without sacrificing the daily utility of the rooms."
The kitchen and the dining space now open to each other. The wall that once divided them was replaced by a beam. Spanning the length of the room, the beam provides both structural support and an architectural element that echoes the existing woodwork in the century-old home.
Renovate to live, Sweeten to thrive!
Sweeten brings homeowners an exceptional renovation experience by personally matching trusted general contractors to your project, while offering expert guidance and support—at no cost to you.
Renovating upstairs
Next, we head upstairs for more updates. The first thing you see is the brand-new washer-dryer closet, formerly two basic hallway closets. Originally in the basement, the laundry was relocated to the same floor as the bedrooms—a lifesaver for families with young children. A bar above one shelf was added for hang-drying, as well as a space for folding. A pocket door meant that they wouldn't have to worry about clearance in the hallway.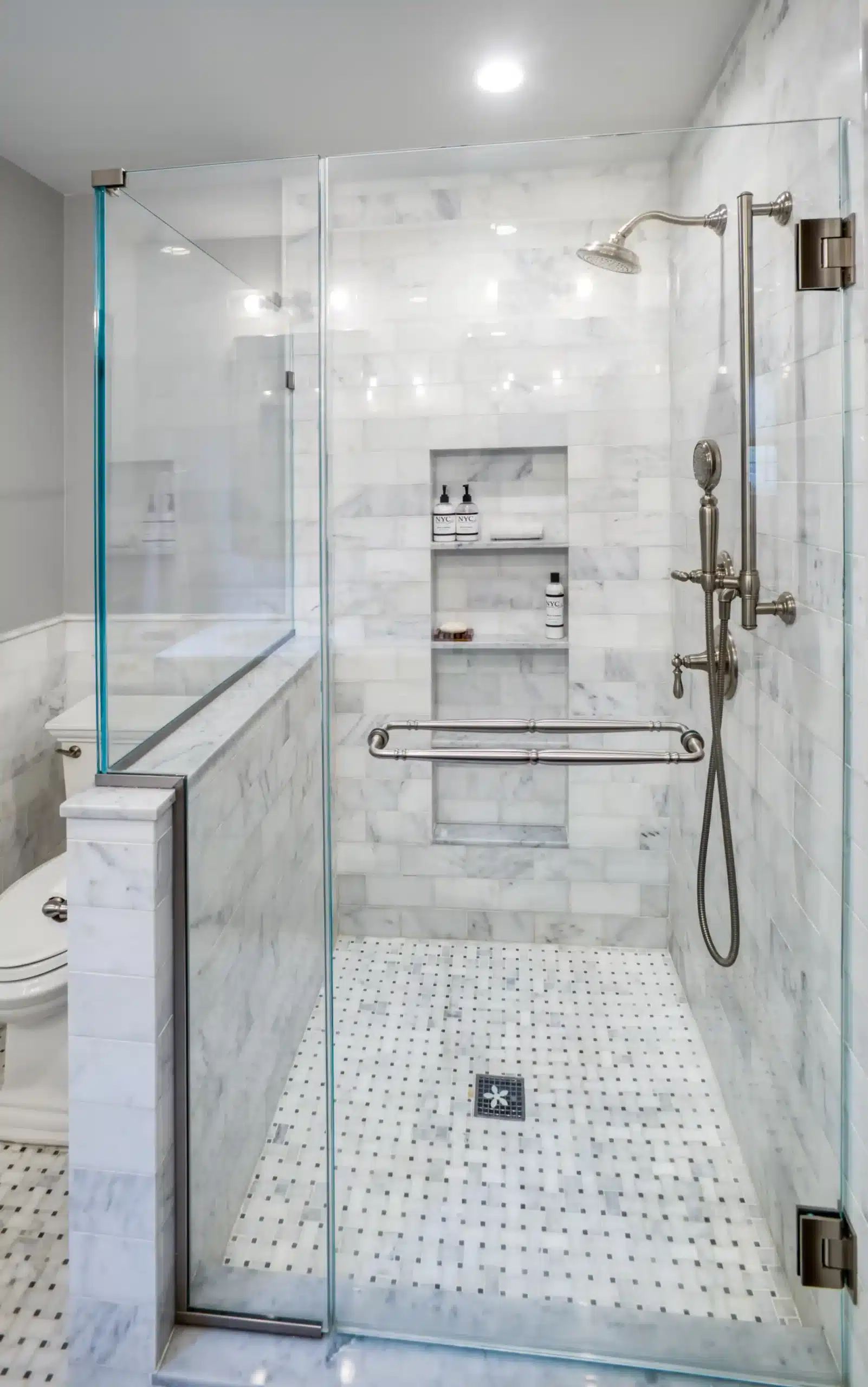 Also on this level, the primary bathroom received an upgrade, with a large walk-in shower, high-end fixtures and tile, and a large niche for holding toiletries. They opted for a sliding barn door in order to allow room for a double sink.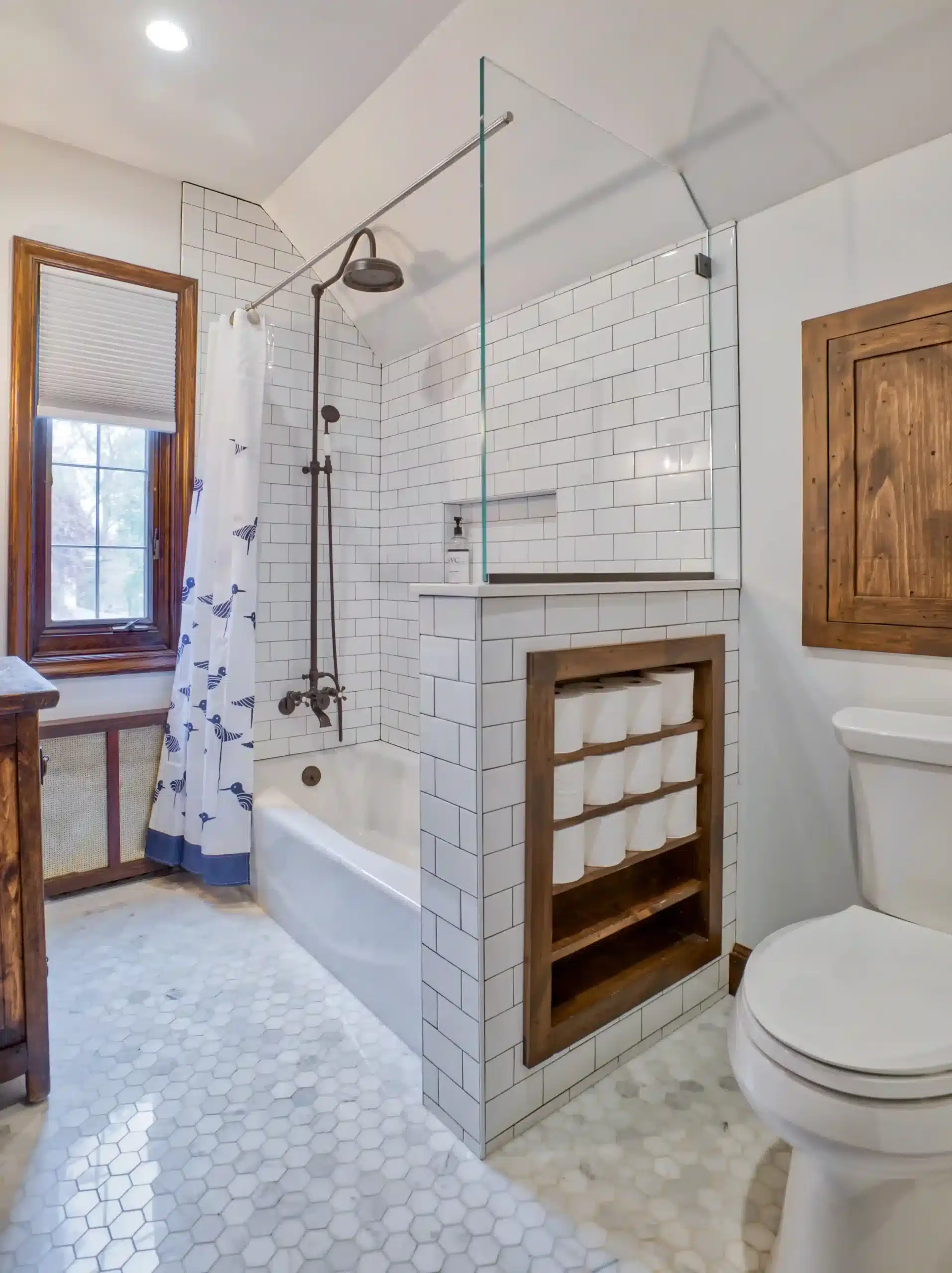 The kids' bathroom has a more rustic look, with oil-rubbed bronze hardware and a copper sink. A low wall between the tub and the toilet provided the perfect space for a built-in toilet paper shelf. Behind the bathroom, a crawl space was made accessible for more storage.
Keeping the goal in mind
The duo had some renovation experience updating their prior co-op in Riverdale, but this was their first whole-house project. With "the house being nearly 100 years old, there was a surprise around every corner—and behind every wall and floorboard," noted Sara. "We factored contingencies into the timeline and budget for this and also expanded our scope as we went along. However, there were numerous factors above and beyond what we factored in," shared the renovators.
Throughout the process, Sara and Mike kept sight of the goal. They recommend that first-time renovators focus on the long term. "It is so easy to get caught up in permits and deliveries being delayed, little problems here and there, budget inflations, or finding out your chimney has collapsed just as you were paying the final bills. But in the end, it all came together. We are absolutely in love with our final space. We are so excited that we get to live here!"
They are also happy with the way that their Sweeten contractor delivered. "By having a contractor and designer in one place (and married!), we were able to coordinate a lot of decisions immediately and there was a lot of synchronization between everyone." They also appreciated the way that we helped along the process by providing feedback on what were normal problems everyone encounters during renovations, and what should be of concern. As Sara added, "Sweeten helped us understand those differences and put our minds at ease."
Thank you to Sara and Mike for sharing your new home with us!
—
Sweeten handpicks the best general contractors to match each project's location, budget, scope, and style. Follow the blog, Sweeten Stories, for renovation ideas and inspiration and when you're ready to renovate, start your renovation on Sweeten.
Renovation Materials
KITCHEN RESOURCES: Island cabinetry: Custom by design-build firm. Kitchen cabinets: Starmark. Iron Valley kitchen knobs and pulls: Amazon. Cambria Brittanica countertops: Adria Marble and Granite. Daltile Portfolio 24″ x 6″ unpolished cement backsplash: Build.com. Delta Touch faucet: Consolidated Plumbing Supply. GE refrigerator and dishwasher; Wrought Studio Dominguez transitional 1-Light teardrop pendant: Wayfair. Stove: Viking Range.
DINING ROOM RESOURCES. Wrought Studio Donegan 7-Light kitchen island pendant: Wayfair. Paint in White: Benjamin Moore.
PANTRY RESOURCES. Cabinetry: Custom by design-build firm. Johannak kitchen tools wallpaper: Spoonflower. Lighting: Hubbardton Forge. Barn door: Custom by design-build firm. Woodside Hardware door track: Etsy.
POWDER ROOM RESOURCES. Parvatile Lava Grande 1"x3" Basalt herringbone floor tile: Wayfair. Jumanji wallpaper, #294285655: Etsy. VIGO Satro single-hole bathroom faucet, #205977764: Home Depot. Sink/vanity: Custom by design-build firm. Kohler Highline toilet,074-11-2112: Lowe's. Lighting: Hubbardton Forge. Threshold Pharmacy Mirror, #074-11-2112: Target.
MASTER BATH RESOURCES. Carrara basketweave tile and Carrara 4″x8″ subway wall tile: Home Depot. Moen hardware: Appliances Connection. Kohler Artifacts shower fixtures, #CNT19700003: Appliances Connection. Beachcrest Home Newtown 60" double bathroom vanity set: Wayfair. Memoirs toilet, #50057975: Lowe's. Houzz Archives 2-light fixture in Antique Nickel, #102009429: Houzz. Vanity mirror/medicine cabinet: Pottery Barn. Dogberry white-stained herringbone sliding door in Knotty Alder and Track: Lowe's. Paint in Silver Chain, #1472: Benjamin Moore.
KIDS' BATH RESOURCES. 2″ Carrara hexagon and 3″x6″ white subway floor tile: Home Depot. Kingston Brass shower fixtures: Appliances Connection. Fox Decor sink, faucet, and vanity:  Wayfair. Kohler Highline toilet, #3283830: Lowe's. Cloverly Bronze wall sconce: Lamps Plus. Vanity mirror/medicine cabinet: Pottery Barn.
Other popular questions
What is a Tudor house?
Tudor-style architecture was first prominent in English villages from the late 1400s to the mid-1500s. Tudor "revival" homes sprang up in the U.S. in the late 1880s to early 1900s. Tudor-style homes are noticeable by their highly-pitched roofs, their multiple triangle-shaped gables, and their exteriors of brick, stucco, and stone. Tudor-style windows are tall and narrow, comprised of multiple rectangular or diamond-shaped panes.
What does a Tudor home look like? 
Tudor homes are almost immediately recognizable, thanks to their historic design roots in England. Original Tudor homes were small in scale, reminiscent of an English cottage, while in the U.S., modern Tudor-style homes tend to be grander, with multiple floors and expansive square footage. The exteriors combine dark wood, brick, and white stucco or stonework, with intricate windows, made of many smaller glass panes.