An Art Studio Garage Conversion in Connecticut
A Connecticut garage renovation creates a ceramic studio to slow down busy city life
"After" photos by Nicki Chavoya for Sweeten
Homeowners: Samantha and Justin posted their Connecticut garage renovation on Sweeten
Where: Weston, Connecticut in Fairfield County
Primary renovation: Turning a 150-square-foot garage into a ceramic studio
Sweeten's role: Sweeten matches home renovation projects with vetted general contractors, offering guidance, tools, and support—for free..
Written in partnership with Sweeten homeowner Samantha
Recreating an under-used garage
Running their creative agency, VERSUS, in New York City takes up a lot of their time during the day. So Samantha Louise Barnes and her husband, Justin, like to relax at their weekend home in Fairfield County. It's located in Weston, which is a quaint small town with tree-lined streets, good schools, and notable architecture. The town is known for its mid-century modern architecture and their home is no exception. It was built in 1948 by architect Lloyd Flood, who was an early associate of architect Edward Durell Stone.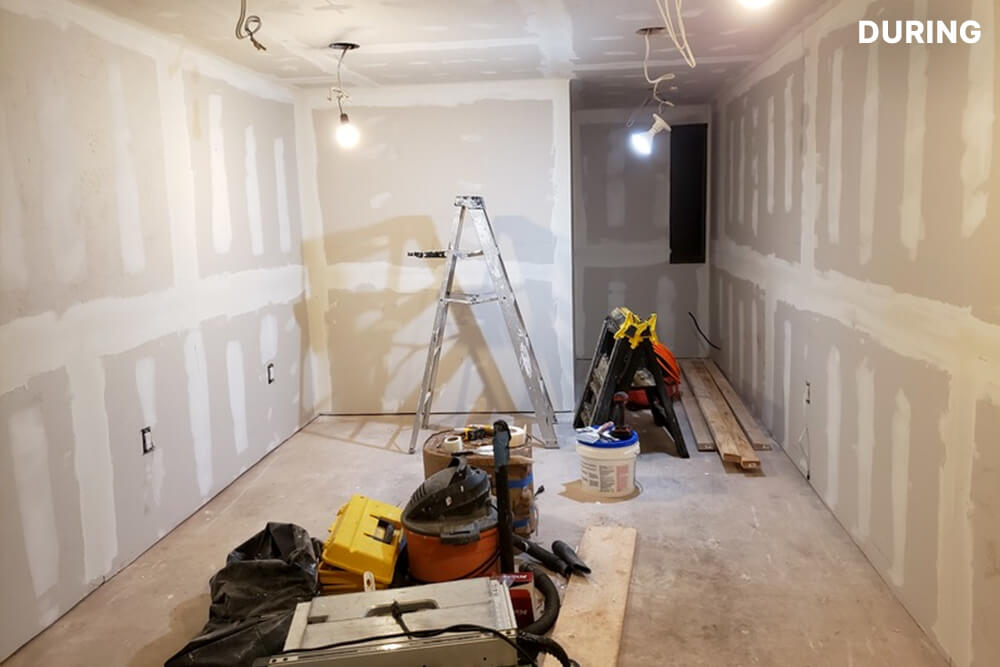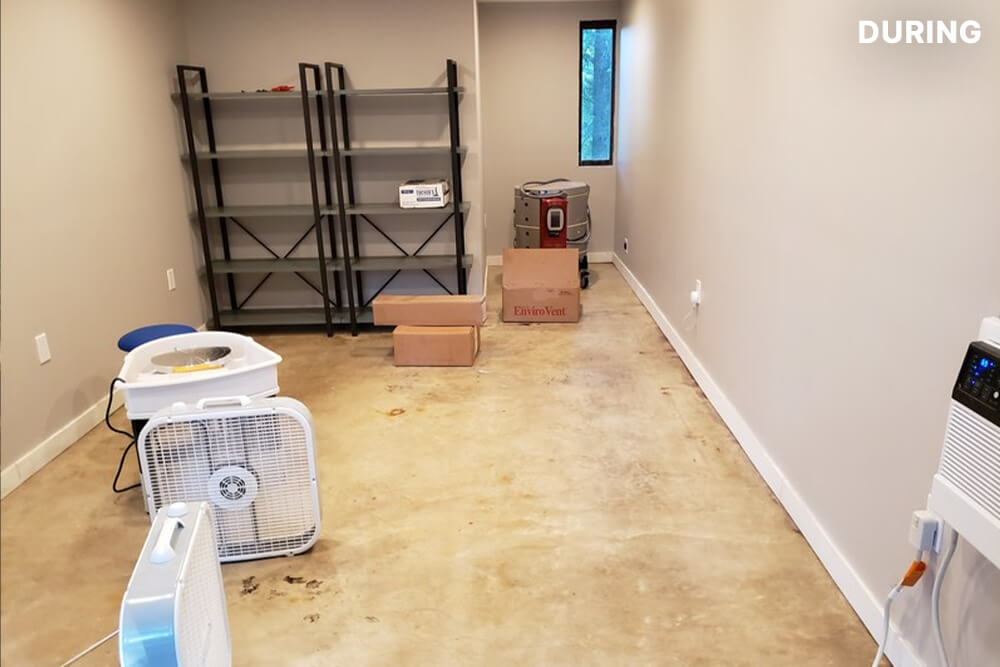 The couple shares the home, which was previously renovated, with their two-year-old rescue cat, Louise. Set on a dead-end street, Samantha wanted to make the most of her 1,750-square-foot home. That meant converting the garage. They rarely use the second bay. Samantha and Justin take their car to the train station every week and leave it parked there until the weekend. So what to do with this underutilized space? Create that ceramic studio Samantha had always dreamed about, of course.
In search of a contractor
Samantha wanted to get the renovation done quickly—preferably in a month's time. So she started researching, pricing, and locating the equipment needed for the soon-to-be ceramic studio. It was challenging but she found a kiln in South Carolina. Apparently, a lot of people had the same idea to create a ceramic studio during the pandemic.
Renovate to live, Sweeten to thrive!
Sweeten brings homeowners an exceptional renovation experience by personally matching trusted general contractors to your project, while offering expert guidance and support—at no cost to you.
Once this was taken care of, she set her sights on hiring the right contractor for the job. She posted the project on Sweeten to find a general contractor. "[Sweeten] offered advice every step of the way," said Samantha. "I felt confident that I would be happy with who they vetted." Samantha and Justin hired a Sweeten contractor and the project began.

Figuring out the layout
The idea was to choose the shorter bay—made smaller by a closet located in the back—and converting it into the studio. Twenty-five percent of the closet would make space for the kiln while the other 75 percent remained as a closet accessible via the other garage bay. But Samantha also worried about getting the electric requirements correct. So, she worked closely with her Sweeten contractor and his electrician to ensure that the kiln would run safely. They gave the kiln its own outlet and dedicated breaker box.
A ceramic studio comes to life
The result of the renovation is a beautiful, artistic space. They kept the back window to allow light to shine through behind the kiln. And added another window above the air conditioner to give a bright airiness to the space. Their contractor also assisted with picking out the double French doors that replaced the original garage door. And figured out the right air conditioner/heating unit to match the electricity needs.
"Having my own space separate from the house is wonderful," said Samantha. "It's additional creative space we just love having access to."
Connecting with the main house
As for the aesthetics, Samantha and Justin chose to keep some consistency with the main house's design. For example, the flooring in the main house is a poured concrete so they went with that in the ceramic studio. The concrete fits in nicely with the artistic vibe of the space. Plus, it's safe to use under the kiln and Samantha likes the "rough" look. The trim is the same as in the main house as well. Material choices and style were to keep a cohesive look and feel. 

Finding their general contractor
When Samantha and Justin first started thinking about renovating, they knew it wasn't going to be a big job. However, they did want to find a trustworthy, qualified contractor. "We are only at our home on the weekends, so we still consider ourselves new to the area and needed a jumping-off place to find someone," said Samantha. "Instead of running through a slew of contractors on the Internet, I thought of Sweeten." The result met all the couple's expectations. "Having my own space separate from the house is wonderful," said Samantha. "It's additional creative space we just love having access to."
Thank you, Samantha and Justin, for sharing your dream garage remodel with us!
Renovation Materials:
Double French doors: Therma-Tru. Paint in Alpaca: Sherwin-Williams. LED lights: Lithonia. Smart Thru-The-Wall air conditioner: Friedrich. Electric pottery wheel: Bailey. 

—
Sweeten handpicks the best general contractors to match each project's location, budget, scope, and style. Follow the blog, Sweeten Stories, for renovation ideas and inspiration and when you're ready to renovate, start your renovation with Sweeten.