A 1919 Colonial House Finds Renewal in Soft Tones
Clever ideas for a Colonial home kitchen remodel and a newly-created bathroom
Homeowners: Amanda, a former chef, and her partner Cory, a tech executive, posted their 1919 Colonial house renovation
Where:

Bronxville, New York

Primary renovation: Remodeling the kitchen to make it larger and creating a new powder room
Homeowner quote: "

Sweeten helped us find a group of tried-and-true general contractors to vet.

In the past, we'd tried a few [contractors] recommended by neighbors, but this time that didn't work. And this project was too big an investment to just pick somebody out of a hat."

Sweeten's role:

 

Sweeten

 

matches home renovators with vetted general contractors, offering input, support, and secure payments—for free.
Written in partnership with homeowner Amanda. "After" photos by Miao Jiaxin.
A charming (but not functional) Colonial house
We had been dividing our time between a farmhouse in Dutchess County and a walk-up apartment in Brooklyn. When our son was born, neither of these homes was quite suited to us. We decided to find a place in between with a shorter commute for my husband, more social opportunities for me, and easy access to the home.
When we first saw the house, we were charmed by the time-capsule of a kitchen—salmon Formica, dark-wood cabinets, and a dishwasher that predated the other elements. That said, we knew we would eventually update the kitchen. Having a lavatory on the ground floor and not having to run upstairs was also on the wishlist.
Their Colonial renovation adds heated floors
The existing kitchen had one radiator, which was buried in the back of a custom cabinet. It was a clever solution at the time, but ate up a lot of cabinet space and wasn't heat-efficient. We decided to install a radiant floor heating system that we could run off of our existing hot-water heating system. A more formal, fully-functional island would offer storage, outlets, and a bigger counter area.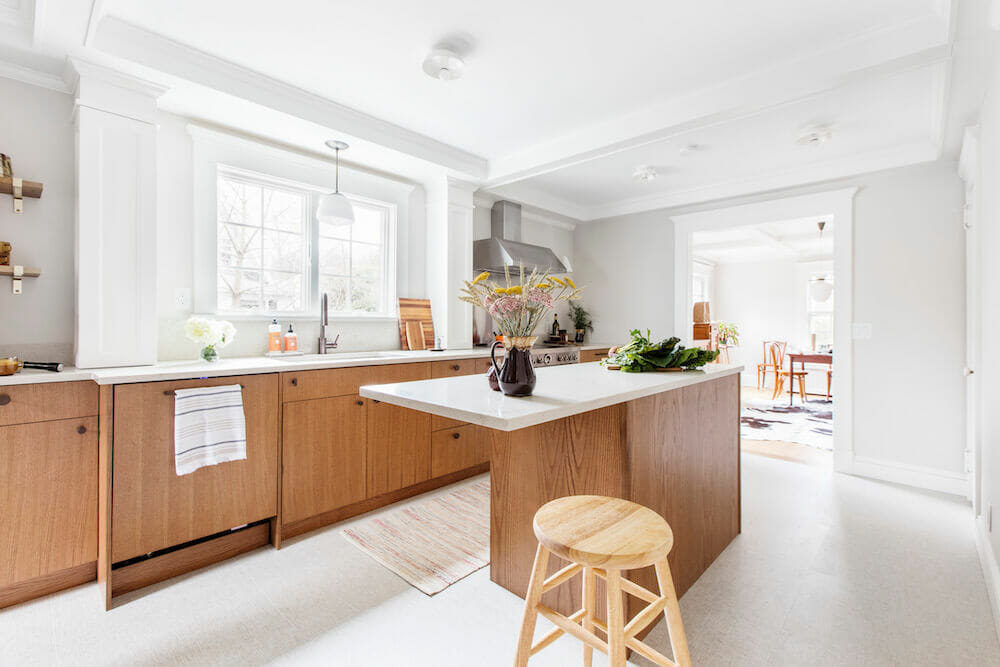 We wanted to create a better flow of traffic and light. The main entrance to the kitchen from the dining room was a narrow 28-inch-wide doorway. It made the kitchen feel isolated from the rest of the house. Bringing down the wall would not have respected the house's character. Instead, the opening was widened and centered between the two rooms to bring more natural light into the north-facing kitchen. 
Balancing the kitchen structures
Some infrastructural elements dictated a lot of the design. One was that the major waste line for the three upstairs bathrooms lays along the kitchen's exterior wall. It had been boxed out previously, and the existing cabinets had been customized around it. We didn't want to relocate that line, so we decided to figure out how to incorporate it.
The second element was a sheetrock box beam of sorts. We didn't know what was in it, but since it was asymmetrically placed and not detailed like the house's other box beams, we assumed it was hiding something expensive to move. Our thought was, let's give this weird beam and column matching mates to create symmetry.
Odd-ball elements
These design decisions hid the two odd-ball elements by making it look like they'd always been there. Bonus: We made that second column a sneaky little cabinet right between the sink/dishwasher and our espresso machine. It's the perfect spot for drinking glasses and cups. We love it!
Renovate to live, Sweeten to thrive!
Sweeten brings homeowners an exceptional renovation experience by personally matching trusted general contractors to your project, while offering expert guidance and support—at no cost to you.
I wanted to bring the warmth and softness of natural wood into the kitchen, so I chose a darker wood for the cabinets that echoes our furniture. A built-in pantry was replaced with custom open shelving. The adjustable shelves look like they might have been there when the house was built. It enhances the room's original feel and provides a display for our brown-drip dishware collection.
Turning closets into a powder room
There was no bathroom on the first floor. We combined two closets—approximately 4' x 4'—and some square footage where we used to hang coats by the back door. The sacrifice was worth it for what would become the most frequented bathroom in the house. A pocket door with frosted glass saved space and allowed light to flow through. We installed Art Deco wallpaper, wainscoting, a picture rail, and paint in neutral tones.
Though manufacturers say that you can install wood flooring over radiant heat systems, it made me leery, and wood is not an efficient conductor of heat. I was certain I wanted tile, but one that wouldn't appear cold or hard.
The right contractor for our Colonial house renovation
Sweeten helped us find a group of tried-and-true general contractors to vet. In the past, we'd tried a few recommended by neighbors, but this time that didn't work. And this project was too big an investment to just pick somebody out of a hat. It was great to be able to talk through everything with a Sweeten professional and get a curated list. I doubt we'd have found our contractor on our own, and I'm so glad we did.
They were much more organized than contractors we'd worked with previously. Our contractor seemed to have experience and know-how beyond his years. When we ran into uncertainties, he was great at suggesting possible solutions. There was a structural issue discovered during demolition that required changes to the design layout. He was quick to help us with potential resolutions, down to providing revised elevations so we could visualize the new design. And he always discussed costs with us before we signed off. They also provided spreadsheets to help me keep track of all the elements I needed to order and have on-site.
The sacrifice was worth it for what would become the most frequented bathroom in the house.
Veteran renovators share advice
The biggest challenge with our renovation was waiting for it to be finished! Time moves slowly when you're living on the second floor of your home, feeding a family from a makeshift kitchen in your bedroom. This was no fault of our contractors. Our city building department took three months to issue our permits.
If you can, live with your space for a while before renovating. You'll end up with a much clearer picture of how to make your new space work best for you.
Also, always budget for 10-20% more than your original estimate, especially for kitchens and baths in old houses. This is our fourth renovation experience, and there has always been a major structural or plumbing issue (or both!) that have come up. It's never pleasant, but if you plan for it, it's way less painful.
Our new space makes us feel happy! We really love all of the new millwork in the home remodel, it feels so harmonious with the rest of our beautiful old Colonial home.
Thank you, Amanda and Cory, for sharing your Colonial home remodel story with us!
Renovation materials
KITCHEN RESOURCES: Textile 24″x24″ floor tile in Sand: Cancos Tile. Metro style (slab with full overlay) cabinets in oak with Prairie stain: Vista. Riverwood knobs and Edgecliff pulls in Matte Bronze finish: Schoolhouse Electric. Taj Royale countertop and backsplash in honed: Caesarstone. 32" single-bowl undermount Kraus sink: Signature Hardware. Single-hole pull-down faucet in oil rubbed bronze by Bocard: Signature Hardware. Bertazzoni fridge / Dishwasher / Stove: Bertazzoni. Oswego 9" pendant light in burnished antique: Rejuvenation. Lucia flush mounts in white: Cedar & Moss. Wildwood sconce in white: Cedar & Moss. Wall paint in Pale Oak; trim paint in Cloud White: Benjamin Moore.
POWDER ROOM RESOURCES: Textile Deco floor tile in Dark: Cancos Tile. Deco Paradiso wallpaper by Anaglypta: Wallpaper Direct. Ringo faucet in oil-rubbed bronze: Signature Hardware. Skime wall-mount sink and vanity: Magnus Home Products. Storjorm mirror: IKEA. Toto toilet: Toto. Sculptural Glass Pebble small flush-mount: West Elm. Towel hook: Sugar Tools. Wainscoting paint in Quietude; ceiling paint in Pale Oak: Benjamin Moore.
A note on fixture and appliance deliveries: If you're on a tight timeline, Appliances Connection has over 50,000 items in stock and ready to ship nationally. If you're in the NY/NJ metro area, in-stock items typically deliver within 2-3 days.
—
Sweeten handpicks the best general contractors to match each project's location, budget, scope, and style. Follow the blog, Sweeten Stories, for renovation ideas and inspiration and when you're ready, work with Sweeten to renovate with the best contractors.