A Primer on the Integrated Kitchen
Love the minimalist look? Consider an integrated kitchen to achieve a seamless, stylish cook space.
(Above) An integrated kitchen renovation in Kavi and David's Brooklyn townhouse
Integrated kitchen design, explained
An integrated kitchen refers to a kitchen design in which components and appliances are integrated seamlessly into the overall design of the space. This type of kitchen often has a sleek and modern appearance, with clean lines and a cohesive look.
The aim of an integrated kitchen is to create a functional and stylish space that is easy to use and maintain. Sweeten looks into this system called the integrated kitchen, sometimes referred to as a concealed kitchen. Sweeten matches home renovation projects with vetted general contractors, offering advice, support, and secure payments—for free.
Before you shop, develop a plan for this specific cabinetry system. Any floor plan, from galley and L-shape to U-shape and open-concept can work. However, only certain appliance styles can be accommodated. Floor-to-ceiling cabinetry lined up seamlessly can hide as much clutter as possible in an open-concept plan. 
Colors for an integrated kitchen
Choose a color and material scheme that is tonal, with smooth surfaces. The different areas blend into each other or at least transition quietly to create a harmonious living space.
If you do have room for a dining table, try a banquette on the wall or in a corner if it's available. Limiting the number of chairs will enhance the minimal effect and deemphasize a "kitchen" feel.
(Above) A concealed, minimalist kitchen in a Greenwich Village home remodel with Sweeten
Renovate to live, Sweeten to thrive!
Sweeten brings homeowners an exceptional renovation experience by personally matching trusted general contractors to your project, while offering expert guidance and support—at no cost to you.

Start your renovation
Panels help hide appliances in an integrated kitchen
To some extent, appliances cannot be hidden completely, but certain features make them less noticeable. Consider the refrigerator. Counter-depth versions that are "panel ready" are available from a vast range of companies, including Sub-Zero, GE, Frigidaire, and KitchenAid. Replace the enamel or stainless steel front with a panel kit from your cabinet supplier, and the fridge, which no longer juts past the countertop, will almost disappear. Note that counter-depth fridges come as side-by-sides or top- or bottom-mounts, but they won't have quite the cubic foot capacity of the freestanding or built-in models. In fact, they may be limited by as much as 2 to 5 cubic feet and up. If you have the room, you could add a refrigerator or freezer drawer that tucks discreetly under the counter.
Many dishwashers can also be fitted with a matching panel, or opt for an "architectural" version like those offered by manufacturers such as Whirlpool and Miele, which have controls concealed on the inside top of the door.
Panels can't disguise stoves, cooktops, and ovens, but you can make choices that make these indispensable appliances less prominent. Go for induction cooktops that use a smooth, single surface with the heating elements concealed underneath. Digital controls (instead of knobs) also disappear when not in use. As for the vent hood, if you have a cooktop, you can get a downdraft that sits below the counter and pops up only when in use.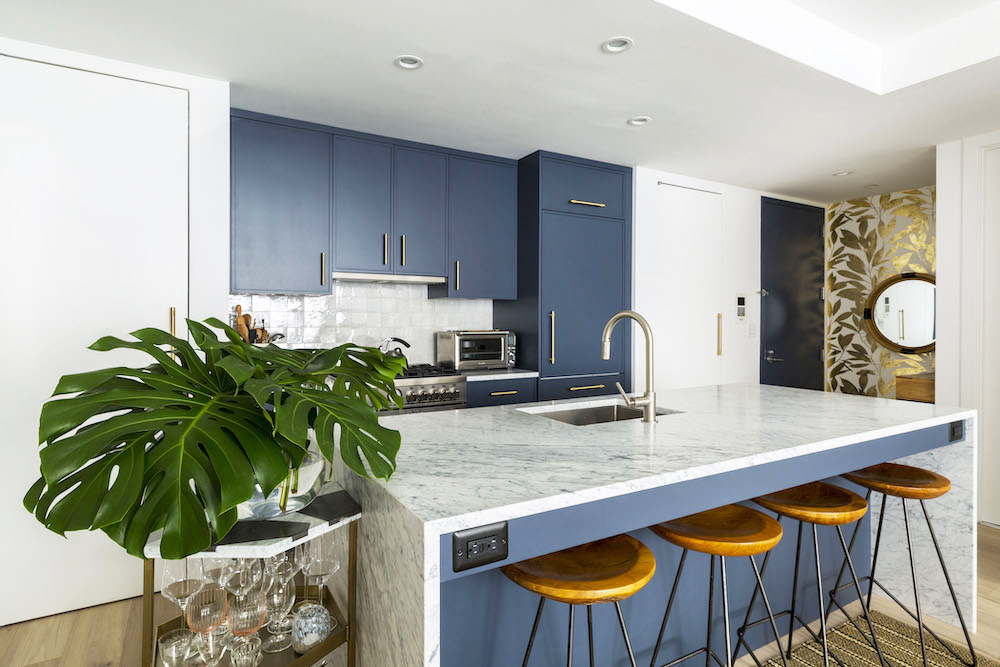 (Above) Integrated kitchen project by Mitzie and Jenifer in Brooklyn
Seamless kitchen cabinets
As the feature that typically takes up the most real estate in the kitchen, cabinets make or break the concealed look. European-style units open with gentle pressure applied to the outside of the door, making them a sensible choice for function and style. And hydraulic hinges on upper cabinets cause the doors to lift up and away with next to no effort. This type of sophistication comes at a price, however, so you might consider frameless doors and drawers, which completely cover the cabinet box, to suggest a seamless look. And where you can, take the cabinets up to the ceiling, to visually expand the appearance of the wall.
Before you commit, research whether matching panels are available to fit your fridge and dishwasher. Your contractor can replace the existing panels easily. If you must add hardware, choose handles molded from one piece of metal, or doors and drawers that come with built-in channels that you can grab and pull.
Add outlets to the inside of some cabinets to create small appliance garages, with sturdy hinges that can raise heavy tools like mixers up and out.
Staging a sink in an integrated kitchen
The sink will never disappear. However, if you choose an undermount sink, it will be less noticeable. An alternative: an integrated solid surface sink and countertop—virtually seam-free! The deeper the sink, the better it hides dirty dishes, of course. Some come with a cutting board accessory that tops the sink and creates an unbroken run of the countertop. Pair the sink with a touchless faucet for fewer visible details.
Concealing electrical outlets
If you use any small appliances or electronics in the kitchen (who doesn't?), outlets are unavoidable. Minimize their appearance by choosing outlets that match the material or wall color—like with Lutron. When that isn't possible, try grouping switches and outlets together to diminish their overall presence. Another strategy: tuck an outlet under an overhang of a countertop, or low on a wall near the top of the counter, where it can hardly be noticed.
Minimize obvious task lighting 
Probably the easiest feature to conceal, lighting nevertheless deserves a little design attention. Use cans in the ceiling for ambient light, and hide those task lights by using LED strips below your upper cabinets. Do have some fun, however, with pendants over the sink or island and a chandelier above the dining table. This is the place to introduce some wit and individual style—essential ingredients for any successful room.
When you're ready to get started on your kitchen or home remodel, work with Sweeten to renovate with the best contractors.
—
Sweeten handpicks the best general contractors to match each project's location, budget, scope, and style. Follow the blog for renovation ideas and inspiration and when you're ready to renovate, start your renovation on Sweeten.