2023 Kitchen Remodeling Costs in Houston
Researching your kitchen remodeling costs in Houston? The key factors are size, finish level, scope, and services needed.
How much should you budget for your kitchen remodel? Here's how to make a rough prediction of kitchen remodeling costs in Houston. The main variables are:
We'll discuss these variables below, but for now let's start with an example. 
For a full renovation (without layout changes) of a medium-sized kitchen, with basic general contracting services, here's what you can expect starting costs for your project to look like in Houston:
Budget kitchen renovation costs: Starting at $23,000

Mid-grade kitchen renovation costs: Starting at $35,000

High-end kitchen renovation costs: Starting at $71,000
We want you to be completely prepared for the cost of your home remodeling project, so our pricing estimates are inclusive of all materials, labor, overhead, and a standard general contractor's margin. 
When you're ready to get started on your kitchen or home remodel, work with Sweeten to renovate with the best contractors in Houston.
Size: How dimensions affect your kitchen remodeling costs in Houston
This may sound obvious, but the larger your kitchen, generally the more expensive your renovation project will be. However, it's not a totally straightforward calculation, because what matters most isn't the footprint, it's the fixtures and finishes that will fill that space — more cabinetry, countertops, and bigger appliances mean greater costs. Here's how you can think about sizing up your kitchen remodeling project:  
Extra small kitchens are usually "kitchenettes" with mini appliances and limited cabinets. They are usually less than 60 sqft, and best for simple food prep. Typical appliances in an extra small kitchen include an under-counter or narrow refrigerator, and a small stove or cooktop.
Small kitchens often have a narrow galley or efficient corner layout. Small kitchens are usually about 60-90 sqft, and best for 1 cook. Typical appliances in a small kitchen include a narrow upright refrigerator, a four-burner range, and a microwave.
Medium kitchens are sometimes "L" or "U" shaped, and may have an island or peninsula. Medium kitchens are usually about 90-120 sqft, and comfortable for 1-2 cooks. Typical appliances in a medium kitchen include an upright refrigerator, a four-burner range, a dishwasher and a microwave. 
Large kitchens are full-sized with ample cabinet space or a pantry, usually an island or peninsula, and may have some space to eat-in or hang out. Large kitchens are usually 120-200 sqft, and comfortable for 2 cooks, plus company. Typical appliances in a large kitchen include a wide upright refrigerator, six-burner range or cooktop and separate oven, a dishwasher, microwave, and maybe even a wine refrigerator.
Extra large kitchens are generous, full-sized kitchens with a pantry or larder, and almost always have space to eat-in or hang out. Extra large kitchens are usually more than 200 sqft, and comfortable for cooking with the whole family or a group of friends. Typical appliances in an extra large kitchen include a wide upright refrigerator, six-burner range or cooktop, multiple ovens, multiple dishwashers, a microwave and a wine refrigerator.
Note, estimates don't typically include appliances because appliance costs vary from budget to mid-grade to high-end/luxury. Most GCs are happy to provide an allowance or cost for a specific model upon request. There is a wide range of kitchen appliance packages available based on your budget, whether it's under $5,000, $5,000-$10,000, or $10,000+.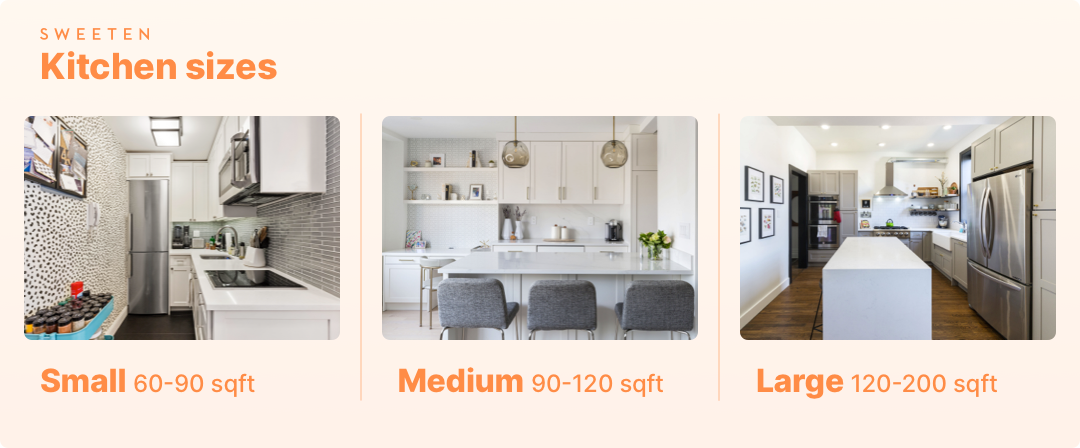 Finish level: How kitchen design affects remodeling costs in Houston
Finish level refers to the general quality and price level of fixtures, materials, and finishes. These include countertop materials, cabinetry materials and fabrication, flooring choices, and the brands and models of sinks, faucets, and appliances you choose. The higher the finish level, the faster your costs will increase. 
Budget finish: Budget materials are generally off-the-shelf items from "big box" stores or IKEA. This includes Ikea cabinets, Wilsonart solid surface countertops, Pergo laminate floors, various tiles under $10 / square foot, fixtures by Delta and American Standard.
Mid-grade finish: Mid-grade materials balance cost efficiency with material quality. This includes cabinets by Diamond or Kemper, Caesarstone countertops, Daltile floors, tiles by TileBar and Ann Sacks, fixtures by Brizo, Hansgrohe, or Kohler.
High-end finish: High-end takes quality and craftsmanship above standard, and introduces custom work. This includes custom cabinets, countertops by Cambria and Neolith, floors by Porcelanosa, tiles by Cle Tile and Artistic Tile, fixtures by Graff, Kallista, or Rohl.
Luxury finish: Luxury means the sky's the limit, where customization, craftsmanship and materials truly go above and beyond. Think brands like La Cornue, Meneghini, or Vinotemp.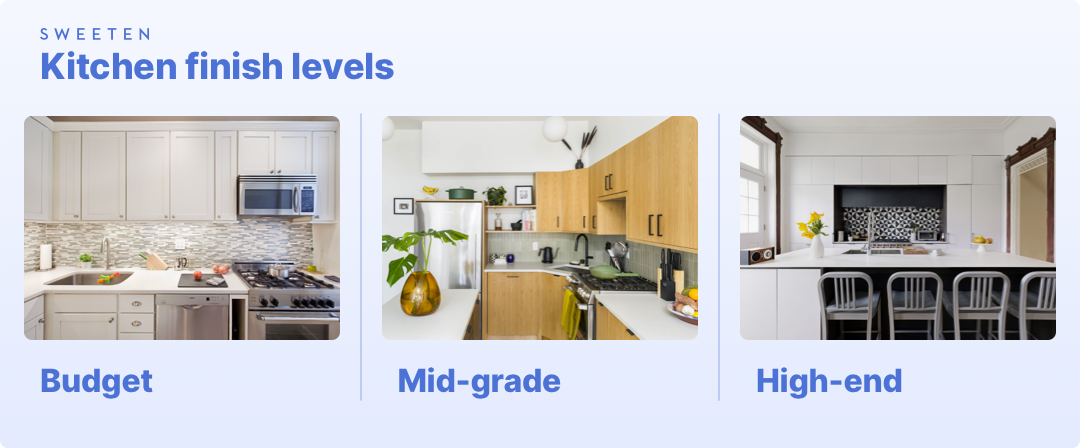 Scope: Rip-and-replace vs. gut kitchen renovation in Houston
Project scope refers to the amount and type of work that needs to be done, and can have implications on which professionals you'll need to hire. We divide scope into the following broad categories (when a contractor prepares an estimate for your renovation, it will be much more detailed, and will include costs of the exact fixtures and finishes):
Full renovation (also called "rip-and-replace")  
A full renovation means that you're replacing all old fixtures and finishes with new ones, while leaving everything in its original place. So, effectively, the layout is the same before and after the renovation (hence, the nickname "rip-and-replace"). This is the more straightforward way to reimagine your space, and can often be done with just a licensed general contractor partner. 
Gut renovation
For a gut renovation, you'll be dropping walls, moving gas lines, re-routing plumbing lines and rewiring electrical — generally stripping the room to the studs and subfloor (or, even removing these!) in order to change up the layout of the space. This kind of transformational project will require professional design and architectural services,  permitting, and licensed general contractors, which ensures the work is done safely and to code. 
Services: Kitchen remodeling services, and how they affect costs in Houston
The two main services to consider for your kitchen renovation are build service and design service. Depending on your needs, you have some options for what types of firms to hire. 
Build service with a general contractor 
Build service would include demolition and construction services, and would be carried out by your general contractor. Some general contractors are considered build-only firms, which means that they do not offer full professional design. Even within the build-only category, there are a range of different service offerings a contractor might provide — some will strictly work with finished plans from a professional designer, some will work with you to carry out the vision you conceive, and others are more willing to offer creative suggestions and advice on material and fixture choices, or even rough visualizations for spatial layout. 
A combination of service level, experience, and things like firm size and overhead might all contribute to how competitive a contractor's pricing is. We generally recommend to meet with a few different firms to feel out what level of service best suits you.  
Design service with an architect or interior designer
Design service can be broken down into creative design and technical design. For creative design service, which is almost always optional, you'll work with an architect or interior designer to reimagine the space. This added layer of service will generally cost between 10-20% of your construction budget, depending on the level of service included in your design package (though, not all firms determine their fees based on cost of construction — some may charge a flat fee based on project scope and anticipated duration, for example). So, for a $50,000 kitchen renovation, you might expect to pay your architect or designer $5,000 to $10,000.
Technical design expertise is needed in the form of an architect (or sometimes structural engineer) for projects like gut renovations where permitting is required. Their main role is to ensure that the project is done safely and to code.
What is a full-service, design-build firm? 
If you need both design and build services, you can choose to hire a professional designer or architect, and separately, a general contractor. But there's another option that comes with some distinct benefits: you can hire a design-build firm — a general contractor with dedicated professional design under one roof. This means you work with the same firm from planning and design through construction. In addition to the continuity, which can often save time in the process, some clients appreciate that the working relationship means more seamless coordination, which can even help to keep your project on budget. 
Updated December 13, 2022
Frequently asked questions about kitchen remodeling costs in Houston
The process of remodeling brings up endless questions, so we're answering some of your most common curiosities about the costs of renovation here. Have more questions? Leave them in the comments section below!
Are you ready to start your own kitchen remodeling project?
Post your remodeling project on Sweeten and we'll connect you with a curated list of trusted contractors, matched to your project. Our service is free for homeowners, and hiring your contractor with Sweeten means you'll also have access to advice, support, and secure payments. Check out our service locations to see if we cover your area. 
Renovate to live, Sweeten to thrive! Learn more
—
Sweeten handpicks the best general contractors to match each project's location, budget, scope, and style. Follow the blog, Sweeten Stories, for renovation ideas and inspiration and when you're ready to renovate, start your renovation with Sweeten.