2020 Cost Guide for a Home Remodel in Nashville
The costs to remodel in Nashville in 2020, including kitchen, bath, and whole-home (plus outdoor budgets and permit tips!)
Whether you're fixing up a craftsman cottage or a century-old four square, a Tudor revival, or even a grand Victorian, Sweeten, a free renovation platform that matches homeowners with licensed general contractors and tracks their project, offers this guide detailing costs to remodel in Nashville as a starting point.
When starting a renovation, your first two tasks are dreaming of what you want and figuring out how much you want to spend. This cost guide will point you in the direction of your answer. To get an accurate figure for your project, you'll need to consult with a Sweeten contractor for a detailed budget. Here's a quick overview of budgets for some typical renovation projects:
Gut renovation: Starting at around $70—$100 psf (per square foot)

Budget kitchen remodel: Starting at $20,000—$30,000

Mid-grade kitchen remodel: Starting at $35,000

High-end kitchen remodel: Starting at $65,000

Budget bathroom remodel: Starting at $12,500—$15,000

Mid-grade bathroom remodel: Starting at $20,000

High-end bathroom remodel and reconfiguration: Starting at $35,000+

Deck composite: $20,000 or $61 psf

Wood deck: $14,000 or $44 psf

How much a Nashville remodel costs per square foot
A total gut renovation in Nashville that brings your home down to the studs and dresses it back up again with budget finishes will likely start at around $70 to $100 psf. In Nashville, when a renovation budget gets up to $100,000, most property owners may consider building a new construction spec house.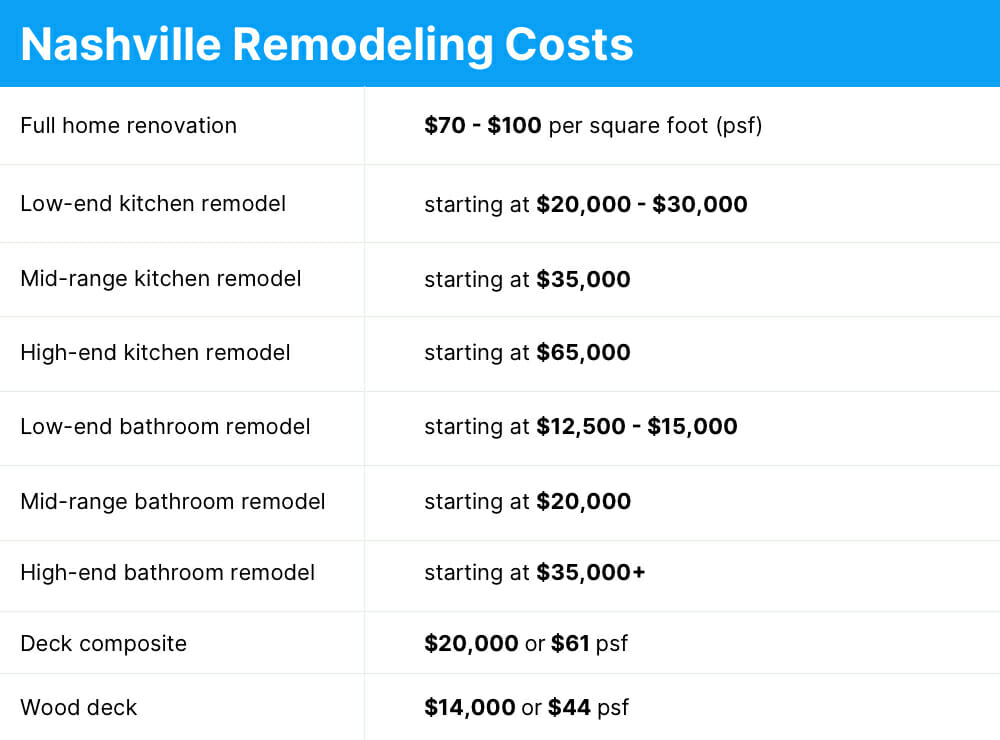 How much a Nashville kitchen remodel costs per square foot
The typical remodeling costs for a minor kitchen in Nashville starts at $20,000 and goes up to $30,000. When purchasing a new home or if you're renovating for resale, smaller kitchen projects such as installing a new backsplash, flooring, and changing the cabinet fronts can be done as a group of upgrades for a cost around $15,000.
Mid-grade kitchen: An average mid-grade kitchen renovation is $175 psf or $35,000 in Nashville. This budget remodels a 200-square-foot space with laminate countertops, semi-custom wood cabinets, and a stainless steel sink with a standard single-lever faucet. It also contains a built-in microwave, dishwasher, and custom lighting. Other than the addition of a kitchen island, the layout, such as where the oven and dishwasher were installed, remained the same as the original design. Keeping your layout the same will be the biggest factor in keeping your budget down.

High-end kitchen: High-end kitchen remodels come in around cost $65,000 on average for Nashville. A high-end 200-square-foot kitchen budgets at $325 psf. This includes custom cabinets, built-in sliding shelves, stone countertops, and imported ceramic or glass tile backsplashes. The appliances were also kicked up a few notches to include a commercial-grade cooktop and vent hood as well as designer faucets and a water filtration system.

How much a Nashville bathroom remodel costs per square foot
For a typical bathroom quote, expect the cost to come in between $12,500—$15,000. The budget focuses on installation and does not include some key materials. This gives renovators the freedom to shop for what they want while having greater autonomy over their project's budget. This cost range does include a vanity with a basic granite top, toilet, and tub or shower. Homeowners can shop for finishes such as faucets, tiles, and mirrors. For a lower-budget project, stick to tile in the $2 psf range and chrome or brushed nickel faucets.
Renovate to live, Sweeten to thrive!
Sweeten brings homeowners an exceptional renovation experience by personally matching trusted general contractors to your project, while offering expert guidance and support—at no cost to you.

Start your renovation
Mid-grade bathroom: In the Nashville area, the average cost of a mid-grade bathroom remodel is about $20,000 or $571 psf. This budget is for a 35-square-foot bathroom installing a new porcelain-on-steel bathtub, ceramic tiles, and a recessed medicine cabinet with built-in lighting. A renovation of this level can add more than $11,000 to a home's value, recouping close to 60 percent of the project's cost.

High-end bathroom: The average price in this category is around $35,000. For this budget, you could expand your bathroom from 35 square feet to around 100 square feet and can play around with

ele

m

ents

like a freestanding soaker tub and a shower with recessed shelves, a frameless glass enclosure, and body spray fixtures. You're also likely to afford a double sink and double-mirror vanity with custom draws and wall cabinets.

Costs for adding outdoor space
Hot summers and somewhat mild winters make Nashville the perfect place to have an outdoor space. You can opt for something simple, like a classic wooden deck, or you can splurge —tiles, full BBQ area, lighting, and a firepit. This will be like adding another room to your home.
The average price for a 320-square-foot deck made from composite is $18,500 or $60 psf, according to Remodeling's Cost Vs Value

report

. Composite is a mix of wood and plastic, making it more durable to weather and termites than just wood. A project using this material will add about 50 percent of the cost back into your home's value. If you do go with wood, it will cut your budget down by more than 25 percent to $13,000 or $40 psf. A deck made with wood will add 55 percent of the cost to your home's value.

WATCH VIDEO:

Permit costs
In Davidson county, which covers the metro area including Nashville, Twelve South, and Germantown, building permit fees are based on the cost of the project. Your general contractor will likely add an estimated amount in your initial budget before a final amount is calculated by the building department.
For projects that are $2,000 or less, there is a flat fee of $28.85. For each $1,000 in your budget that is over $2,000, no more than $5.77 will be added to your building permit cost. As your project cost increases, that $5.77 can decrease to as little as $2.31 per $1,000.
Over in Franklin, smaller renovations will only require a "Simple Permit" and cost $50 per for each category relevant to your project. The categories include building, mechanical, plumbing, and electrical. Check out this guide for the details on what the building department considers small. New constructions or additions incur a fee of $.63 per square foot and will likely be subject to a plan review fee, which starts at $50 for a renovation under $100,000.
Regarding budget, a general contractor will want to see the site for a more accurate assessment of costs. Have your "must-haves" and "nice-to-haves" list paired with a realistic budget, and you're on the way to your dream home!
—
Looking to put your home on the market? These remodeling projects will boost the resale value on your property.
Sweeten handpicks the best general contractors to match each project's location, budget, scope, and style. Follow the blog, Sweeten Stories, for renovation ideas and inspiration.
How much does it cost to remodel a home in Nashville?
On average, the cost to remodel a home in Nashville ranges from $70-100 per square foot, using budget finishes. This includes taking a house down to the studs and rebuilding it back up again, with new wiring, plumbing, and fixtures.
How much does it cost to remodel a kitchen in Nashville?
For a small kitchen remodel in Nashville, costs will start around $20K-$30K, although minor upgrades could be done for $15K. Mid-grade kitchen remodels increase in cost to $175 per square foot, or $35K. For a high-end kitchen remodel, costs will start around $325 per square foot, or roughly $65K total for a 200 square-foot space.
How much does it cost to remodel a bathroom in Nashville?
A basic bathroom remodel in Nashville will cost $12,500–$15,000, not including fixtures, which gives the homeowner greater control over their spending. A mid-grade bathroom remodel costs about $571 per square foot or $20,000 for a 35 square-foot space. High-end bathroom remodels cost $35,000 for a 100 square-foot space with premium fixtures.
How much does a deck remodel cost in Nashville?
Deck remodel costs will depend on the material you use. The average price for a 320-square-foot deck made from composite is $18,500, or $60 psf. However, if you use wood, you'll cut costs by more than 25 percent; to $13,000 or $40 psf.