Exposed Beams Abound in These 7 Home Renovations
Original or newly hewn, exposed beams boast some serious style
While it's true their original purpose was solely functional, exposed beams have proven their worth beyond utility time and time again. Whether your home has an industrial, rustic, or contemporary feel, they up the drama and demand attention. These renovators, who all worked with Sweeten, a free service matching renovators with vetted general contractors, proved just how striking exposed beams really are, regardless if they're original to a home or newly added. 
A Tudor home returns to its roots with exposed beams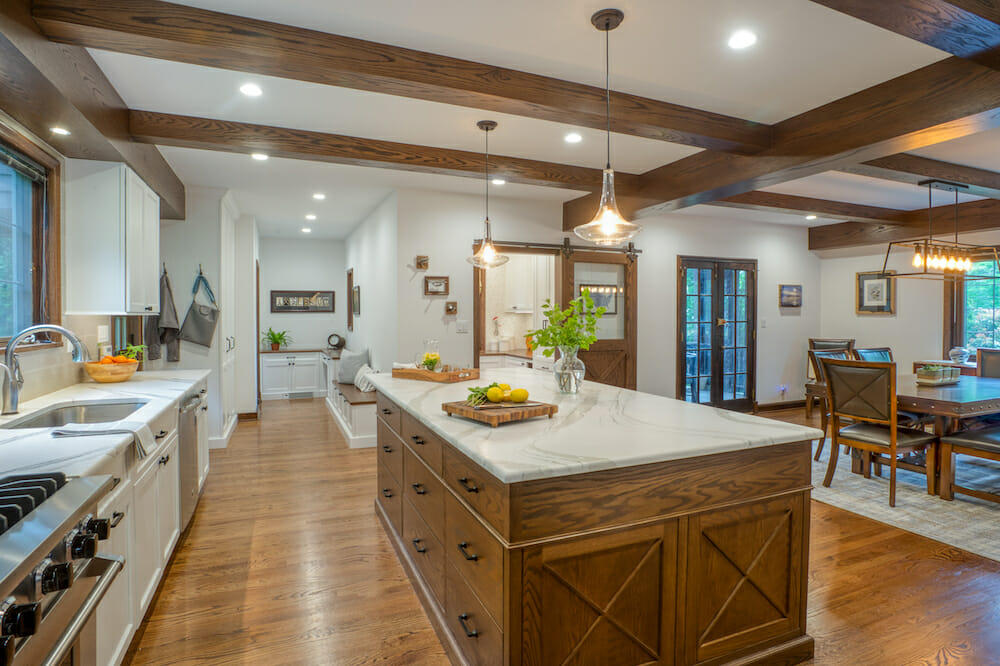 Sara and Mike gave their Tudor home a modern layout when they had their contractor knock down walls and create an open concept kitchen and dining space. To bring back more of the home's Tudor characteristics (and to provide structural support) their contractor brought in exposed beams that echo the rest of the woodwork.
1929 exposed beams preserve Parisian-chic style
Here's further proof that exposed beams can work for any home style. In Liya and her family's Parisian-chic home, the contractor left the original 1929 beams intact. The white walls, ceilings, and beams create a crisp and clean look that contrasts with the dark wood floors and charcoal furnishings.
Renovate to live, Sweeten to thrive!
Sweeten brings homeowners an exceptional renovation experience by personally matching trusted general contractors to your project, while offering expert guidance and support—at no cost to you.

Start your renovation
An industrial, clean take on beams
A renovation surprise may not always be a good thing, but in the case of Lia and Chris' Williamsburg loft remodel, it most certainly was. Their top-floor unit with a terrace, parking space, and sky-high ceilings offered another benefit: original beams. Much to the couple's delight, their contractor proposed they open up the walls and ceiling encasing building beams in the kitchen and living room. "This eliminated awkward lines and revealed some industrial elements," Lia said.
Once hidden behind walls, beams become new focal point

Meg and Brett's carriage home in Hamilton Heights was already chockful of historical charm, and once they exposed the original beams, it went to the next level. How they found the beams is a story in itself: "We walked around and knocked on the drywall—if it felt hollow, we put a hole through to see what was underneath," Brett said. They came across different sets: wooden ones original to the carriage house, and iron beams installed to support the structure. "Some of the beams had initials in them, and we even found a horsehair or two caught in the wood," he added.
Exposed beams add character (and even out ceilings!)
You know how the saying goes, if you don't have it, add it. Jessica and David's 875-square-foot apartment in Hudson Heights saw a lot of updates to make it work for their family. One stylistic addition they requested? Exposed beams. They wanted to bring more character to the space and as it turned out, the update served a dual purpose: the beams placed on the ceiling helped conceal an unfortunate spot where the ceiling was higher.
Recessed lighting within beams adds light, separation
First-time renovators Heather and Eric took on a dark co-op apartment renovation in Manhattan with the intention to lighten and open up the barren space. To turn the blank canvas into a home with more interesting detail, plus tackle a need for overhead lighting, they added non-support beams in the living room and bedroom. The structures offered a stylish and unique lighting solution that felt inherent to the home. 
Cobble Hill home goes to new heights after finding hidden beams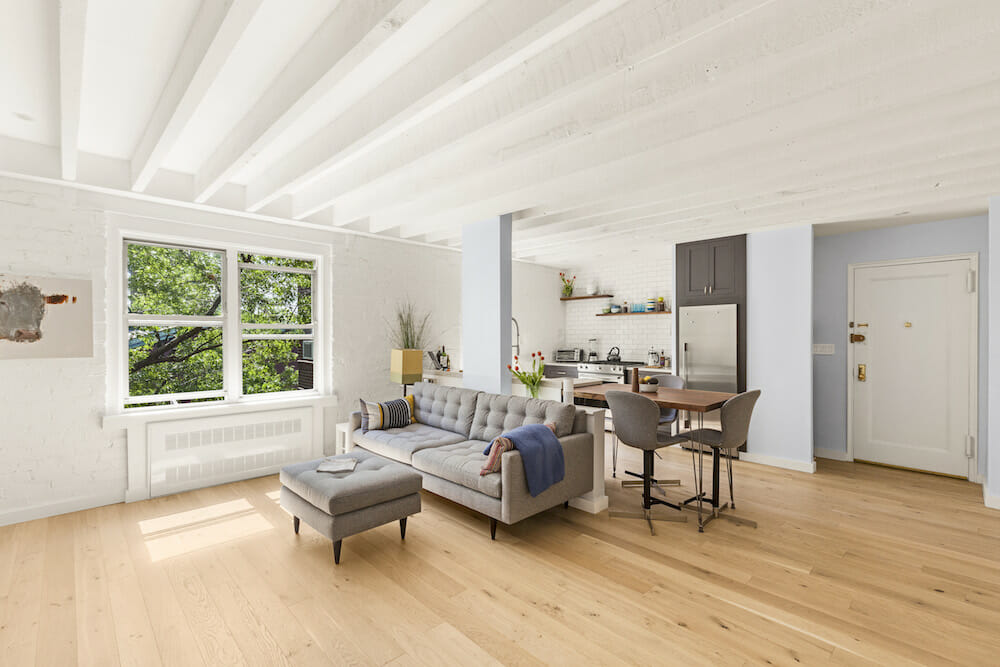 It's amazing what can be unveiled in a renovation. Miguel set to renovate his "bland, cookie-cutter, white box" of an apartment in Cobble Hill and to his total surprise, learned it wasn't so ordinary. The contractor was fixing some electrical issues and came across a brick wall, and then a ceiling of beautiful beams! Since the ceilings weren't very high, Miguel decided to paint them white to make the apartment feel bigger and brighter.
—
Discover the raw appeal of exposed brick in these home renovations.
Sweeten handpicks the best general contractors to match each project's location, budget, and scope, helping until project completion. Follow the blog for renovation ideas and inspiration and when you're ready to renovate, start your renovation on Sweeten.