5 Small Kitchen Peninsulas
Got a small kitchen? With a peninsula, you can easily increase much-needed surface and storage space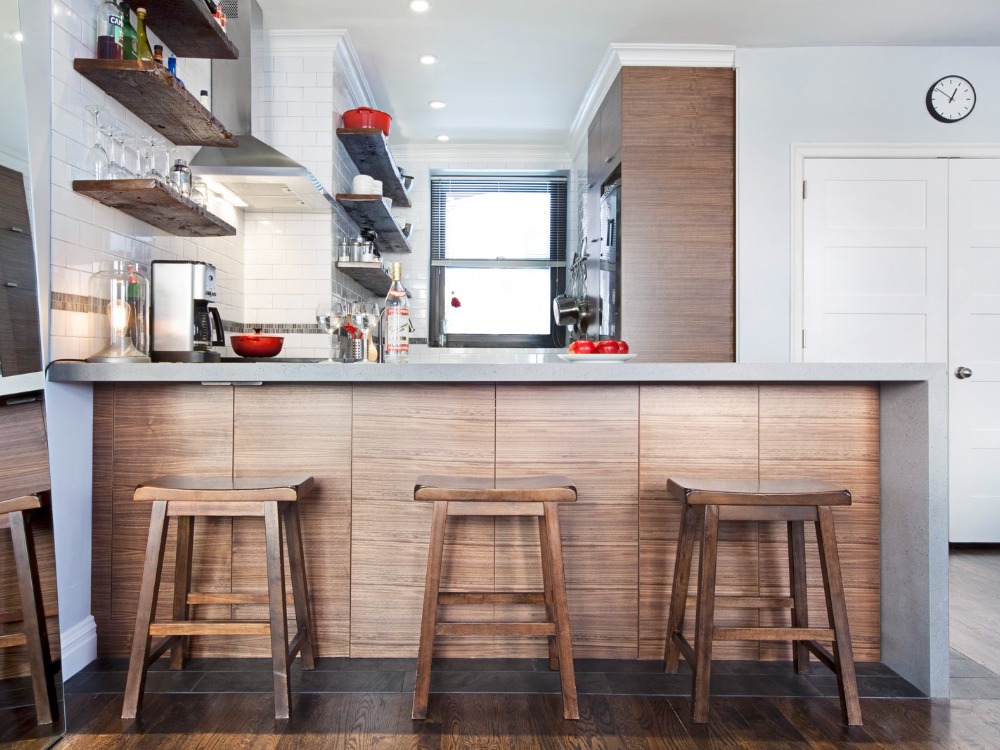 (Above) Dan and Mike's industrial-influenced kitchen with peninsula
If you live in a studio or a small apartment, there's a good chance that your kitchen is tiny. When planning the floorplan of a smaller space, much of the square footage goes to the main living area, perhaps a living room in a one-bedroom apartment or a bedroom in a studio. And if there's not a wall between your kitchen and the rest of your space, you likely have a dead-end; an empty gap, the end of a row of cabinets, or the fridge. Instead of leaving the unfinished end open, make the most of it by adding a small peninsula to extend prep space, boost storage, and gain a dining area. Below are five examples from Sweeten renovations—small kitchens with peninsulas—that added a "table for two" to extend their space.
A small kitchen peninsula with seating replaces a formal dining room
Frans and Dalal's kitchen in Gramercy
With their kitchen squeezed into a small nook in the center of their Gramercy studio, Frans and Dalal had no room for a proper dining table. A small peninsula at the edge of the space allowed them to get creative, adding a dining spot that's just the right size for the two of them. The peninsula also houses their microwave behind a "secret" cabinet door, increasing the available surface space of their countertops.
Adding a small kitchen peninsula doubles countertop space
Kelly's kitchen in Brooklyn Heights
Renovate to live, Sweeten to thrive!
Sweeten brings homeowners an exceptional renovation experience by personally matching trusted general contractors to your project, while offering expert guidance and support—at no cost to you.

Start your renovation
Kelly's small studio kitchen had a tiny square of counter space that was barely bigger than a postage stamp and a narrow ledge that served as a bar counter. In order to create more comfortable cooking and dining experience, Kelly moved the fridge outside of her kitchen's tiny footprint, which allowed her to increase the counter space. She also swapped the bar for a slim peninsula topped with butcher block and added storage on one side with pull-out drawers.
A party-ready setup, thanks to a well-placed peninsula
Erica and Donna's kitchen in South Slope
Erica and Donna's kitchen was contained in a small, box-shaped room off of the main living area. The couple chose to extend the kitchen beyond the limits of its walls by incorporating a peninsula that connected to the wall that concealed the fridge. With its proximity to the kitchen and the main living area, the peninsula is now the perfect spot to lay out appetizers for a party.
Knocking down a wall allows for peninsula seating space
Heather's kitchen on the Upper West Side
The light from the window in Heather's kitchen never reached the rest of her living space because of a wall. Taking down that wall was the first step in opening up her apartment and allowing the light to flow through. It also gave her the opportunity to build a peninsula for dining and entertaining that made better use of the small front room next to her kitchen.
Expand small kitchen layouts with a peninsula ideal for eating
Giovanni's kitchen in Cobble Hill
The kitchen in Giovanni's apartment was not a room per se, but rather a collection of cabinets and appliances lined up along the back wall of his studio. To create some separation between the kitchen and main living area, Giovanni built a peninsula to both define the space and add a prep area. He also tucked his washer-dryer unit beneath it and extended the countertop. The result: a perfect ledge for dining.
Finding the right expert for your kitchen remodel
The right general contractor can help you determine the best way to add a small kitchen peninsula to your home. Are you looking for general contractor experts near you? Sweeten matches homeowners with vetted general contractors, offering guidance and financial protection—at no cost to the homeowner. Start by posting your project on Sweeten today. 
—
If you have some extra room to work with, adding a longer kitchen peninsula can open up your space and dramatically change your layout.
Sweeten handpicks the best general contractors to match each project's location, budget, and scope, helping until project completion. Follow the blog for renovation ideas and inspiration and when you're ready to renovate, start your renovation on Sweeten.