How To Light A Bathroom
Don't be left in the dark; bathroom lighting is an essential selection you shouldn't get wrong
As with kitchen lighting, bathroom lighting requires a plan to effectively illuminate all the action that takes place here. Yet often, lighting is an afterthought, "solved" with one ceiling light smack in the center of the room. The key to how to light a bathroom is a layered or three-part approach, with a combination of ambient, task, and accent lights. Together they create the soothing environment you crave.
The plan also ensures every design feature in the bath shows to its best advantage. The place where you start and end your day, the refuge where you go to recharge, deserves better. 
Sweeten matches home renovation projects with vetted general contractors, offering advice, support, and secure payments—for free.
Three basic types of lighting
A bathroom lighting plan combines three types of illumination according to the space's purpose. Since the bath typically hosts both personal-care tasks and relaxation, you want to include each of the following:
Ambient lighting
Also known as general lighting, this type illuminates an overall space so that with the flick of a switch you can see and move around safely and confidently. The most common and easy-to-install type is overhead ceiling-mount fixtures or recessed cans, particularly if the ceiling is low.
Space permitting, you can get more creative with a chandelier, a few pendants, or track lighting. Note: As bright as good ambient lighting makes a room, it won't eliminate shadows when you're at the sink, so you also need task lighting.
(Top photo) Sweeten homeowner Kimberly's bathroom renovation. (Above) Leslie's Sweeten bathroom remodel
Task lighting
As the term indicates, this type of bathroom lighting serves to illuminate specific tasks that take place at specific stations—the sink, the tub, the shower, and the toilet or water closet. How you light a bathroom for tasks is determined by the type of fixture, its location within the room, and your taste.
At the sink, the greatest variety of activities happen, from shaving and applying makeup to inserting contact lenses. Here, you want light free from glare and shadows and bright enough to prevent eyestrain. Your best bet is twin wall sconces mounted at eye level to avoid those shadows.
If wall space is so limited that you can only manage overhead lighting at the sink, install a horizontal fixture above the mirror or a medicine cabinet with integrated lighting (see below) that won't cast shadows or glare.
Renovate to live, Sweeten to thrive!
Sweeten brings homeowners an exceptional renovation experience by personally matching trusted general contractors to your project, while offering expert guidance and support—at no cost to you.
For the tub, you need overhead lighting above this large area. Recessed lighting works here, but if the tub is a focal point of the bath, you could add a chandelier. Track lighting also works, with the bulbs directed specifically at the tub area. You may want to consider a dimmer so you can have that spa-like moment when you want it. The shower is the most humid environment, with water that can splash up to the ceiling. Here, stick with recessed lighting, making sure it covers the faucet area and the floor or door where you get out.
If your toilet is in a water closet, you want recessed lighting so you won't bump your head when standing up.
Accent lighting
This category pinpoints areas of visual interest, for example, to highlight a tile treatment in the shower, artwork on a wall, a cove ceiling, or woodwork on a pretty vanity. Recessed and track lighting work well for most treatments. Under-cabinet lighting serves to add drama to cabinetry and as a nightlight after bedtime.
(Above) Sweeten homeowners Michelle and Danielle's bathroom remodel
How to light a bathroom safely
Electricity and water don't mix but they are unavoidably close in the bath. Your general contractor will hire a certified electrician to assess the layout and submit permits. Among other things, the contractor will fit all outlets with ground-fault circuit interrupters (GFCIs). Lighting fixtures within a certain distance of the tub or shower (check your community's codes; it varies from town to town) must be "wet" or "shower-location" rated. If you want a furnished look in the bath, with a table or floor lamp, always, always make sure it is well clear of any wet area should it tip over. This means you would never place it on the counter next to the sink or on the floor by the tub.
When you're ready to get started on your kitchen or home remodel, work with Sweeten to renovate with the best contractors.
How to light a bathroom with special features
While bathroom lighting is undeniably about function, it also provides fashion. Whatever your style—traditional, contemporary, industrial, vintage—you'll find fixtures suited for the wall and ceiling.
Integrated lighting
Medicine cabinets and mirrors can light up with integrated fluorescent or LED bulbs, perfect for a sleek effect or when wall space is at a minimum. Integrated lighting in a whirlpool can enhance your spa moments. Colored lights recessed in the tub surface create a soothing underwater light show—a.k.a. chromatherapy—while you soak.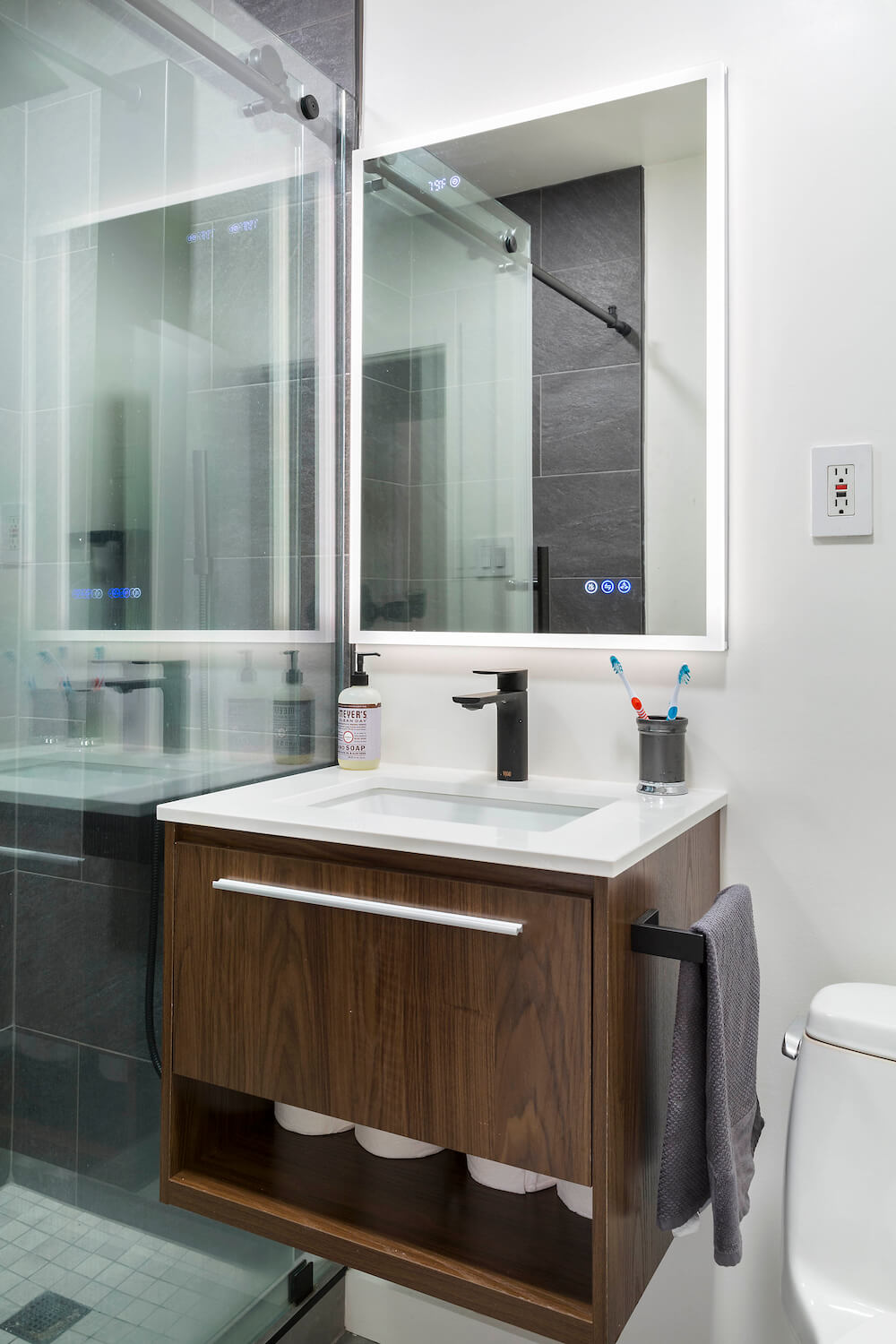 (Above) Emily and Dan's recessed vanity mirror with LED lights
Dimmers and wattage
Place task lighting on a dimmer to let your eyes gradually adjust in the morning. Dimmers also partner with ambient lighting, when you get up in the middle of the night, or just want to relax in the room.
(Above) Sweeten homeowners Amy + Kevin's bathroom skylight
While placement of lighting is important, so is the brightness and the type of bulb. When choosing bulbs for ambient lighting, look for the warmest light; it resembles natural light the most, usually 2700K LEDs. In a choice of compact fluorescent (CFL) and LED, bathrooms typically employ the equivalent of 75– to 100–watt incandescent bulbs. For fixtures around a medicine cabinet mirror used for close-up activity, opt for 150 watts or the equivalent in CFLs or LEDs. Dimmable versions are available too. For brightness in the bath, figure 75 to 100 watts for incandescents, which translates to 24– to 26–watt CFLs and 14– to 18–watt LEDs. The description on the packaging should provide the conversion for you.
Occupancy sensor wall switch
This simple feature can be found in many hotel baths; why shouldn't you have it as well? Your contractor can advise as to placement that triggers the lights to come on when you enter the bath, then switch off when you exit. (Great for family members who forget to turn off the lights, too!)
Skylights
Whether or not your bath includes windows, a skylight (no electricity needed here!) will fill the room with light, even on a gloomy day, thus helping to save a bit on your utility bill.
The home bath has become a retreat, offering a place of relaxation from the outside (and sometimes inside!) world. Properly planned lighting can enhance your every experience there, to enhance both safety as well as a sense of comfort—just what you want, and deserve, from your bath.
—
Sweeten handpicks the best general contractors to match each project's location, budget, and scope, helping until project completion. Follow the blog for renovation ideas and inspiration and when you're ready to renovate, start your renovation on Sweeten.