Casey & Kumar's Clinton Hill Co-op Renovation (Part 2)!
One-bedroom-turn-flexible-space works for a family of four
We're back with an ambitious renovation in Brooklyn's Clinton Hill Co-ops! We first introduced this project on the Sweeten blog with a focus on the transformable bedroom designed to disappear into the living area. Now, we can have a look at the rest of this gorgeous home and other thoughtful ways a family of four united conventionally distinct spaces to create an elegant machine for living, dining, and entertaining.
Before buying, Casey and Kumar, who are both designers at Studio Miller Atre, thought hard about whether they could find a home that would allow their family to stay in New York; moving out of the city for more space seemed like the only option. When they discovered a one-bedroom in Clinton Hill with a wall of south-facing windows, the pair posted their project on Sweeten, a free service matching renovators with vetted general contractors. They were introduced to a Sweeten general contractor who helped bring the couple's collaborative drawings to life.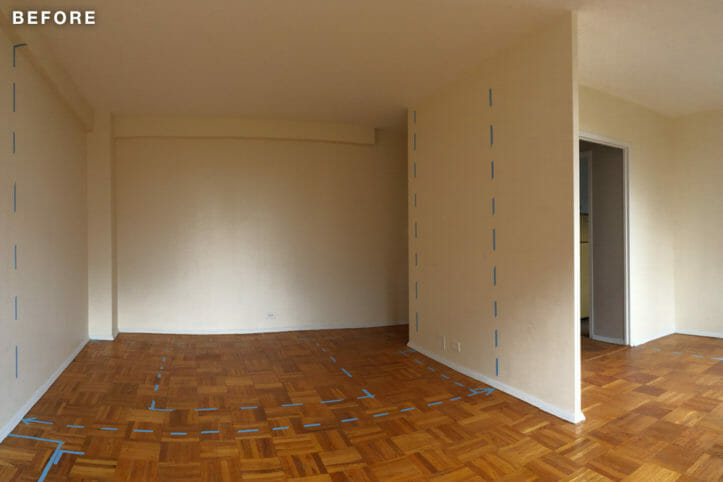 To make a one-bedroom work for their four-person family, Casey and Kumar closely examined routines and patterns in their daily lives. Their sons (Luc, 2, and River, 4) need quiet when they go off to bed early each night, and they tend to colonize space with toys and play—all of which suggested the use of the master bedroom as the nursery. As that decision crystallized, Casey and Kumar focused on optimizing the living space in ways that would make it feel as open as possible, preserve natural light, and allow typically distinct spaces to share square footage and core functions.
The biggest challenge, having assigned the only bedroom to their children, was locating their own. Their design for a wall of custom millwork that deploys a pull-down bed surrounded by retracting walls allowed them to trade in floor area otherwise devoted solely to sleep for more play space and more work and entertaining space.
Casey and Kumar envisioned the kitchen as a central part of the main shared space of the apartment and found a number of ways to integrate prep and cooking utility without making visual intrusions into the dining and living area. They decided to forgo an upper line of cabinets to keep sight lines clear across the space, and they chose a striking combination of natural wood and stone materials to dress up the millwork as a piece of furniture. Soapstone countertops and backsplash and 24″ x 24″ Cleft Slate floor tiles add functionality and a dark tone.
The understated wall of square doors next to it opens an intricate array of pull-out compartments dedicated to specific uses, almost like a piece of luggage. Before drawing the kitchen cabinets, Casey and Kumar comprehensively documented the exact storage requirements they needed to accommodate, to guarantee a precise fit. Finally, they situated the fridge, freezer, and pantry just across from the kitchen, with a single integrated design that also conceals the apartment's only structural column.
All of this works together to allow the kitchen to be a social space—on display as a backdrop to the life of the dining and sitting areas.
In the bathroom, Casey and Kumar aimed for a general upgrade that would make the room serviceable and comfortable without being a stark departure from the building's modernist design origins. The focus of this effort was curating a collection of classic fixtures featuring simple geometries in Inca black stone mosaic tiles with uncomplicated fixtures on a clean backdrop of tile.
Across the board, Casey and Kumar sought alternatives to the standard palette of new materials often seen in renovations. They wanted to avoid glossing over the particular history and character of the building with a layer of 'newness', looking instead to keep the finishes in line with what was there before. By picking up on material cues from their favorite furnishings, this family was able to infuse many technical design decisions with uncharacteristic and inspiring warmth!
Ready to bring your renovation dreams to life? 
FLEX-ROOM RESOURCES: Black shelving brackets: Home Depot. Cut and sanded red oak boards: Prince Lumber. Paint for walls and millwork in White Dove (OC-17): Benjamin Moore. Custom cabinets, millwork, and sliding walls: Designed by Studio Miller Atre.
KITCHEN RESOURCES: Stove and fridge: Miele. Dishwasher: Bosch.
BATHROOM RESOURCES: Toilet and washbasin: Duravit. Medicine cabinet and bathtub, drain, and spout: Kohler. Shower set: Hansgrohe.
—
Sweeten handpicks contractors to match each project's location, budget, scope, and style. Follow the blog for renovation ideas and inspiration and when you're ready to renovate, start your project on Sweeten.